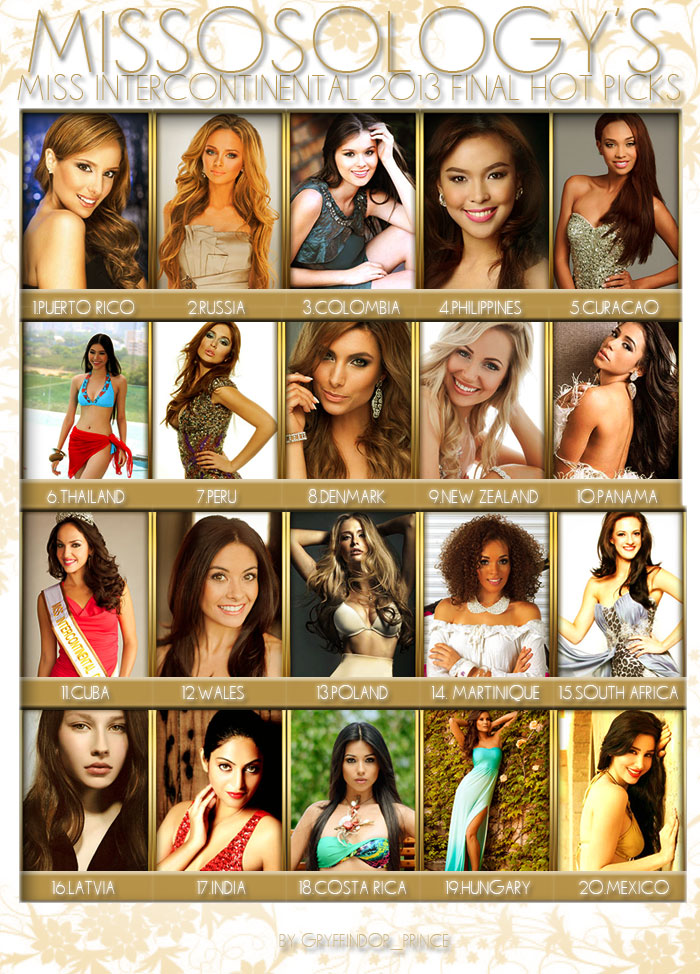 As published on Missosology forum (www.missosology.info) a few hours before the finale.
Today a new Miss Intercontinental will be crowned and everyone can feel the excitement in the air! All of the contestants have something that make them special and this batch turned out to be exemplary & competitive Missosology experts have decided to pick 15 top-notch beauties who have what it takes to be the successor of the reigning queen from Venezuela, Daniela Chalbaud but tonight only one will carry the Miss Intercontinental sash which is considered as one of the most historical & important international beauty titles today. According to a reliable insider, beauties from North America is the killer group & the winner might come from this continent. What's so interesting about the Miss Intercontinental pageant is its FIFA world cup style of selecting the winners. Without further ado, here's Missosology's Miss Intercontinental Final 2013 Predictions List.
1. Puerto Rico – Aleyda Ortiz
Certainly a complete package, Aleyda never fails to disappoint. This Boricua dynamo brings 100 plus of herself to the table. According to her, it's important to bring not just her personality and beauty but also her culture and core values that she learned from her home country. Coming from a family of music lovers, this aspiring rock star and classical music singer considers herself as a multi-faceted & sociable person. Despite being a newbie in the world of modelling & pageantry, she managed to place 1st runner-up in this year's Miss Universe Puerto Rico & her main purpose at this point is to bring home the Miss Intercontinental crown. Have you seen this woman perform in swimsuit? She can make an igloo melt!
2. Russia – Ekaterina Plekhova
If there's a delegate that should be considered as the "perfect miss" – it would definitely be Ekaterina. A self-confessed nerd & sports enthusiast, she is currently working as an engineer & does thorough research on optimizing routes for the biggest ports of her country. A former Miss Petersburg titleholder, she's proud to say that the crown worn by no less than Oxana Federova was once passed on to her head. She never dreamed about being a beauty queen, until one day at her desk job, she came to realize that she needed something more exciting in her life. This Russian beauty has the requisite figure of a woman designed by Mother Nature to be an international titleholder. Always refined, elegant & pleasant to be around with, Ekaterina can cause anyone in her path to fall for her charm.
3. Colombia – Margarita Peralta
Margarita continues the fine tradition of beautiful Colombianas — that country has seemingly been producing factory-style beauties over the last few years. Part of her sex appeal can be attributed to her innocent looks. Whether she is looking at the camera with her Lolita eyes, or striking a pose with curves that would embarrass a zigzag speedway, she's just too hard to ignore.
4. Philippines – Koreen Medina
For Miss Philippines, losing is not an option. The 18 year-old stunner put her acting & singing career on hold to achieve her toughest goal so far & that is to grab the much coveted international beauty title for her nation. Despite her competitive nature, Koreen is always friendly to everyone. She's a pretty face, but don't be fooled into thinking she's only got a talent for posing, this girl is dripping with charm & that along with her engaging qualities eventually led to her being signed by the biggest showbiz agency in the Philippines – Star Magic.
5. Curacao – Yolanda Cristal Smallegange
Tyra Banks is that you? A chat with Yolanda proves that she is a very ambitious and smart young woman who has set her sights on conquering the world. With her absolutely beautiful features, stunning figure and strong presence, we are confident that this will not be the last time you see this face. This girl actually competed in this year's Miss Universe Curacao pageant and she is now so cherished in this year's Miss Intercontinental pageant. A quick look at her, and you realize that versatility is one of her greatest strengths.
6. Thailand – Keeratika Sawangjaeng
Joining pageants is a hobby since she was 13 years old. She had dreams of becoming Miss Thailand as a little girl. Her star has risen thanks to her movie appearance (movie title – First Love – a big hit!) as leading lady of top Thai matinee idol James Jirayu. Keeratika has very strong fan base & great support system from her family. She can look fantastic in anything especially when onstage. What's more likeable about her is the fact that she maintains her innocent, down-to-earth nature and undying ambition.
7. Peru – Odilia Garcia
The most loved contestant & perhaps this year's recipient of the Miss Congeniality award. Bubbly? Can that possibly describe Odilia? How about exhaustively optimistic? Still no good? How about the exhaustively bubbly optimistic? That sounds just about right (sort of). She is widely known as a very nice person & is well-loved by her co-contestants. She best represents the core value of the Miss Intercontinental organization – fostering friendship!
8. Denmark – Alexandria Eissinger
Like the Queen of England might say, "I do fancy her, she's lovely." Several judges were impressed by the elegance & sophistication of this young lady. She's refined from top to bottom & this is where she gets the big points.
9. New Zealand – Hannah Carson
Here's one classy lady – on camera as off. Always glamorous & also a great speaker, she's one of the few girls who aced the preliminary interview competition.
10. Panama – Sara Bello Herrera
If Sara's sexiness can be measured on the Richter Scale, she'd be a 9.0, the kind of earthquake that would sink all of any tiny nation. She brought the house down during the all-important swimsuit competition. This vivacious TV presenter proves that height isn't might in beauty pageants.
11. Cuba – Brianna Ortiz
Who said Cuba is a country renown only for its cigars? Well, it is also equally renowned for producing amazing beauties and Brianna is definitely no exception. Recently her country has been making many political strikes, Brianna aims to make her country proud & become the next step towards reconciliation. She's not all legs and no brain matter, she earned her master's degree in public health and would like to create social change back in her home country.
12. Wales – Chloe-Beth Morgan
We only have high marks and high praise for this pageant veteran. Chloe is probably the fiercest girl to cross the stage during the preliminaries and her magnetism shines through during interviews.
13. Poland – Natalia Pigula
Natalia can come across as a femme fatale! She's all natural. Her smile is fit for a fox. She has a jet-set lifestyle, which also includes her fashion sense. It's a combination of chic, young, and carefree. Basically, to put it in layman's terms, she can wear whatever she wants and still look good.
14. Martinique – Julie Lebrasseur
She exudes a blend of fun and exotic sexiness on stage which we've never seen before. The reigning queen of Martinique has exotic looks that are a welcome change to the standard type that beauty pageants are looking for these days. She can definitely put her nation back to the map!
15. South Africa – Kayla Nel
Everyone raves about Kayla's bubbly personality. She looks even better without make-up — and we can't say that about many contestants. She's also got plenty of substance to go with her beauty.
Bubbling up: Latvia, India, Costa Rica, Hungary, Mexico
Honourable mentions: Dominican Republic, Albania, Portugal, Georgia, Argentina, Greece, Guadeloupe
COMPLETE MISS INTERCONTINENTAL 2013 COVERAGE:
http://missosology.info/forum/viewforum.php?f=285