Text by Ameer Gamama; Graphics by Drew Francisco
MANILA, PHILIPPINES – More than 80 of the most beautiful women across all continents will compete for the 47th Miss Intercontinental crown tomorrow, January 26 at the Mall of Asia Arena, marking the first time in history that the pageant-crazy nation is hosting the celebrated competition.
Missosology's pool of correspondents are one in saying that this year's Miss Intercontinental has the best batch of candidates and this was attested by Miss Intercontinental Organization (MIO) CEO Detlef Tursies during our interview: "This year is the best batch of candidates we had, too many girls are prepared and confident". This year's edition of Miss Intercontinental is truly one of the most competitive batches to date. This year's event is hosted by Miss Intercontinental Japan COO Kumi Miyamae, and Miss Intercontinental Japan CEO Joanna Leonisa Gimena Miyamae.
After weeks of activities in several Philippine locations, the 47th Miss Intercontinental will finally come into conclusion. Who will most likely clinch the coveted title and will succeed reigning queen Veronica Salas of Mexico?
After several passionate discussions among our team of experts, correspondents and editors, our top choice is the impeccable Miss Philippines Karen Gallman. This Kendall Jenner look-alike is so regal, has an impressive walk, and oozes with confidence. Karen exudes a personality worthy of a crown. Aside from that, she has been very consistent throughout the pageant, and would always show up perfectly glammed up. She is definitely one of the best dressed contestants this year.  Her superb performance in both swimsuit and gown preliminaries caught everyone's attention and she came off as the strongest candidate among the Asian contingent. With homecourt advantage plus the well-known fact that the Philippines has already mastered the art of preparing candidates, don't be surprised if Karen makes it to the top. Will she emerge as Philippines first Miss Intercontinental crown? We believe so!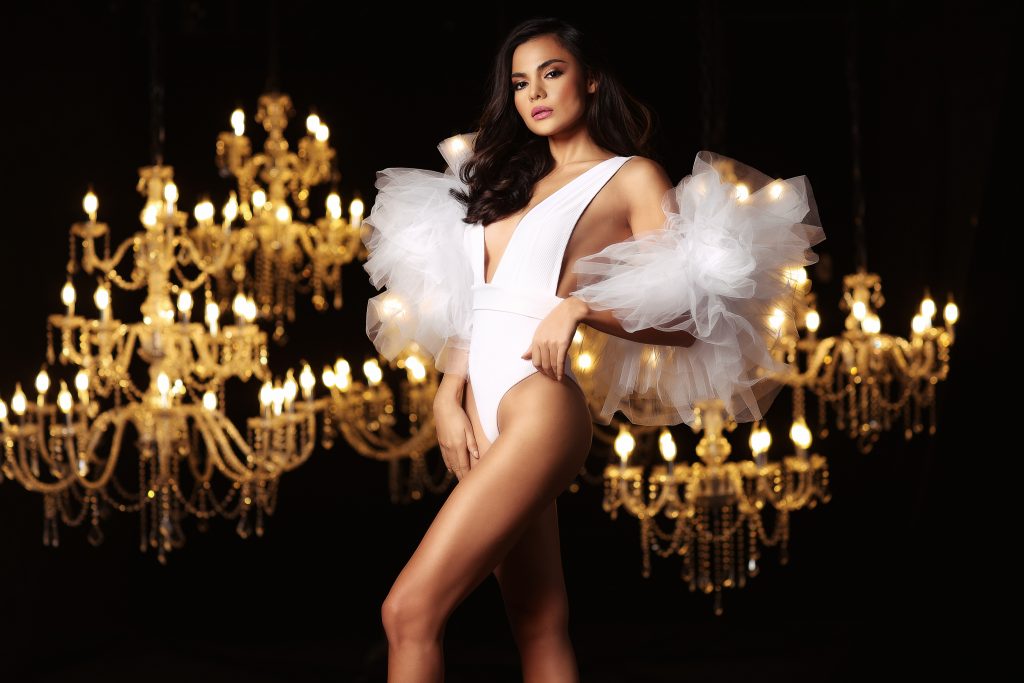 Making it to the second spot is the statuesque Miss Paraguay Gabriela Soley. She was divine in her evening gown and she looked sexy and stunning in her swimsuit prelims, which made her win best in swimwear award. She's got a lot of class and poise! Her elegance is difficult to hide. Whenever she walks onstage, she owns it and she is definitely a show-stopper. She's the most popular among the contestants and is a safe bet for the crown.
Among those who are making an impressive impact is the gorgeous girl Miss Germany Olivia Möller. Her elegance made her win the best in evening gown award. Tall, blonde, pretty, friendly, and is always ready with a smile, we believe that she is leading the European contingent. With her inimitable charm and attitude, the judges' eyes will most likely be locked on her during the competition. She's got a great stage presence! This could be her ticket to a very surprising placement.
In fourth place is Miss Costa Rica Adriana Moya Alvarado. She is the epitome of class and sensuality. She knows how to project onstage. She is also one of the most photogenic girls.  She registers well on photos, while in person, she looks even more radiantly beautiful. She has all the glamour and the winning vibe. As one of the fiercest candidates, she could easily walk away with the crown.
Miss Nigeria Opara Chinonso came off strongly among African candidates, thus we placed her in fifth place. Undeniably, she has shown finesse and sophistication over the course of the competition. This woman has a great rapport with her fellow contestants and she has shown that she is not just about beauty but also about physical well-being and great attitude. This beauty has an overflowing positivity and enthusiasm.
Miss Colombia Hillary Hollmann is one of the best girls among South Americans. Aside from being sexy, this girl is a hot fiery Colombian beauty that proves to be a contrasting ethereal aura. She has a commanding presence and she can easily stand out in the crowd. She has a perfect face and a great body to boot! Her spellbinding beauty is what the organization is looking for and this year could be another high placement for the country. She will definitely place higher in the pageant than what most people expected from her.
As this year's edition is anybody's game, it would be an exciting pageant to watch. Everyone is expecting a spectacular show. Here's the complete list of our Final Hot Picks for the 47th Miss Intercontinental:
1 Philippines | Karen Gallman
2 Paraguay | Gabriela Sawkiw
3 Germany | Olivia Möller
4 Costa Rica | Adriana Moya Alvarado
5 Nigeria | Opara Chinonso
6 Colombia | Hillary Hollmann
7 Slovak Republic | Laura Longauerova
8 USA | Marianny Egurrola
9 Japan | Akari Maeda
10 Czech Republic | Veronika Volkeova
11 Malaysia | Scarlett Megan Liew
12 Poland | Angelika Duszczyk
13 Bahamas | Shauntae Ashleigh Miller
14 Thailand | Ingchanok Prasart
15 Ghana | Engracia Afua
16 Ethiopia | Bella Lire Lapso
17 Argentina | Celina Villalobos
18 Ecuador | Nina Solorzano
19 Dominican Republic | Wilma Antoniazzi
20 Puerto Rico | Yanelie-Santiago

Glam photos by Raymond Saldaña; Missosology.Org