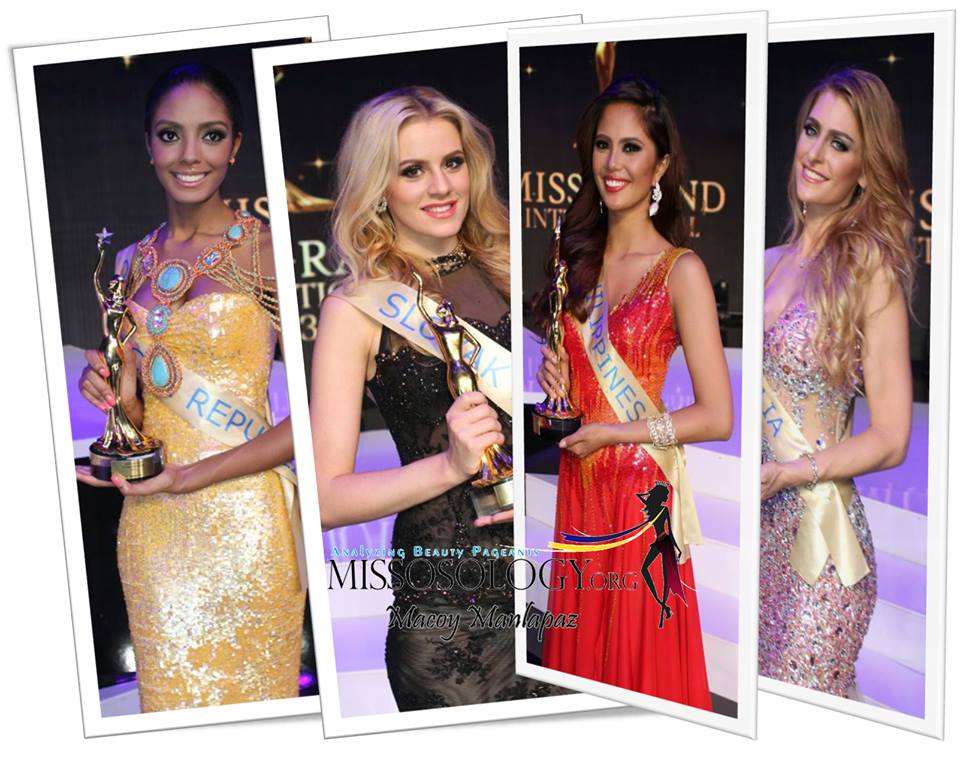 POST REVIEW: MISS GRAND INTERNATIONAL 2013
By Macoy Manlapaz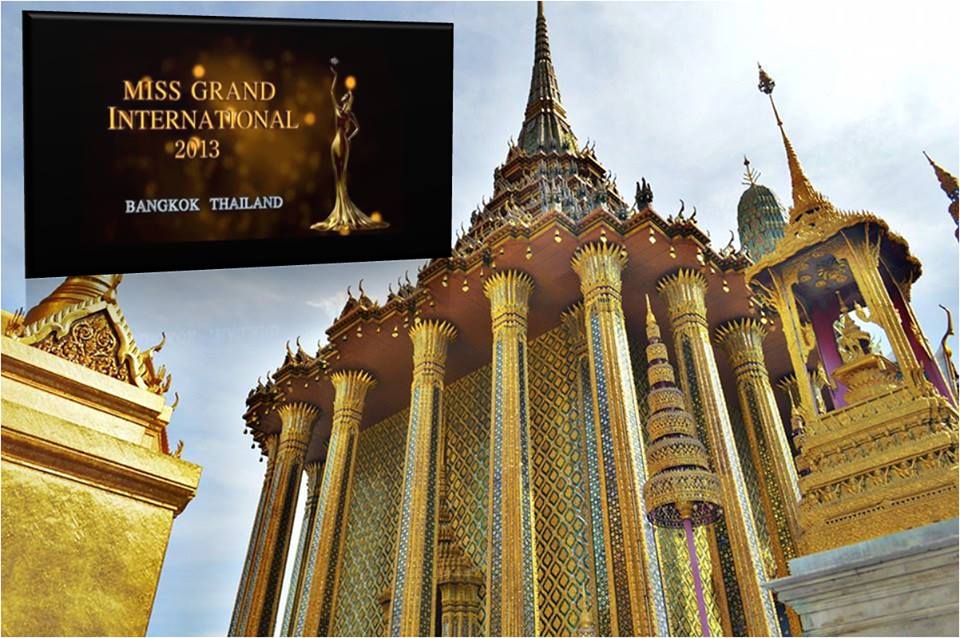 The world of Pageantry witnessed the birth of Miss Grand International Pageant last November 19, 2013 in Thailand.
Almost 100 candidates are expected to attend the first edition of this Thailand-based pageant but only 75 came to the competition from Nov 3-19. However, 4 delegates left the contest in the middle of activities. *Miss Ukraine had to go home due to immediate family matters while Miss Denmark and *Miss Sweden went back home due to "cultural differences" (that was according to Miss Sweden's Facebook wall post). Finally, Miss Singapore was kicked out from the competition after violating the pageant's rules and regulations and she was sent home immediately.  The official number of candidates was brought to 71. Not bad for the first staging of this beauty pageant. When Miss Earth started in 2001, the number of candidates was 40 while Miss Supranational in 2009 had 49.
*Miss Ukraine participated in the Press Presentation/Conference last November 5.
*Miss Sweden was part of Top 10 Best National Costume.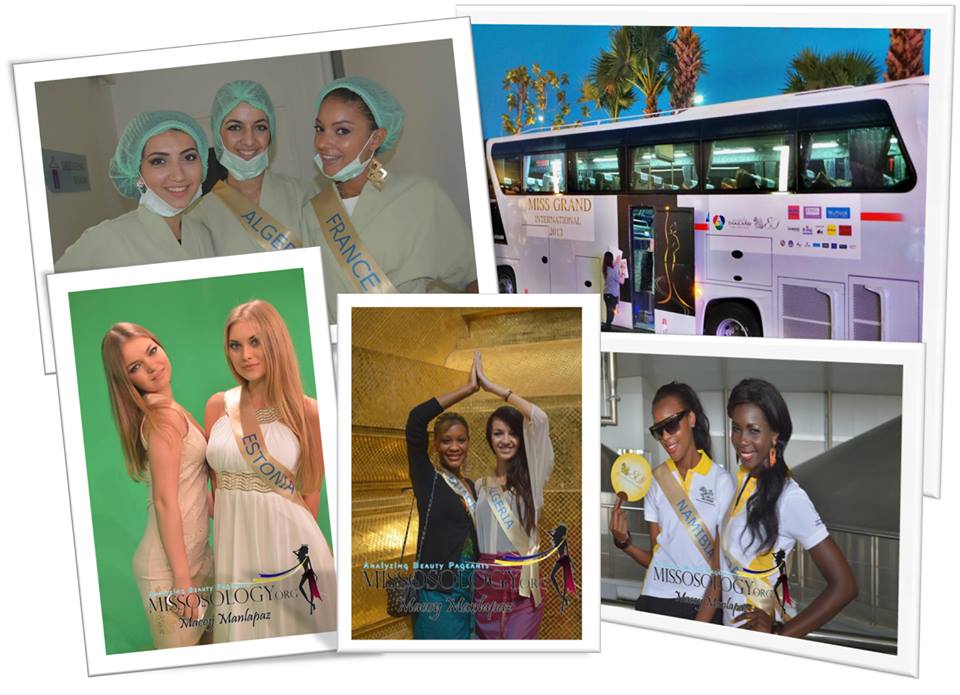 Meeting The Organizers & The Girls
The people from Miss Grand International Co., Ltd were so nice and very accommodating from the time I arrived at the airport from the time I was billeted at Pathumwan Princess Hotel. Take note that they choose not to give me any roommate since most of the Press/Media people are from Thailand (they thought that I will not go along with Thai press…LOL). We stayed in 4 different hotels in Thailand and are all 5-star hotels (Pathumwan Princess Hotel and Chatrium Hotel Riverside both in Bangkok, Zign Hotel & Resort in Pattaya and Lotus Hotel Pang Suan Kaew in Chiang Mai)
I was able to get along with all the staff including the chaperones of the pageant. The Chairman and Founder of Miss Grand International Mr. Nawat Issarakrisin together with VP for International Relations Teresa Chaivisut treated me like a very important person and they always asking me if I am doing fine and if I am having a great time in Thailand. Of course I am! I always tell them that this is a once in a lifetime opportunity. People will kill just to get this position (well at least according to Pawee…LOL)
I am not really playing safe but I don't remember anyone from 71 candidates who treated me differently all throughout the competition. All of them were so nice to me (maybe because of my Missosology tag…LOL). I remember Nawat telling the girls that "This guy can make you famous in his write-up in Missosology". That time I felt like I am a superhero! LOL. I am also with Ed Dominguez of Global Beauties who was so nice to me and even handed me over a copy of Miss Supranational 2013 complete video and a press kit upon learning that I am Mutya Datul's Language Trainer.
I really can't believe that a lot of people knew Missosology and the girls are so excited upon hearing one of the staff of Miss Grand International that someone from Missosology will be covering the pageant from Day 1 until the coronation night. I was given an opportunity to talk and introduce myself in front of them and told everyone what is Missosology and what I will do in the next 17 days. Miss Japan, Miss Honduras and Miss Sri Lanka were all excited to see me. Well they thought that our very own Pawee will be the one covering the event but I show up to them. They are happy still.
I became so close to Miss Dominican Republic, Miss Portugal, Miss Japan, Miss Australia, Miss Bolivia, Miss Algeria, Miss Guadeloupe, Miss France, Miss Ecuador, Miss Belgium, Miss Mexico, Miss Canada, Miss Colombia, Miss Philippines, Miss Lebanon, Miss Moldova, Miss Netherlands, Miss Pakistan, Miss Poland, Miss Cuba, Miss Puerto Rico, Miss Greece, Miss Slovak Republic, Miss Switzerland and Miss Venezuela. I have an opportunity to talk to other ladies but the girls who cannot speak English are not really difficult to get acquainted. We can manage to use our hands to communicate.
The Activities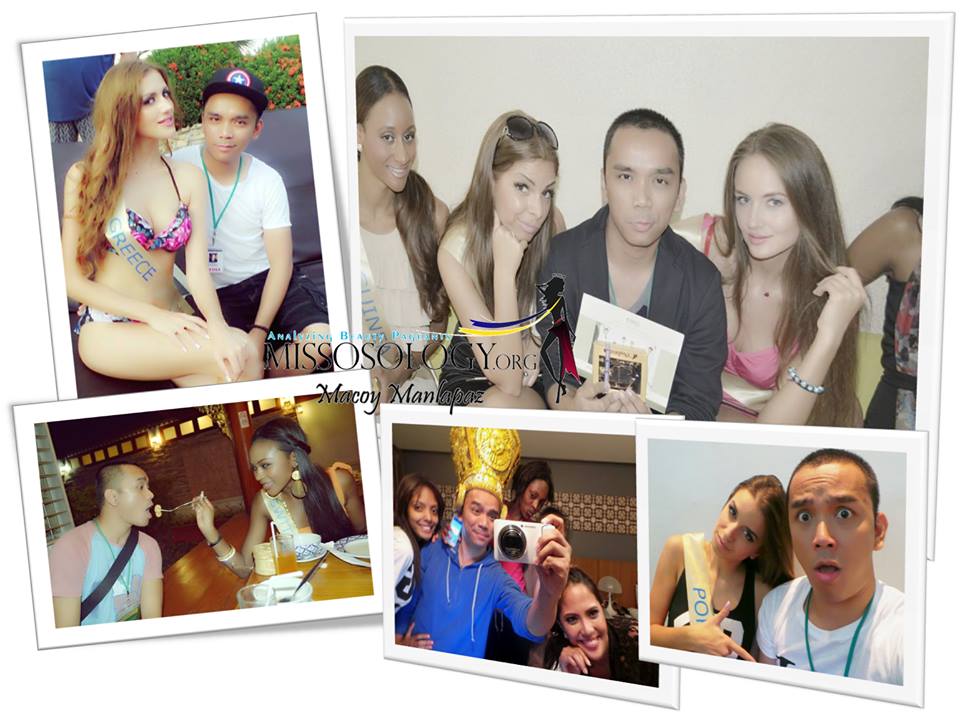 The group went to a tour on the first week of the competition. The girls visited the Grand Palace and the Emerald Buddha Temple. They had witnessed the Thai culture through Vimanmek Mansion (Residence of the cloud), learned the traditional Thai massage at Wat Pho, learned how to cook Thai cuisines by visiting the Blue Elephant Restaurant and cruised the Chaophraya River. On the fourth day of the competition, the girls went to Chiang Mai province via Bangkok Airways and they visited Phra-thaat Doi Suthep, Chiang Mai Zoo and Khun Khantoke Restaurant. The following day, they graced the Money Expo event for Thai Life Insurance and in the afternoon, visited the Thammapakorn Senior Nursing Home where most of the candidates got teary-eyed upon greeted by the senior residents most especially Miss Philippines who remembers her late Grandmother. The day ended when the girls joined the Kathin ceremony at Wat Yaang gaung Temple. Promenada Mall hosted the National Costume Show where the Top 10 Best in National Costume were selected. The group then went to Pattaya where the Swimsuit Presentation was held (they choose the Top 20 Best in Swimsuit) at the Zign Hotel & Resort. Then, on the final stage of the competition, everyone went back to Bangkok. The group visited the Singha Corporation, BBTV Channel 7 and KAMOL Cosmetic Hospital wherein 5 candidates witnessed the actual sex reassignment operation. The girls were all shocked and Miss Canada cannot stand it and leave the room while other girls such as Miss Lebanon and Miss Colombia went to ask for more questions.
A handful of candidates are already complaining on the first few days of the contest because of its hectic schedule. They will have to go to different sponsor visits and tours (minimum of 3 per day) but the staff and I, explained to the girls that the pageant expects that the girls will have to participate in all activities and its normal to get tired since the pageant is getting a lot of sponsors from Thailand. I even explained it to girls that it is not good to keep them inside their hotel rooms because that means the pageant has no sponsors and that is not a good sign.
The candidates who are not feeling well on the onset of the contest are mostly from the countries with different weather from Thailand and who are not into spicy foods. It is not true either that the pageant was not attentive to the needs of the candidates most especially when it comes to their medications. The staff and chaperones are all very attentive to the needs of the candidates.
The girls were treated like queens in Thailand. Three huge buses (up and down bus type) and with NO usual Bangkok traffic since we were escorted by Thai Police as our security from Day 1 to 17. The food was overwhelming and the only time that we had a packed lunch was during rehearsals but still it's from the restaurant.
Three candidates missed their wardrobes. Miss Dominican Republic and Miss Belgium found their national costume stuck in FEDEX and cannot wear anything to compete for the national costume show while Miss Norway lost her evening gown few days before the preliminary show. Miss Grand International staff was able to find a decent national costumes for Miss DR and Miss Belgium while Nawat (the President) asked Miss Norway what exactly she was looking for in an evening. Miss Norway asked for a glittering gold gown and you'll be the judge if she got what she's eyeing for.
The Show's Production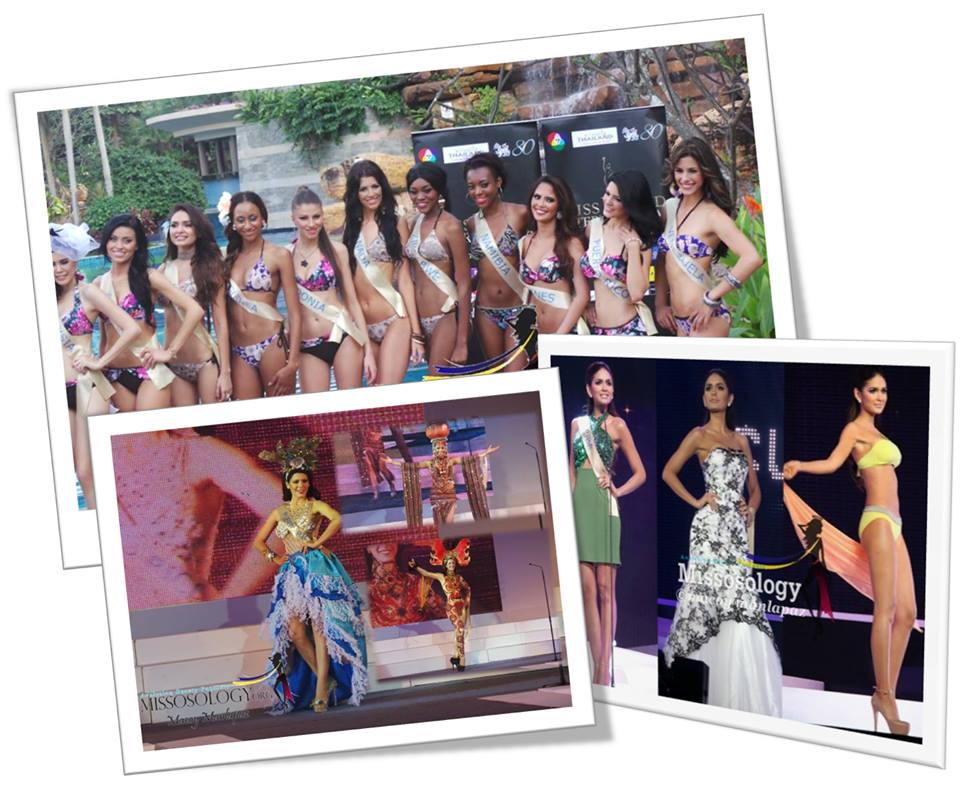 National Costume
The National Costume show was held inside the Promenada Mall in Chiang Mai and it was a great show. The girls rehearsed for only 1 night. It was a spectacle and the locals in Chiang Mai were overwhelmed seeing all the candidates and their fabulous costumes. The blocking was good since it was just a small stage but still the choreographer was wise enough to set the girls correctly. Miss Thailand, Miss Philippines, Miss Guinea, Miss Puerto Rico, Miss Myanmar and Miss Japan received the most applause from the audience. The show was well received by Thai people and the girls enjoyed the show. What makes them really happy that night was the Pizza treat for everyone leaving their packed rice lunch…LOL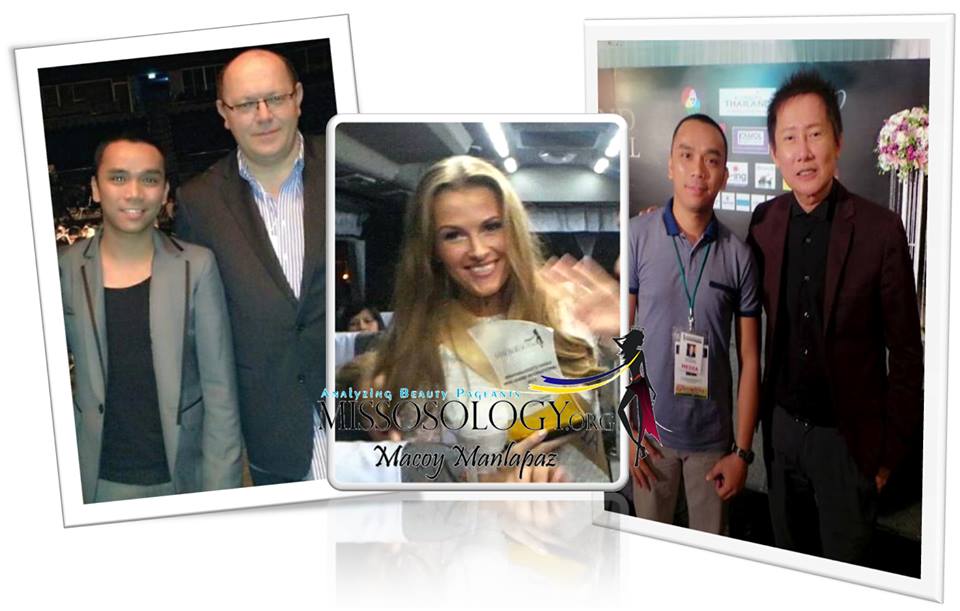 Preliminary Show
It was an evening of glamour, spectacle and lots of fabulous gowns and sexy bodies. The moment the venue was changed from Beauty Thunder Dome to Impact Arena was enough for me to excite even more. We all know that Miss Universe 2005 was held at the same Arena and for many pageant fans, Miss Universe 2005 stage was the best so far. So the girls in Miss Grand International will have the same atmosphere when they hit the stage both on the Preliminary Show and the Finals night. Truly, the stage design was amazing! The lights were perfect as well. I talked to the girls and they are all happy that the stage design was not change because they loved it. The backdrop was also a sight to behold as you will get to see the beautiful culture of Thailand. Well, almost everyone thought that they are watching Miss Universe Preliminaries and I must admit that I have the same sentiments but it was flawless. If this pageant was really Miss U copycat, well this is the best one. I don't have any issues with a pageant getting lots of ideas and inspiration from others as almost all pageants in the world, both local and international, have started their event same as the other. The opening number wearing their Sherry Hill-like dresses, all the girls dancing in the swimsuit competition in an upbeat music, etc. can also be seen in most of the pageant nowadays.  As long as it was smoothly executed, it was good enough. The Preliminary Host, Matthew Deane was a pleasant emcee for most of the fans as he was so charming that night plus he has a very clear voice to introduce all girls (except for Miss Guadeloupe, he said Miss Guadelupe).
Finals Night
That happened on November 19th at the Impact Arena Muang Thong Thani Bangkok when all 71 girls paraded in their swimsuits and evening gowns. The show started off very similar to other pageants when the girls introduced themselves in their national costume with Pattaya beach on the background. It was well executed and the video presentation was perfectly edited except for the number of delegates. It was announced all throughout the show that the number of girls are 75 instead of the actual 71. It was also refreshing to see that a special award was announced before the girls started their opening dance and it was Miss China who got the award. Well everyone thought that she really deserved the citation for Best in National Costume. The opening music and dance was great but I noticed that the girls are not that energetic compared to their rehearsals. Their call time that day was really early at 7am. Maybe they are all too tired to have that energetic mood to dance.
Sonia Coulling and Utt Panichcul hosted the finals and they both look good on the screen and their neutral accent was enough for us to understand their spiels. I just don't know if it was really on the cue cards or Utt mentioned it on the latter part, when Miss Puerto Rico was already doing her first walk as Miss Grand International, he said the usual and traditional line that "If the winner cannot fulfil her duties as Miss Grand International, the first runner-up will automatically replace the winner". For me it was too late to announce. I like the fact that the show was really fast and they only invited one guest (Thaitanium) to perform on the show. Other pageants will let 3 to 5 acts to perform either sing, dance etc. I also heard that Nawat wanted Charice to perform live on the finals but was never materialized.
The organizers are really quick in fixing some issues real time. The moment when the girls started complaining about their swimsuits during the Pattaya Show, they immediately asked BSC Swimwear Thailand (sponsor of the pageant) to have a new set of swimsuit ready for the Preliminary events. Let me also take note that during the Pattaya Swimsuit Show wherein the Top 20 was chosen, many fans stated that the show was a bit too informal but for me the show was meant to be informal. No need for a stage and the goal was to let the girls enjoy the beach and the pool as if they are having a pool party instead of the usual competition-type of show. Originally, the organizers wanted to have the Top 10 finalist for Best in Swimsuit but they decided to make it 20 since many where really standouts.
Going back to the Coronation Night, getting 15/20 girls that I predicted was enough for me to rejoice since this was my first International coverage. I was a bit sceptical because I still don't have a clear winner 2 days before the finals. This is the first Miss Grand International, no history of winner so I don't have any basis on who will be the winner or at least what the Organizers are looking for. But I went to decide based on my instincts; it's a battle between Miss Puerto Rico and Miss Latvia. The locals love Miss Puerto Rio while the lady from Latvia was the heavy favourite by most people from the Organization. I put Miss Puerto Rico on my top list on 1st Hotpicks while Miss Latvia was my number 1 on 2nd Hotpicks. Eventually, I put Miss Latvia on the top position on my Final Prediction while Miss Puerto Rico was second. Miss Latvia eventually won the Missosologist's Choice for Miss Grand International 2013.
I was really worried for Miss Latvia's gown during the preliminaries and I wanted her to make it to the Final Five but I don't think she has a spare gown for the finals. I guess that was the main reason she was cut out after the evening gown competition. On the other hand, I spoke to Miss Slovak Republic the night before the finals. I told her that I hate her gown in the Preliminaries and asked her if she has a different gown. She said that aside from her preliminary gown, she has a black sequinned gown which she doesn't have any intention to wear in the finals. She showed me the photo of that black gown and I quickly said that she should wear it on the finals. I also asked her to have a nice hairstyle and guess what; Miss Slovak Republic did all the things I told her. I was so happy to see her parade in that black gown matched with the hairstyle that I really wanted. From that moment on I knew that she will make the Top 5 and she did. We had a long conversation the night before the finals about her worries like she was not really sure if she will make it to the Top 20 and I told her that I am100% sure she will make it and she did. The only thing that I assure to her was to perform on the finals because her fate lies on her performance on the coronation. She was so sweet and very nice and her 2nd runner-up placement proved her worth.
The Winners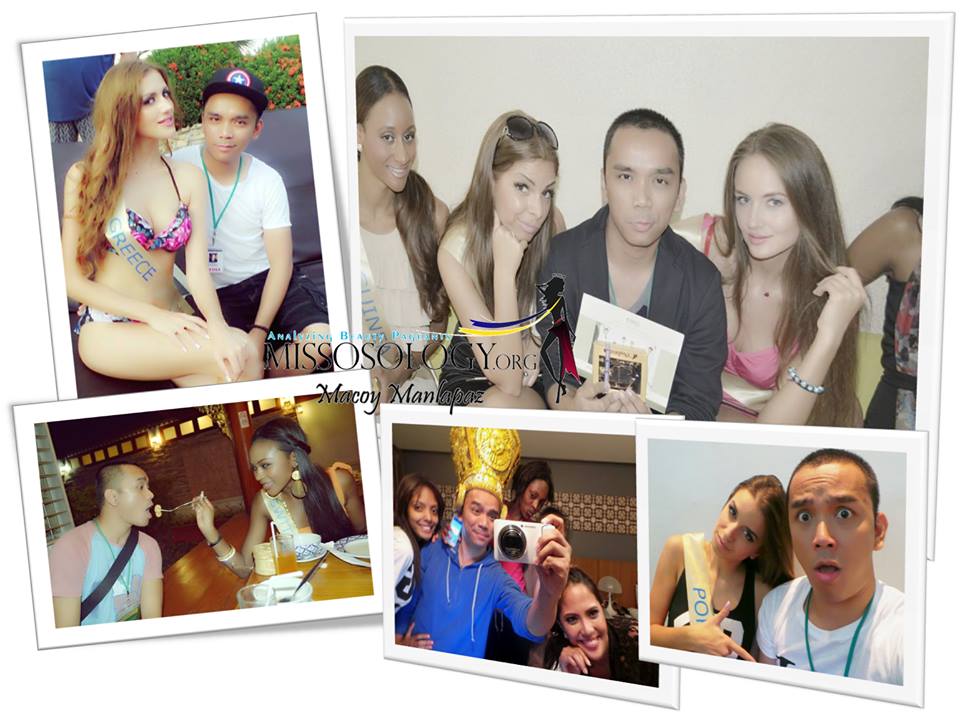 Miss Australia was always part of my Top20 Hotpicks since Day 1 and Kelly was a sweetheart for me as well. She spoke intelligently and she can carry herself with so much class. I never doubted her that she will perform that night but it was quite surprising to see her all the way to the Top 5 (well Miss Venezuela and Miss Cuba was always in the Top 5 list of almost all pageant related websites) so it's a tough road for Kelly to outshined the 2 delegates from Venezuela and Cuba. She deserved the spot for sure.
Miss Philippines were always one of the favourite's ever since the pageant begun. She was the local's fave and organizers love her as well. No doubt that she will be in top 5 this year. Her personality shines during the preliminary interview (the longest interview among all 71 candidates) and her swimsuit and evening gown presentation in the preliminaries was a sure thing for her to make it to the Top 20. I know that Ali will perform in the finals night and she will kill the competition both in the swimsuit and evening gown segment, that's why the only real battle for her is the final Q&A. I am always telling the girls that Q&A is the make or break for the candidates most especially if the judges are torn between 2 or more ladies. 45 seconds for me is long enough especially if the girls were already given the questions beforehand (just like Miss World and Miss International). Ali answered the question given to her no doubt about it but she could have used the remaining time to expand her answers and give more appropriate and sensitive response to the question. She did thanked the people who helped the Philippines in the recent typhoon tragedy (and it was a smart move to use an international audience to show our gratitude) but everyone thought that it was not the right moment. The focus of the question was more of its mission to STOP THE WAR and not about the calamities happening in this part of the world. Nevertheless, she did perform great in the whole competition and a 3rd runner-up was not a bad placement at all.
Chantel Martinez of Dominican Republic had only 2 days to prepare for the pageant. The National Director wanted her to join Miss Grand International upon learning that Irina Peguero cannot compete in the pageant. With no national costume to showcase in the competition (Miss Haiti will bring her national costume but the girl had some issues with her Visa), Chantel was given a national costume by the Organizers just to make it to the show. This girl is so positive and her mind was really focused on chasing her dreams. When she heard other candidates complain about something, Chantel was so quick to say that she enjoys being in the competition and she knew that it's not easy, hard work is the key and just enjoy every single moment of this wonderful experience. I have no qualms when she was declared Best in Evening Gown. I told her weeks before the finals that her gown was really gorgeous and the accessory that she put was awesome. She did the sketch of this gown and it was all her design. Everything paid off for Chantel. One of the most intellectual candidates in this competition (along with Miss Sri Lanka, Miss Australia, Miss Canada, Miss Kenya and Miss Zimbabwe)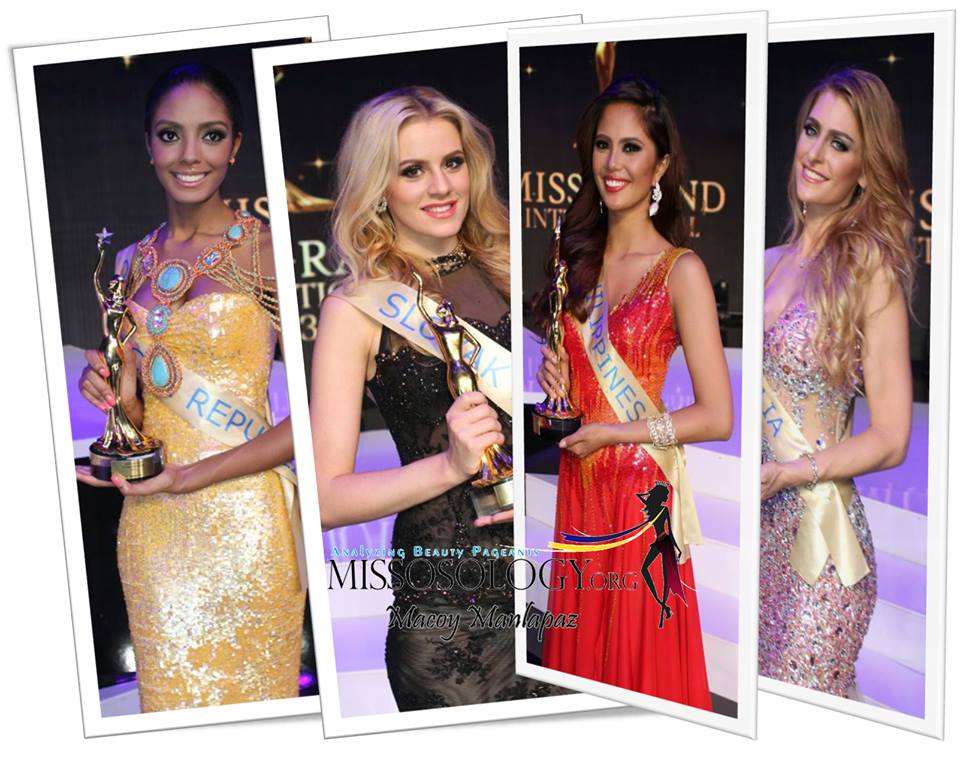 The girls who I am rooting for to make it at least in the semi-finals are Miss Estonia, Miss Guinea, Miss Greece, Miss Czech Republic, Miss Argentina, Miss Bolivia, Miss Canada, Miss Finland, Miss France, Miss Georgia, Miss Guatemala, Miss Indonesia, Miss Japan, Miss Kenya (very intelligent), Miss Lebanon (spoke very very well), Miss Moldova (gorgeous), Miss Portugal (such a sweet girl), Miss Serbia (natural simple beauty), Miss Switzerland, Miss Uganda and Miss Vietnam.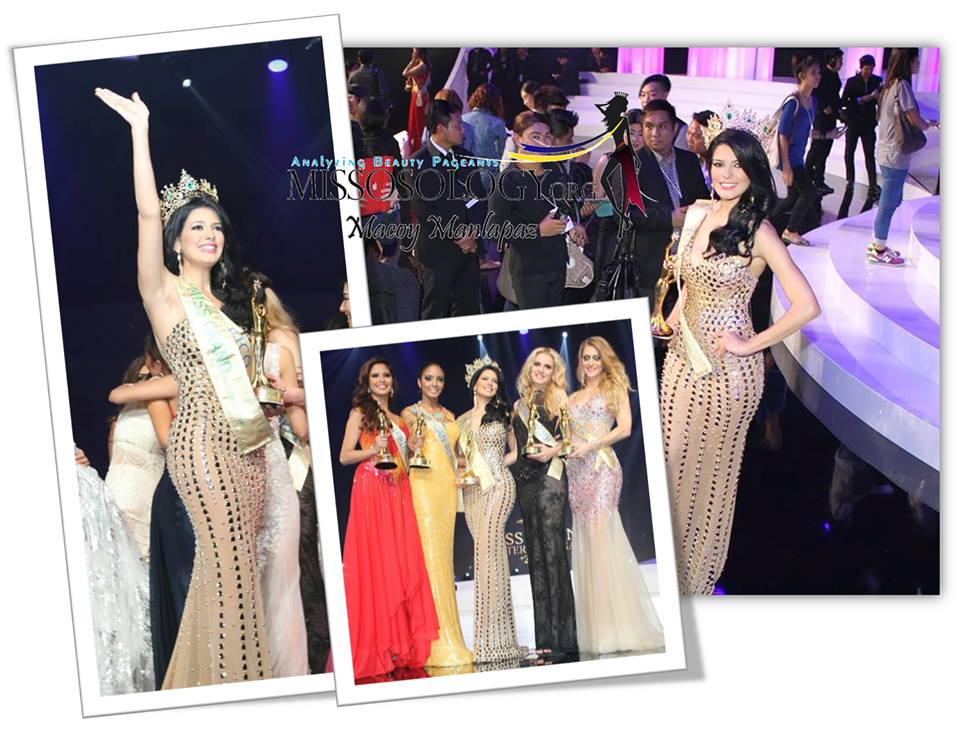 Janelee Marcus Chaparro of Puerto Rico was an easy pick most especially for pageant fans and experts. She was very consistent all throughout the competition. She did try to communicate in English but most of the time she speaks her native tongue. She is so gorgeous and every time I stare at her, I can see Catherine Zeta Jones. She always tease me during our breakfast together that if she let herself eat what I am eating that time (the usual Filipino breakfast; rice, bacon, noodles etc.) she will be very big come finals night. LOL. Janelee wins a crown made of pure gold, diamonds and emerald valued at 2Million Baht. She will also stay for 1 whole year at a new condominium unit from I-BIZA and a whooping USD30, 000 in cash.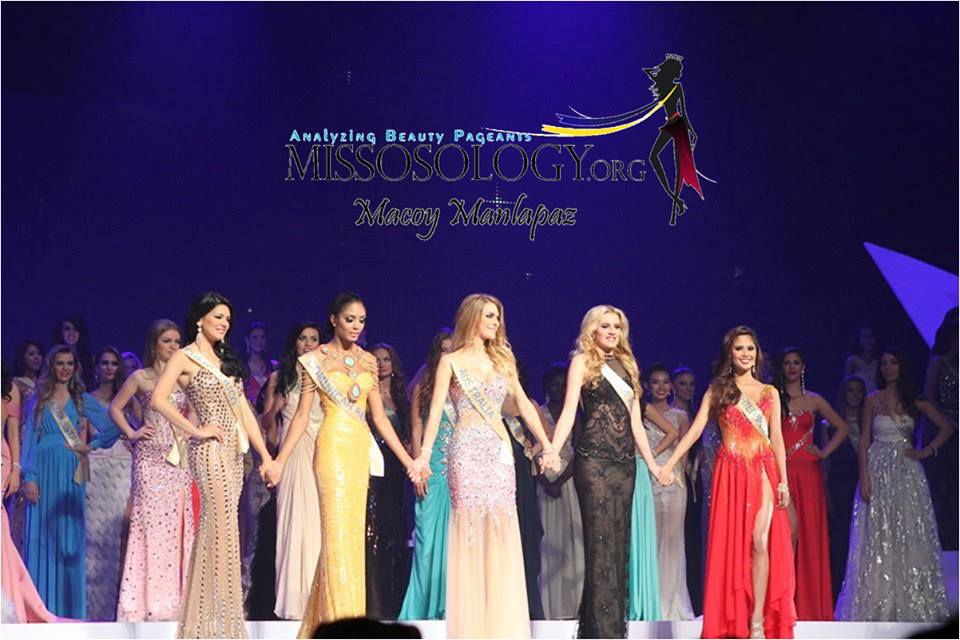 I knew that Janelee's decision to answer her final Q&A in Spanish was smart enough to convey her sincere answer. She was phenomenal in the evening gown presentation and her walk is to die for. Very classy and enigmatic for the audience. I am very sure that Miss Grand International organization is really happy and proud that they have Janelee as their first ever Miss Grand International winner. She will set the bar high for the next batch of candidates next year. Initially I thought that a new pageant will choose a fresh girl from the pageant scene. They had Philippines, Australia, Slovak Republic, Dominican Republic and Puerto Rico on the final five. Miss Puerto Rico already competed in Miss World while Miss Slovak Republic was finalist in Miss Tourism Queen International. Miss Dominican Republic was also finalist in Miss Supranational last year and Miss Australia already competed in Miss Intercontinental. Only Ali Forbes, Miss Philippines was a good choice for the organizers if they are eyeing for a winner that was never part of any international beauty pageant.
LAST BUT NOT THE LEAST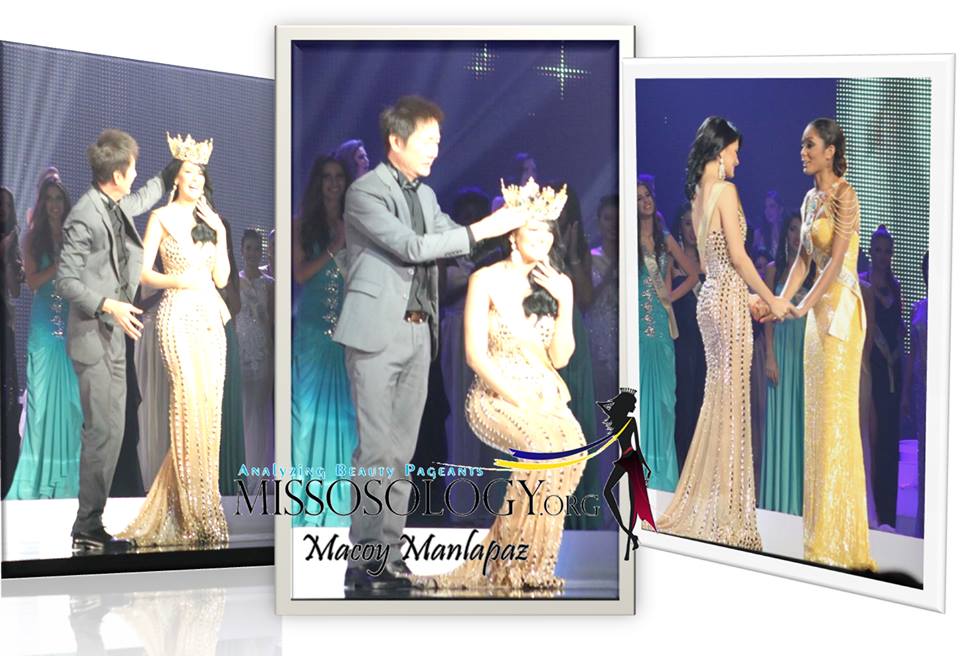 I heard that the pageant next year will be held in Las Vegas (no official statement yet from MGI) but if this is true well this pageant is a force to reckon with. Such a promising pageant and hopefully people will not see it as a bad competition but a healthy competition for other minor and major pageants. After all, the true meaning of pageants is to celebrate the womanhood, their strengths and their capacity to hold the pageant's mission. If Miss Universe focuses on AIDS/HIV awareness, Miss Earth focuses on environmental protection, Miss World aims to focus on charities, then Miss Grand International has its own goal and that is to STOP THE WAR. It could be a difficult road for MGI to really STOP THE WAR, but everything is possible even in our own simple ways.
Congratulations to Nawat Issrakraisin and the whole MGI staff, the Kingdom of Thailand and its sponsors for a job well done. Kudos to everyone for having a beautiful and deserving winner, Janelee Marcus Chaparro of Puerto Rico and good luck to the next staging of Miss Grand International 2014.