MISSOSOLOGY 3RD OFFICIAL HOT PICKS
As of October 14, 2012
1.  USA
2.  SLOVAKIA
3.  INDIA
4.  PANAMA
5.  NAMIBIA
6.  DOMINICAN REP.
7.  UKRAINE
8.  GUAM
9.  COLOMBIA
10.  KOREA
11.  FINLAND
12.  MONGOLIA
13.  SINGAPORE
14.  VENEZUELA
15.  JAPAN
These are the girls who trended their way up into our 3rd Hot Pick.  The Missosology Facebook online poll, discussions and forum trends were used as the basis for this selection.
USA is now on first place.  The fact that she was regrettably ignored in our Swimsuit Hot Picks made her even more popular.  Not to mention that she has gained momentum after clinching the second spot of our yukata experience hot picks.  Slovakia is holding stronger than ever  She is now in second place, while India is back in the list at third!   Panama and Namibia complete the Top 5.
Dominican Republic, our number one hot pick for the yukata experience has improved to #6.   Ukraine is back at #7!   Coincidentally, the #1 and #2 swimsuit hot picks from Guam and Colombia are #8 and #9, respectively, at this point.  Korea is gaining her momentum, and she's now at #10.
Unfortunately, Finland has dropped ten places, now down at #11.   On the otherhand, Mongolia is gaining ground after a strong showing at the People's Choice poll.    The cute delegate from Singapore is also being noticed, and we shall see if she could sustain that.    Venezuela and Japan complete the Top 15.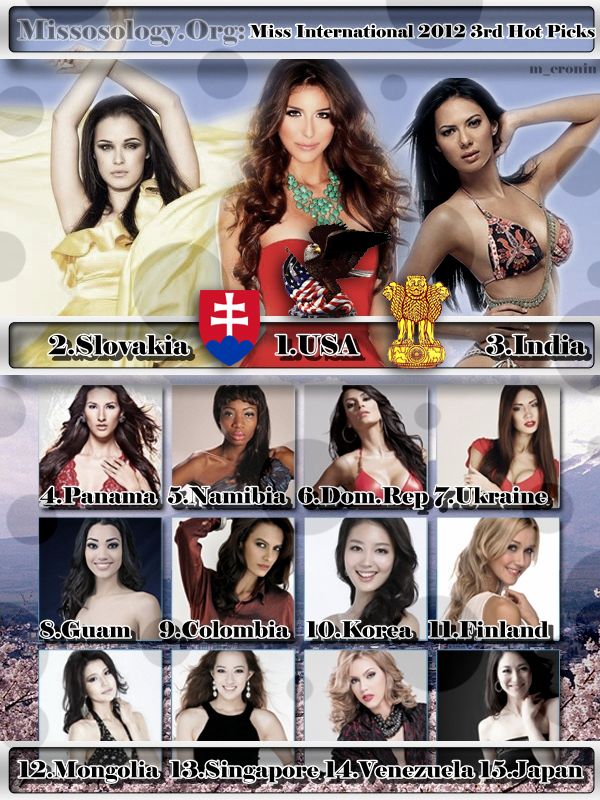 Banner by:  m_cronin (Graphic Designer - Missosology Forum)