"In a huge sheet of white paper with only one small dot in it, humans have the tendency to only see the dot."

The results of Miss International 2012 came as a shock to everyone. Japan has finally decided to crown their home country girl; something they have never done since the beginning of this competition. Huge amounts of criticisms then hit MI and ICA in no time. Just like most of you, I too, was shocked with the results. However, before we let ourselves be drowned by our overwhelming emotions and make irrational reactions, let's not forget the best parts of Miss International 2012. I personally believe that there were positive changes this year, and all of these deserve recognition. Let us take a look back at what transpired throughout the competition and how I can personally say that Miss International 2012 is a huge success after all.
Remarkable Visits to Historical and Cultural Sites

The International Culture Association (ICA), the organization behind Miss International, has simple objectives in conducting this pageant. One of its missions is to promote culture and arts. With the visits done by the candidates to different museums, parks, cultural sites, temples, festivals, and the like, this mission has already been accomplished. The entire world witnessed how rich Japanese culture is. We have also seen just how Japan tried to maintain beauty in its surrounding despite the natural disasters that took place just a few years ago. Moreover, these girls surely came to appreciate just how wonderful Japan is. In a video, one of the candidates even said that she doesn't want to go home anymore. In this aspect, I believe MI did a very wonderful job!
Japanese Culture Immersion


Respecting another country's culture is one thing. Immersing and taking part on the said culture is another. I believe the girls were given lots of opportunities to do the latter, and they have my respect for that. We have seen them trying out traditional Japanese costumes. We have also seen them eat Japanese dishes and eat them the Japanese way. They also went to different Japanese stores and boutiques and actually tried out what Japan has to offer. They have also practiced Japanese martial arts and did different Japanese works of art. Most of all, they have also visited Japanese temples and "prayed" just the way Japanese people do. All of these deserve applause.

Personally, I can't imagine myself practicing or even trying out several aspects of other people's culture, especially if it is related to religion. However, these girls did these activities without hesitation. In fact, they really enjoyed these activities and have learned a lot from them.
Strong Media Coverage

This is one of the aspects that I personally believe Miss International has improved on this year. We have witnessed good coverage from the arrivals up until the coronation night. We have also seen how girls are being followed by people from the press wherever they go. They even had the chance to guest in some Japanese TV shows and be interviewed by different local media stations. All of these are more than enough a proof that MI is doing its best to promote the pageant and all its causes.
"Literal" Parade of National Costumes

The national costume parade this year is definitely a sight to behold. We have seen national costume presentations of different pageant many times. However, only MI did it exactly like that. The girls did not just wear the costumes for a photoshoot or a minute of presentation. Instead, they have walked down the streets of Okinawa to really display the wonderful culture of their respective countries. Despite the scorching heat of the sun and their heavy costumes, these girls still managed to walk with grace and beauty. Of course, this is a wonderful opportunity for the locals to appreciate the diverse cultures of the world. They even had cultural performances by some girls towards the end of the parade.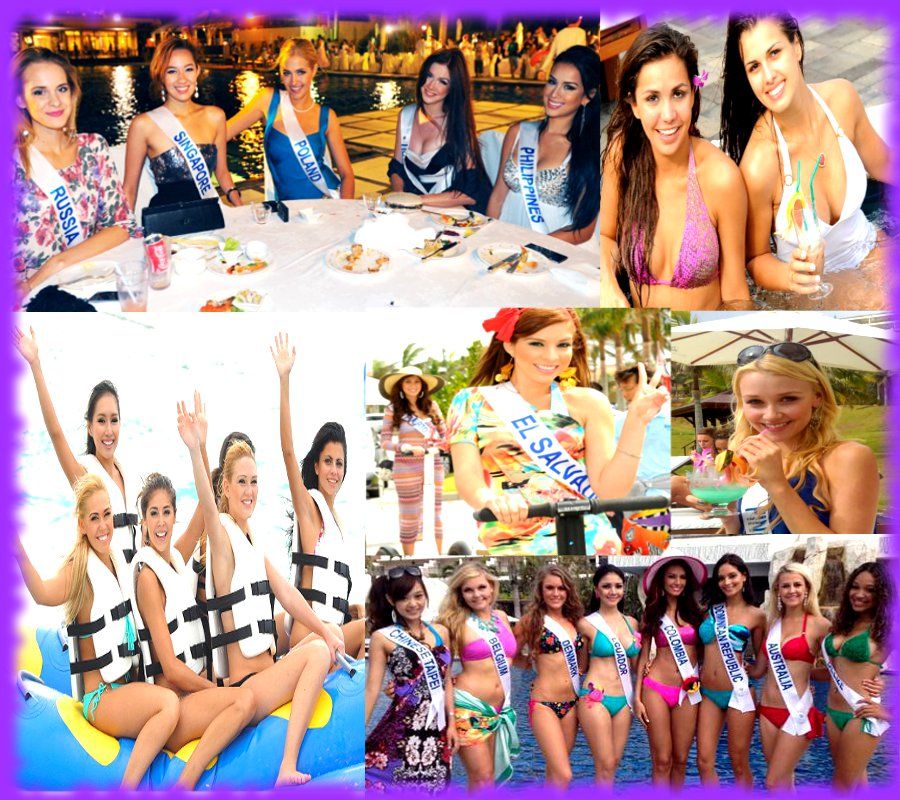 Quality Leisure Time and Relaxation Activities


Attending Parties. Enjoying the beaches. Sumptuous Dishes. Nice Accommodation. These are only a few of the activities we have witnessed throughout the season. More than coming there for a competition, we have seen how these girls were treated as queens. We have seen them being given the opportunity to enjoy the different places in Japan. We have also seen them enjoy countless nights of parties. Despite a hectic schedule of visiting places, rehearsals, and interviews, the organization still found a way to give these girls a time for break.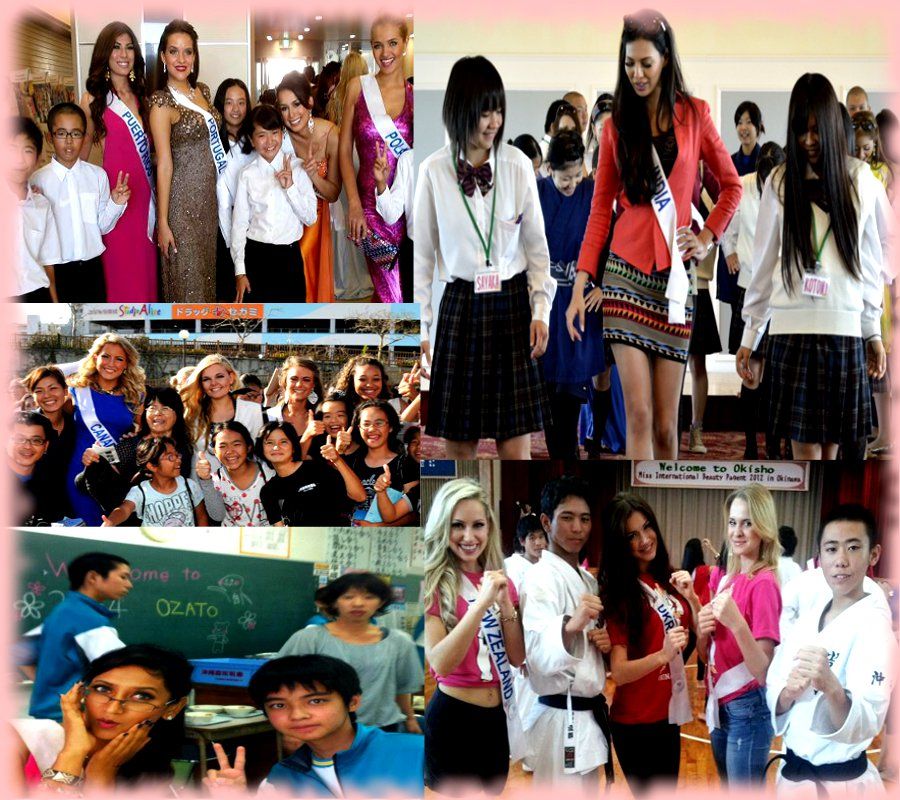 Focus on Children and Education

I am totally amazed with how strong the involvement of children is in this competition. From the press presentation, interactive games and activities, and school visitation, we have seen just how these kids were really given importance. Miss International has always been passionate about its mission of promoting education in the entire world. Thus, they have once again sent this message by allowing the girls to interact with these kids in different activities. We have also seen these girls visit different schools to do charity activities, tutorial programs, and have some fun and learning activities.
Visibility and Active Involvement of ICA and the Reigning Queen

Most of us always ask about the people behind MI. We only know that this pageant is Made in Japan. However, this year, ICA has made itself more visible. They were active in various activities done by the girls. They were present in different parties as well in some places where the candidates went to. More than that, we have also seen how the reigning queen, Mafer, is actively involved throughout the competition. She gave different speeches, joined the girls in having fun, headed the memorial celebration, and many others. This is certainly a positive move!
Sending the Message of Love and Peace


Most of us would say that the message of love and peace is nothing but an abstract idea. However, unless we can't grasp this real idea, we will never be able to translate it to something real. Thus, I believe MI is doing well through their simple ways of sending the message of love and peace. It might just be a public appearance of the girls holding some placards or a photo signing activity. However, through these simple acts, they have sent a strong message throughout the whole world. As simple as it is, I believe they have made a huge impact.
Equal Chances for All Participants


All of us might hate the long and extremely dragging coronation night. However, if there is one thing we like about it, it is the fact that all the girls were given the chance to be seen. Most of us would say that they should have just created a preliminary pageant for SS and EG presentations. However, we also have to consider the fact that other than us, pageant fanatics, the rest of the world only watch the finals night. Thus, these viewers also need to feel the presence of their country girl in the competition. I personally believe MI was successful in presenting their girls in more than just 5 seconds of fame. Moreover, the entire competition also gave equal footing to all the girls. No one was heavily favored. Everyone had their own moment to shine.
Active Participation of the Candidates in Promoting ICA's Causes


This is what we love the most in this competition. We have seen these girls really knowing the reason why they were sent in Miss International. More than just a battle of the best beauties, MI has proven that they would want to make use of their candidates to achieve all its goals. Thus, we have seen the girls doing brainstorming activities, making project presentations, drafting course of actions, and have exchange of thoughts. Just imagine how these girls from all over the world merge and come up with different ideas on how to promote the mission of Miss International. Not to mention the fact that JOI CFP awared Ms. Haiti for her project proposal and is on its way to implementing it. The girls definitely felt that they have made a difference through these activities.
The Entire Competition Was Fun!


When many members of the official Missosology Forum almost kill each other in defending our respective bets, we have seen that the actual competitors did nothing but to have fun! This is what I love about Miss International as compared to other pageants. I always feel no competition going on. All I can see are girls having fun and enjoying the company of each other. They need not be at their fiercest throughout the competition. They just needed to be natural and enjoy what the pageant had to offer! Rest assured, all the activities MI had prepared, would create a long lasting impact on each of these candidates.