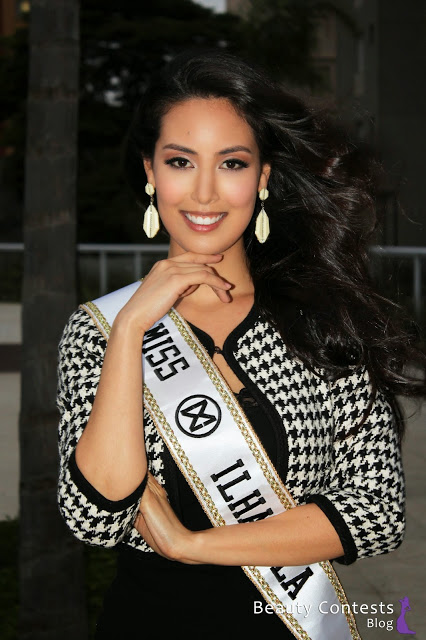 Miss World Brazil 2015 1st Runner-up Catharina Choi Nunes has officially taken over the position of Miss Mundo Brasil 2015, after the winner of last Saturday night's pageant Ana Luisa Castro was stripped of the title.  Reports were discovered that Castro that  is married.
25-year-old Nunes, who is of Korean descent was a former Miss Earth Fire elemental queen winner, representing Korea in the Miss Earth 2013 pageant.   As the new queen, Nunes will now prepare for the Miss World 2015 pageant, to be held in Sanya, China this December.
---
Official Press Release from Miss Mundo Brasil website:
A paulista Catharina Choi Nunes, 25, assume a partir desta segunda-feira, 29 de junho de 2015, o título de Miss Mundo Brasil 2015, após renúncia da primeira colocada no concurso, Ana Luísa Castro.
O estado civil da miss não atende às exigências prescritas no regulamento, e ela optou por abrir mão do título. É importante ressaltar que a organização do Miss Mundo Brasil não estava ciente do estado civil da candidata, que tem uma união homologada em outro país e decidiu por manter o processo de homologação para reconhecimento no Brasil. A organização do concurso respeita a decisão de Ana Luísa Castro, agradece o apoio nesse momento e deseja a ela muito sucesso profissional e pessoal.
Com ascendência coreana, Catharina Choi tem 1,77 m de altura trabalha como modelo e foi apresentadora de televisão na Coréia do Sul durante dois anos. Ela domina o idioma fluentemente, além do inglês. A nova Miss Mundo Brasil representou Ilhabela no concurso e atualmente mora em São Paulo.
A final Miss Mundo Brasil 2015 aconteceu na noite de sábado (27) no teatro Governador Pedro Ivo, em Florianópolis, junto com o Mister Brasil 2015, em um evento nomeado Concurso Nacional de Beleza (CNB). No total, 37 misses e 42 misters disputaram os títulos nacionais. As provas preliminares, que valem, pontos classificatórios para a final, foram disputadas em Jurerê Internacional, com sede no hotel Il Campanário Villaggio Resort .
Mais informações sobre a nova miss, por favor entre em contato com a assessoria de imprensa.
Em breve fotos e cobertura completa do evento, assim como detalhes da coroação oficial de Catharina Choi Nunes.
Nota de esclarecimento enviada à organização do Miss Mundo Brasil
"Anteriormente a minha candidatura ao concurso Miss Mundo Brasil, informei ao meu coordenador estadual sobre a união com Tanguy De Backer na Bélgica, união esta que está em processo homologação tanto na Bélgica quanto no Brasil.
Com a orientação e informação dada pelo meu coordenador estadual de que a organização do concurso estava ciente e de acordo com a minha candidatura, segui em frente com toda a minha dedicação e esperança como representante de Sergipe no Miss Mundo Brasil. Infelizmente, não era o caso. Só após a coroação isso me foi revelado.
Esta homologação pode se dar em um futuro próximo, o que poderia causar problemas para mim e para o concurso nacional. Por isto, é através dessa nota que entrego a coroa e o título a vice Miss Mundo Brasil, com grande tristeza no coração. Asseguro que em nenhum momento agi de má fé. Espero manter o contato e amizade com a organização do Miss Mundo Brasil e que a segunda colocada possa assumir e honrar este título com a mesma intensidade que o fiz nesse curto período de tempo."
Sobre o Miss Mundo Brasil:
Com o lema "Beleza com Propósito", o Miss Mundo Brasil é o concurso oficial que leva a vencedora à disputa da coroa de Miss World (ou Miss Mundo), principal concurso de beleza do planeta.
Em seus 55 anos de história, o Miss Mundo Brasil descobriu e apresentou beldades como a ex-BBB Kamilla Salgado (2010), a cantora Mary Silvestre (2011), a gaúcha Sancler Frantz (Top 5 no Miss Mundo 2013), a atriz Suzy Rego (vice-Miss Mundo Brasil 1984), a carioca Mariana Notarangelo (Top 5 no Miss Mundo 2012), a apresentadora e modelo internacional Tamara Almeida (2008), Madalena Sbaraini (1977) e Lúcia Petterle, que venceu o Miss Mundo em 1971.
Mais informações para a imprensa:
Assessoria Miss Mundo Brasil e Mister Brasil
Fábio Paula – imprensammb@gmail.com
www.missmundobrasil.com.br
www.misterbrasiloficial.com.br
facebook.com/missbrazilworld
facebook.com/misterbrasil