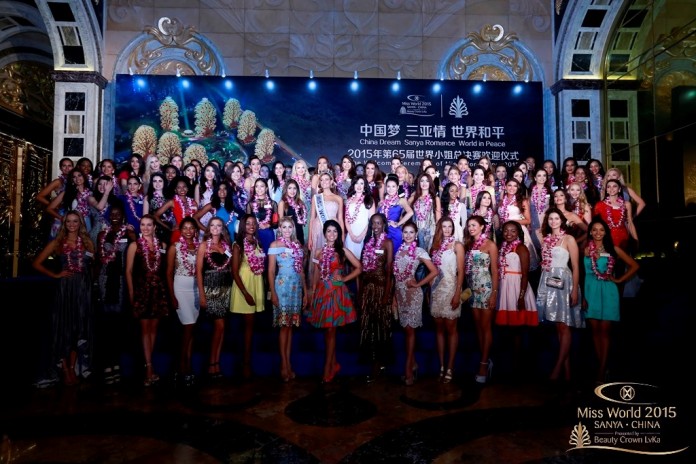 by Titan (resident Pageant Expert of Missosology)
Miss World is my ULTIMATE pageant. Like every year, my list sets the trend and is followed by most experts around the world. Year after year I hit the bullseye with forecasting winners and finalists of the pageant by scrutinizing every contestant and reviewing them sharply. My approach to analyze the contestants of Miss World with my own "secret" formula is already shared by me last year.
This year 120 with beauties vying for the coveted title, the competition is going to be much more than physical beauty. My first impressions on this girl is based on star quality and the stopping time while browsing their profiles. I was able to narrow down 20 amazing girls out of which 10 girls are my crown contenders. These countries are also consistent since past few years at Miss World and feel a crown is due for them. And I bet 100% the winner is from these 10 ladies. So hold your breathe, presenting to you the dynamic, creme de la creme of MISS WORLD 2015!
AUSTRALIA

Tess Alexander is very lively has a bubbly personality like most representatives of her country. She is mesmerizing and understated. I am 100% sure she will stand out in the competition and soon be considered as a girl fighting for the crown. Her overall personality is very engaging and she is also likely to be in the front order of the interview round. She is also likely to do well in Sports Challenge.
AUSTRIA


Anika has a very refreshing personality. She is coming strong in the competition with modeling background and love that she is representing one of the non-powerhouse countries at Miss World. She is energetic and brings a new flavor in the game. I am really expecting her to doing well in the competition. She is going to do well in Top Model.
BRAZIL


Just Wow!! With her diverse ethnic background and strong sash she will be a perfect Miss World and very deserving. She has got everything working for her to become Miss World. Brazil is very strong when it comes to BWAP and that will give put her ahead in the competition. A complete package from BWAP to Beach Beauty to strong personality. Definitely one of the front runners for the crown.
COLOMBIA

Bellisima!! A stunning, modelesque beauty who will surprise us all during the competition. Watch out for her! Like Brazil, she has strong BWAP, she is high fashion and her social media updates are very engaging. Colombia has been robbed few times and I feel this year this girl can bring back Colombia back into the game.
FRANCE

Hinarere is very exotic and ready to take vengeance for last year's injustice. If you have watched her interview videos, you would have noticed there is a certain spark in her that makes her stand out. She great communication skills and admirable aura. Her training is intense and may be the only dark-skinned girl this year to be in Top 5/7.
INDIA

Very unusual beauty sent by India more to the likes of Kaiane Aldorino. However, her preparation has one of the sincerest and her dedication will put her among the front runners. She is most likely to score high in Interview, BWAP and Social Media rounds. Last year Koyal did not advance to the Top5 because of her low points in interview round. This year, Aditi is surely cover up on that. She is definitely one to watch out.
PHILIPPINES


One of the facially prettiest contestants of Miss World 2015. She is exactly what MWO is looking for and another victory for the Philippines is very likely. One of my sentimental favorites for the competition. Keep an eye on her.
POLAND


At this point, the crown is hers to lose. She is a gorgeous stunner from Poland who has charmed me the most among all the contestants this year. A true woman of substance who is very talented and perfect representation of an European beauty. I think this year Europe will be much better represented than previous years. Poland leads the race and is locked in my Top 3. She will be up there for sure! Watch out!
UKRAINE

She is the FACE OF THE MISS WORLD 2015! Like a barbie doll, she is uber gorgeous. She is coming strong and happy to see her shining at the contest. Unlike previous years where Ukrainian beauties couldn't make it beyond Top 10, this year it could change totally. She is talented and sporty.
UNITED STATES

With the recent controversy at MU, she is surely going to milk out the advantage with her Mexican heritage. Importantly, she has a great personality and just like India, her BWAP and Interview rounds will take her to the further in the competition.
VIETNAM

This stunning International model is most likely to be in Top 3 of Top Model. She has very vibrant feel to her beauty and considering Vietnam is so close to Sanya, this will work to her advantage. She is also getting a lot of attention from fans.
Mexico is another country that may get strategic advantage after MWO paid visit and even offered Wendolly to host on site events. However, I don't find Yamelin that attractive. Jamaica is weaker than previous years. Lebanon is very beautiful but most likely she won't make it. Tunisia is another interesting girl. Chile is also pretty. South Africa is a complete package but she is more likely to be just among Top 20/25.
Besides this, here is the list of other girls who could make it to the Top 10
BELGIUM – MONGOLIA – NAMIBIA – SPAIN – SOUTH AFRICA
MY bet for the Top Model/ Beach Beauty are:
Vietnam – Turkey – South Sudan -Poland – Ukraine- Russia- Albania – Austria
Brazil – Colombia – Macedonia – Mongolia – Puerto Rico – Slovakia
BUT THE BIGGEST MYSTERY OF MISS WORLD 2015 IS
WHERE IS MISS CHINA?? Yuan Li is a very good candidate from what I have seen of hers. It was a tough batch to compete and winning among them means she brings to her name certain credibility. However, with not much information about her and being crowned at the last moment, she still remains a puzzle to me. I can only comment on her after I see something of hers from the competition.