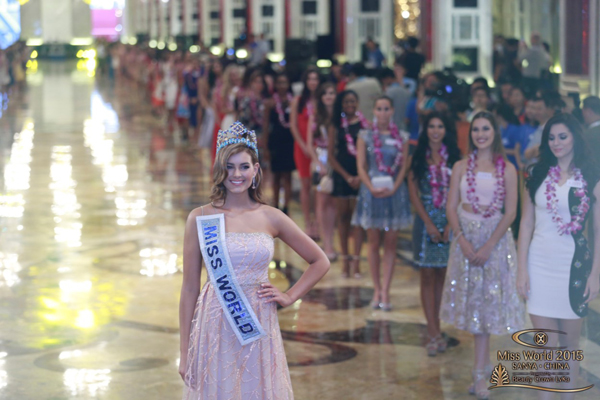 by Latino Observer
Disclaimer: Opinions expressed herein are solely of the author and do not necessarily reflect the official stand or thought of Missosology
Are you excited about Miss World 2015? Unfortunately I am not excited. I have read and re-read a news article from The Globe and Mail and the title of the news is "Miss World Canada blocked from contest due to China visa denial". What does this title mean to you and me as pageant observers? For me, this is very clear that China has big influence on the Miss World pageant whenever it is held in their country.
Okay, maybe you disagree with me but let me share to you what I have read in The Globe and Mail: While the Conservative government in Ottawa voiced support for Ms. Lin, the Trudeau government said it will not comment on a specific visa case, and the Miss World Organization has not publicly protested to Chinese authorities. Such reticence demonstrates China's influence on something as relatively innocuous as a beauty contest. The controversy also shows the consequences for speaking out against the Chinese government outside of the country's borders.
See, just try to read between the lines and form your own conclusion. It wouldn't come as a surprise that two Miss World winners from China were crowned in…wait for it – China! Also, people had been talking about how Miss Norway Mariann Birkedal was denied of at least Top 3 finish largely because the Norwegian government awarded the Nobel Prize to a Chinese dissident.
So, why I say that Miss World 2015 will not be fair? As demonstrated by the denial of visa to Miss World Canada Anastasia Lin, China has all the dirty tactics on its sleeve. And here's another one: ask yourself which nations are currently considered as the antagonists to the Chinese government? Yep, these countries can kiss goodbye to the Miss World crown for China will never allow you all to be victorious in their home soil.
The silence of Miss World is understandable though. No one wants to be rude to your host, right? Miss World 2015 has so far enjoyed great food [did you hear that Miss Earth?], fabulous accommodation and impeccable hospitality. The Mail and Globe reported that Miss World Canada Anastasia Lin has officially missed the deadline and will no longer participate in the 2015 pageant. They offered her to retain her title and compete in the 2016 pageant which will be held in South Korea [?].
Isn't it interesting how political can beauty pageants get, eh? The same newspaper turned to Jessica Trisko for some insights:
For Jessica Trisko Darden, an international relations professor – and the first Canadian to win the ecologically minded Miss Earth contest – the absence of a Canadian contestant is poignant. "It shows the susceptibility of Canadians who have dual nationalities – and it raises questions about our government's ability to ensure that all Canadians are treated fairly by other governments," said Dr. Trisko, who teaches at American University in Washington.
But whatever. Miss World is boring except for the Dances of the World. Besides, Miss Universe will be just a day away.