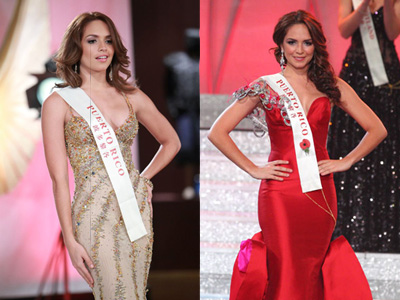 Miss World is where the whackiest of all gowns at Big4 can found. It seems that the most creative gowns can be seen at the World Designer contest which ranges from ethnic prints of Africa to Oriental hand paints on skirts. Here, we take a look at Puerto Rico – a nation that is known for its experimental approach when it comes to gown.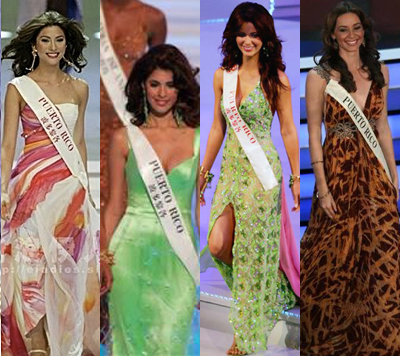 From left to right
Joyceline Montero in Miss World 2003 looks fresh and approachable in her marbled gown. Her gown flows naturally and so light to the eyes. The design of the gown simply gives her an aura of lightness and it goes well with her hairstyle.
In 2004, Cassandra Castro Holland used a mint green gown that exudes a lot of class. And while Cassandra did not make it to the semis, her gown is arguably a stand-out among the Puerto Rican gowns at Miss World recently. However, its clean overall structure would render it more suitable to pageants other than Miss World which was of course quite unfortunate.
Ingrid Rivera followed the same route, color-wise that is, in 2005 but decided to spice it up by applying some texture in the fabric. Anyway, this is not the gown that was famously sprayed with pepper spray and thanks to its generous slit and neckline, Ingrid was a stand-out. She ended as 2nd princess.
In 2006, Thebyam Carrion looks unique in her ala-tiger print style dress. The choice of color is rather drab but the abstract prints are quite interesting. The plunging neckline added a sexy twist while the metallic belt added some sophistication.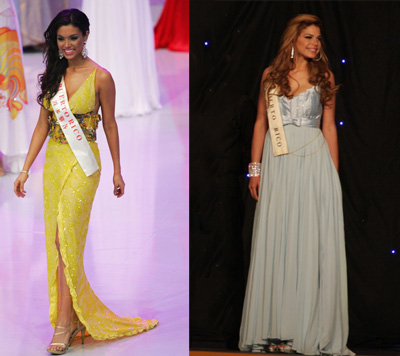 The gown of  Jennifer Guevara (left) at Miss Universe 2007 is a glittering yellow piece with curved slit. It has an air of finesse and class and the belt area is pretty much interesting. This is indeed a perfect gown for Jennifer.
 Ivonne Orsini's powder blue gown is a disappointment. Although, Ivonne was a semifinalist, she could have ranked higher if she used a much better gown. The free flowing skirt did little justice to her figure and the color is kind of muted that it basically disappears onstage.
 Jennifer Colon (left) in 2009 basically used a gown that unharmonious. The dizzying pattern of mostly green at the skirt and the floral appliqué on the bodice is just totally wrong. No wonder Jennifer was not even in the semis.
In 2010, Puerto Rico made a spectacular comeback in the gown department at Miss World.  Yara Liz Lasanta (right) is just a spunky girl that has lots of class and a vavavoom body (she's the Beach Beauty winner). Her gown is a burst of mostly blue florals delicately and meticulously set in a nude canvass. The biggest plus of all is that the cut shows off the Yara Liz' figure.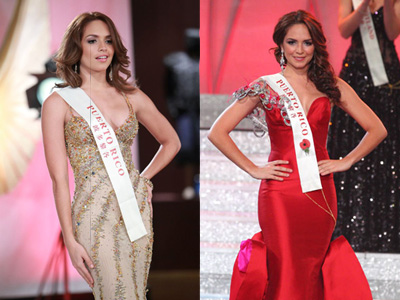 In 2011, Puerto Rico once again landed in the 2nd princess position thanks to the impeccable performance of Amanda Vilanova. Okay on the photo, you could see two gowns – a quick reminder that Miss World has a World Designer Award prior to the finals. And it is up to the contestant (or national director) to have one gown for the award and one for the finals night.
Basically, Amanda wowed the world in both World Designer Award and in the finals night. For the former, Amanda looks high-end in a beaded gown. It was about multi-colors that were carefully beaded diagonally across her dress. The bustier was very much elegant as if bursting with jewels and the cut is figure hugging! At the finals night, Amanda was on the spotlight in pure red. The fabric is simply sophisticated and a touch of metallic twirls in her right shoulder gave something extra in an otherwise monotonous solid color. The side fins on the skirt also gave Amanda a poppy look – that is, the follower on her sash – used by the British to annually commemorate fallen soldiers during November 11. The finals night of Miss World 2011 was held in November 6.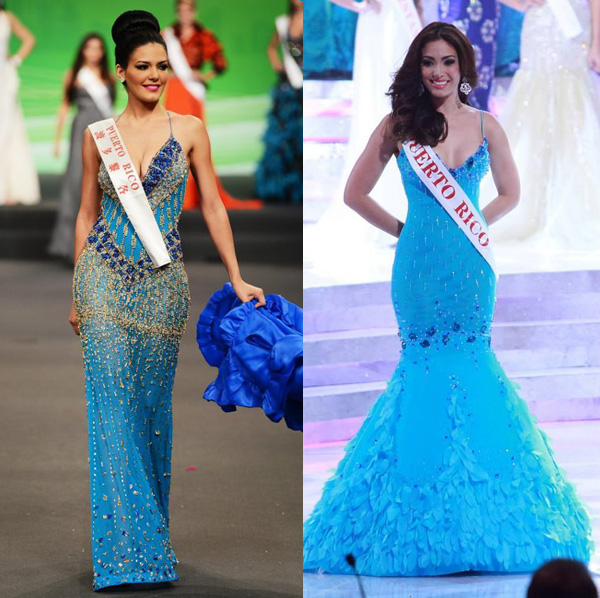 In 2012 and in 2013, Puerto Rico used blue heavily.  Janelee Chaparro looks Middle Eastern in that dress that uses blue as a canvass with royal blue and gold as trimmings. Her biggest mistake is using that blue extra cloth shown in the photo dangling from her left hand which serves nothing but at a distraction. Nadyalee Torres on the other hand looks resplendent in her mermaid cut blue dress but the feathers on the skirt is a bit heavy in the eyes. Other than that, this dress is superb.

Which gowns above you like most and the one you like least? Share your thoughts in the comments box below!