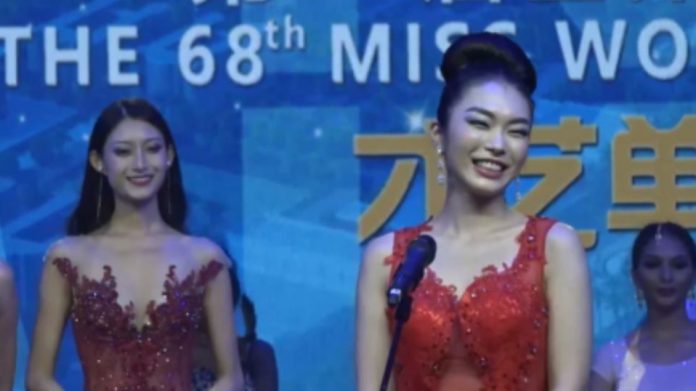 Kanako Date of Japan won the Miss World 2018 Talent challenge held November 27, earning her an automatic placement in the quarterfinals.
She wowed the judges and the crowd with her rendition of Vissi d'Arte, a soprano aria from act 2 of the opera Tosca by Giacomo Puccini.
Host delegate Mao Peirui of China once again placed first runner-up, while Canada's Hanna Begovic was second runner-up. Agata Biernat of Poland and Larissa Ping Liew of Malaysia were third and fourth runners-up, respectively.
Miss World | 2018 | TALENT CONGRATULATIONS WINNER | JAPAN Kanato DATE of Japan gave a spellbounding performance of Puccini's opera Tosca, the aria: Vissi d'Artev.The judges and auditorium were in awe of the performance, which received a standing ovation. Japan has now secured a place in the Final of Miss World 2018 and joins Top Model Winner France to compete for the crown.Highlights from this phenomenal night will follow …..#missworld #mw2018 #mwo #mw2018haikou #mw2018sanya #mw2018china #missmundo #missworldt #talent #entertainment

由 Miss World 發佈於 2018 年 11 月 27 日 星期二
The rest of the Top 20 were:
Bulgaria – Kalina Miteva
Canada – Hanna Begovic
China – Mao Peirui
Cook Islands – Reihana Koteka-Wiki
Czech Republic – Katěrina Kasanová
Guyana – Ambika Ramraj
Haiti – Stephie Morency
India – Anukreethy Vas
Indonesia – Alya Nurshabrina
Malaysia – Larissa Ping Liew
Nicaragua – Yoselin Reyes
Panama – Solaris Barba
Paraguay – Maquenna Gaiarín
Poland – Agata Biernat
Puerto Rico – Dayanara Martinez
Spain – Amaia Izar
Thailand – Nicolene Pichapa Limsnukan
Trinidad and Tobago – Ysabel Bisnath
United States – Marisa Butler