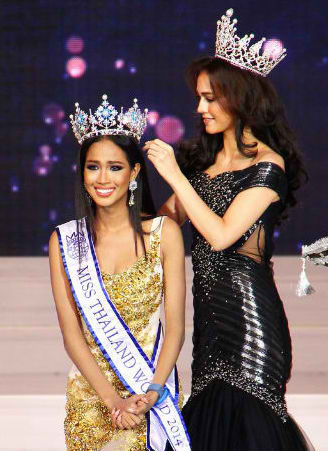 She raised an eyebrow or two, so says the respected Bangkok Post but if most of the news in Thai pageantry are negative, this story is a breathe of fresh air. Nonthawan "Maeya" Thongleng is not your usual porcelain-skinned Thai beauty. She sports a bronze color and she is proud of it and she is now dubbed by the Thai media as Pocahontas.
"Many Thais want to be white and those with dark skin try to hide it. They think they aren't good enough but I've shown them that this isn't true," Maeya told the Thai press. Her skin tone has became an inspiration to many Thais who sports that natural skin color. This, amid the daily bombardment of adverts featuring skin whiteners – from soaps to lotions. Maeya has became an inspiration to the marginalized although the real natural skin tone of Thais happen to be mostly brown.
Taking a break from the tradition, Maeya will surely get a lot of attention at the Miss World 2014 pageant. After all, it will be held in London where tanning lotion is as popular as whitening lotions are bestsellers in Bangkok. Besides, the brown color of Sirirat Rueangsri is quite more popular than the white skin of Kanyaphak Phokesomboon. Maeya has also that kind of personality that Miss World wants. She's confident, comfortable in her own skin and above all a very talented singer.