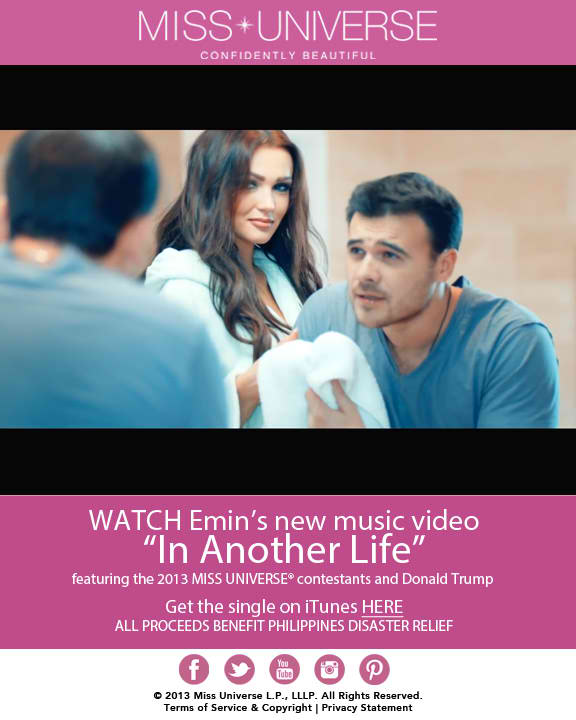 ALL PROCEEDS ON ITUNES FROM INTERNATIONAL RECORDING ARTIST EMIN'S NEW SINGLE "IN ANOTHER LIFE"
TO BENEFIT PHILIPPINES DISASTER RELIEF
VIDEO PAYS HOMAGE TO MISS UNIVERSE BEAUTIES AND GETS HIM "FIRED" BY DONALD J. TRUMP
NEW YORK, NY – November 20, 2013 – International recording artist EMIN announced today that he will be donating 100% of the profits from his new single "In Another Life" when purchased on iTunes and will benefit the disaster relief fund for victims of Typhoon Haiyan in the Philippines. Miss Universe Philippines is one of the contestants who appears in the video.
A dozen of the world's most beautiful women are more than just a dream for EMIN in the music video until he is brought back to reality by the always tough-talking words of Donald Trump. EMIN falls asleep during a business meeting only to start a dream sequence featuring a bevy of Miss Universe contestants. With the blink of an eye, the girls magically appear and disappear leaving him bewildered.
In his first music video appearance, "The Donald" appears in his natural habitat (a boardroom) to wake EMIN up from his Miss Universe daydream with his famous catchphrase "You're Fired." The two filmed the music video in the days leading up to the finals of the 2013 MISS UNIVERSE® Competition held in Moscow, Russia earlier this month. EMIN served as one of the musical performers on the global telecast, which was seen by more than 1 billion viewers and also featured Panic! At the Disco and the legendary Steven Tyler.
The MISS UNIVERSE competitions have a tremendous following from fans in the Philippines and in previous years the pageant has been taken there twice before. Viewers can watch the video on YouTube at http://bit.ly/1bQXceT and can purchase the song through iTunes at http://bit.ly/IgiuqY. To learn more about EMIN please visit www.emin- music.com.