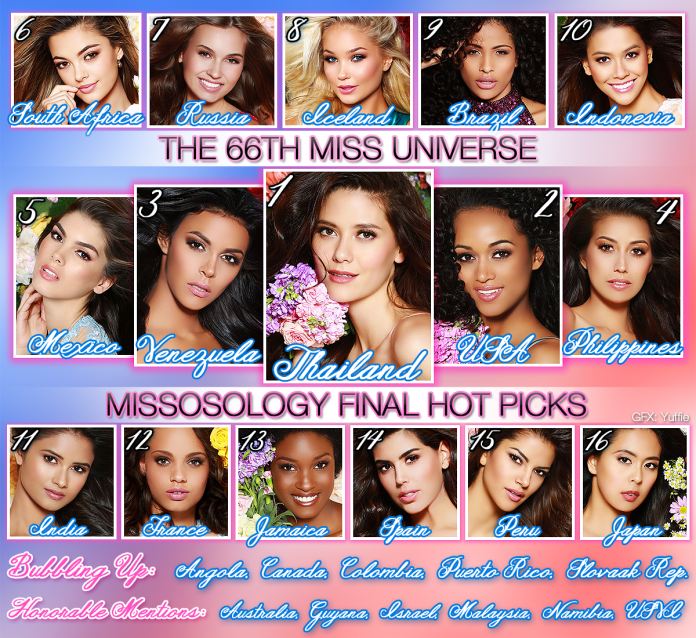 The 66th MISS UNIVERSE Final Hot Picks
We are now down to the last couple of days of Miss Universe!  As a tradition, we asked for the opinion and entries of our resident pageant experts and seasoned analysts of Miss Universe about their overall impression this year.  Their votes along with the members of the Missosology Editorial Board had determined our much anticipated final hot picks!  Although it is quite alarming that Miss Universe has lost its glamour and excitement this year, we hope that the pageant night will prove otherwise.  Miss Universe is, no doubt, the most highly anticipated pageant event of the year and we cannot settle for a mediocre show with questionable result.  However, despite the low key events in Las Vegas and the absence of a glittering preliminary competition, Miss Universe still has many ways to redeem itself.  One of them is to crown a worthy winner!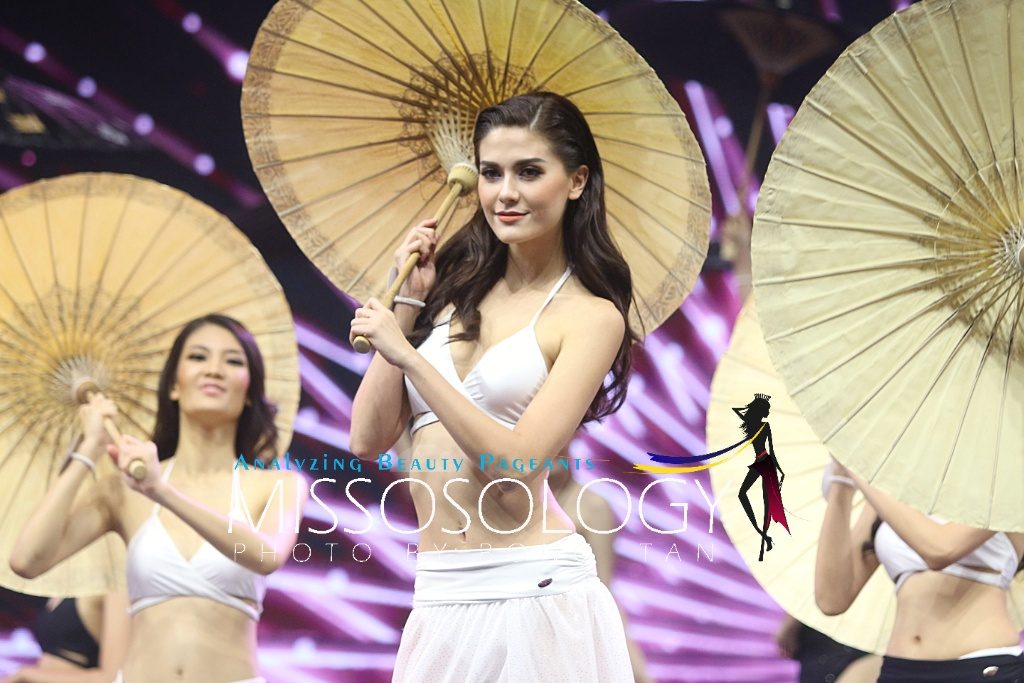 These are the delegates whom we have picked as the ones to watch out for on November 26th!
1st. THAILAND (Maria Poonlertlarp) – This is the year that Thailand has long been waiting for.  Last July, the Kingdom of Thailand was still under the one-year mourning period due to the death of their beloved King Bhumibol Adulyadej.  But, it did not stop the Miss Universe Thailand organization to produce a glamorous show where Maria was crowned as the winner.  Pageant fans from all over the world considered Maria as the one to beat, and MUT did listen to the fans.  After being crowned as the new Miss Universe Thailand, Maria had a chance to meet Pia Wurtzbach during the Meet and Greet event organized by the MUT organization.  Maria's proficiency in English was noticed right away by global fans during that event.  Thai beauties have always been admired by people all over the world, but when Miss Universe season comes, the Thai delegate would always struggle in the English langauge.  Despite the wonderful wardrobes and accessories that they bring every year, they always fall short of capturing the crown, not even a runner-up placement.  If Maria does everything right on Sunday night, the crown will be hers, and it will be a momentous victory for Thailand, and for the Miss Universe Organization as well!
2nd. USA (Kára McCullough) –  The events preceding this year's Miss Universe lead us to confer for a possible crowning of the host delegate.  The last time that the USA won the crown was also in Las Vegas, and it was during the aftermath of the Sandy Hooks shooting which happened in Connecticut.  We are not trying to politicize these unfortunate events, such as the recent shooting incident in Las Vegas last month, in favor of the local bet.  However, this scenario is very possible because, even with the absence of politics, Kára is a worthy contender for the crown.  She is intelligent, passionate with her cause, and not to mention, she is very confident on and off stage!  Once she enters the Top 5, it will be hard to prevent Kára from going further because her manner of speaking is so engaging, everyone is drawn to her!  It will be a belated "Thanksgiving Day" treat for America when we see the Miss Universe crown on Kára!
3rd. VENEZUELA (Keysi Sayago) –  She was the hottest delegate prior to our final hot picks, and yes, Keysi is here to slay!  She has prepared really hard for this!  Her overal performance during the preliminary competition was outstanding!  Initially, there was a rumor that Keysi would be sent to Miss World 2016 after wining her crown last year, but that proved to be false.  Keysi's only aim is the Universe, and nothing less.  She studied English, and has improved vastly in her communication skills.  Although they criicize her strong features in still photos, but in motion, Keysi is very much like any girl next door! It will be boring not to see Venezuela for the second year in a row, especially now when we've been watching Miss Universe live on TV since the 1970s!  The last time Venezuela failed to enter the semis for more than twice in a row was in 1975.
4th. PHILIPPINES (Rachel Peters) – They say that Miss Universe cannot survive without the Filipino fans!  Las Vegas, as a host, has proven many times that this is like the Philippines' home turf during the annual pageant.  Since 2010, the Philippines have all made it to the Top 5 in Miss Universe when the pageant was held in Las Vegas.  And we are expecting that trend to continue with Rachel whom we have observed as the Miss Philippines who never gave her fans the reason to worry about when it comes to swimsuit figure and overall styling! On top of that, Rachel is a great stage performer and has an impeccable communication skills.  Pia Wurtzbach will be judging in the finals, so we also consider that as an advantage for the Philippine bet.
5th. MEXICO (Denisse Franco) – Imagine this scenario.  Mexico and Philippines, once again, are in the Top 5 in Las Vegas!  The last time that this happened was in 2010, and what a memorable year that was!  The crowd will be as wild as a boxing match, and it will be great, overall, for Miss Universe!  Denisse is young and has a youthful vibe all over.  With the recent near victory of Mexico at Miss World pageant, Denisse is now more determined than ever to win the third Miss Universe crown for her country, which just recently experienced a disastrous earthquake.  Her overall look reminds us of classic Hollywood actresses with timeless beauty!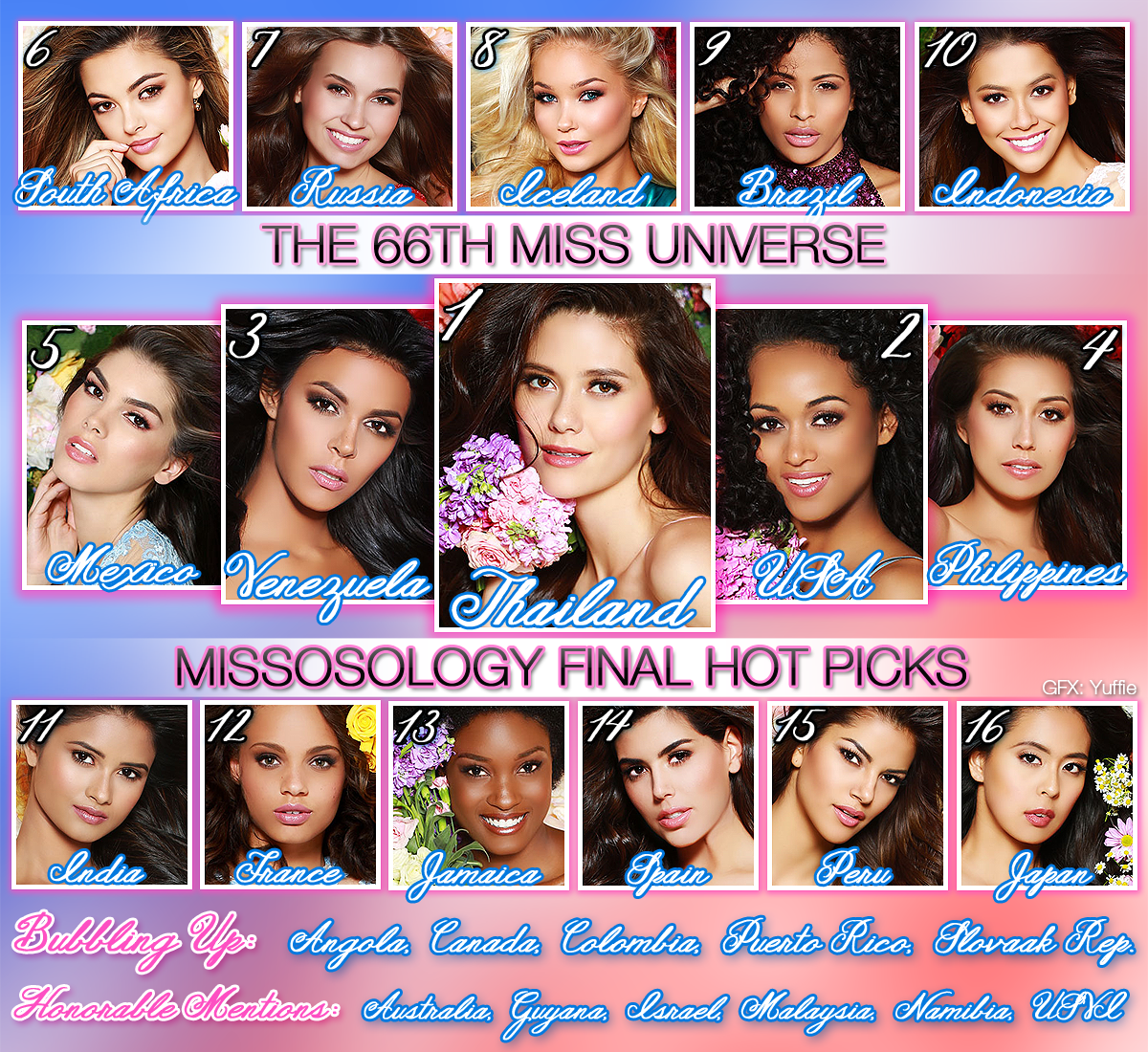 6th. SOUTH AFRICA (Demi-Leigh Nel-Peters) – A very disappointing preliminary performance had caused Demi-Leigh a Top 5 spot in our hot picks, but that's not to say that we are toally counting her out of contention.  We hope that this would make her realize that she does not need to overdo things to be beautiful.  She is already beautiful, and has lots of believers from all over the world.  The Miss Universe mantra is "Confidently Beautiful" so we expect Demi-Leigh to show that she is confident no matter what the occasion may be.  If she wins, given the proper styling and minimal make-up, she will make a great brand ambassador for MUO and IMG!
7th. RUSSIA (Kseniya Aleksandrova).  She actually surprised many of us in the preliminary competition, so pageant experts have posted their bets on Kseniya!  Aside from her charm and sweet looks, Kseniya is actually very intelligent.  She was 1st Runner-up in the highly competitive Miss Russia pageant, which is an annual televised competition with around 50 finalists from all over the Russian Federation.  That's no mean feat for this finance graduate, who have been modeling since she was 19.  Because of conflict of schedule, the winner of Miss Russia 2017 had no choice but to compete in Miss World 2017, so Kseniya got the chance to be on Miss Universe stage.   Will it be a blessing in disguise?
8th. ICELAND (Arna Ýr Jónsdóttir) –  One of our regular editors in Missosology, who is based in Japan,  is a hard core fan of Arna, and has always been a believer of this Icelandic beauty!  Although not so many experts had voted her in the top spot, we believe that Arna's interesting story, as well as her hard work and dedication, are reasons enough not to ignore her potentials.  She is what being confidenty beautiful is all about, and we want to see her go further into the competition.  Despite coming from a small country with no demographic and social media strength, Arna has earned a lot of fans from all over the world when she stood up for herself and other women who were bullied because of their body size.
9th. BRAZIL (Monalysa Alcântara) – Not so many actually expected that Brazil would be crowning another black beauty as a contender for Miss Universe!  Many thought that crowning Raissa Santana last year was just a political gimmick by the Miss Universo Brasil organization.  However, the victory of Monalysa has proven that they are more accepting of beauties no matter which skin color they have, for as long as they perform well during the pageant.  Monalysa is young – very much suitable as a Miss Teen contender – and if she wins, we will be having two teens in the Trump Tower as housemates under the Miss Universe umbrella!  Her beautiful and contagious smile is actually her main weapon!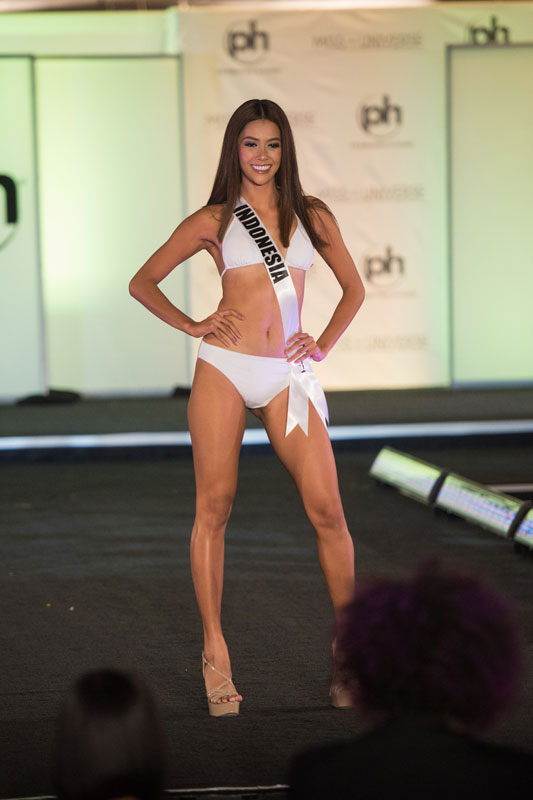 10th. INDONESIA (Bunga Jelitha) – Will this year be the time that Indonesia will be breaking the invisble wall of penetrating the Top 10?  Yes, Indonesia has a remarkable four-year streak in the Top 16 (Top 13 last edition) but they have never gone further than the swimsuit round.  We certainly do not know the reason behind that, but there seems to be something lacking at the Indonesian delegate every year which prevents them from penetrating the Top 10 (Top 9 last edition).    Bunga is a model, and has loads of fans who will be supporting her, so we hope that we will be seeing her in the evening gown round as a contender.  However, we want that pink prom dress out!  She should change her gown in the finals!
11th. INDIA (Shraddha Shashidhar) – No less than the reigning Miss Universe, Iris Mittenaere herself was there to crown Shraddha in Mumbai for the Miss Diva Universe 2017.  The Miss Universe staff, headed by Paula Shuggart, were treated like royalty in India, and that proves how serious India is with the Miss Universe brand name.  So, they made no hesitation to crown the perfect diva to give India their third Miss Universe!  Shraddha is not your ordinary Indian girl.  She is well-rounded and multi-talented.  With her background in classical dancing, she looked polished on stage during the preliminary swimsuit and evening gown competitions.
12th.  FRANCE (Alicia Aylies) – Being the representative of the country of the reigning Miss Universe may be a bit of a pressure for Alicia, but she is doing well in the competition.  Coming from French Guiana, we joked if Alicia belongs to the European group or Americas when the clash of the continents is done to determine the four slots allotted for each region. Of course, she will be at the European region, that has four slots and a possible wild card placement!  Alicia's exotic beauty can be considered an advantage, but we also have Kara and Monalysa who have Afro hairstyle.  But who really knows what the MUO is brewing up!  Maybe this will be the year when Afro hair is the "in" thing!
13th. JAMAICA (Davina Bennett) – Davina is, indeed, divine! Yes, she looked like a divine goddess during the preliminary competition, and it was just impossible not to notice her.  This aspiring entrepreneur is passionate with her charity work that helps break the stigma of hearing loss, and has long been involved with the deaf community of Jamaica.  The island that gave us Bob Marley and Usain Bolt has gifted us with divine Divina!
14th. SPAIN (Sofia Del Prado) – Overall, we believe that Sofia is one of the main contenders from Europe.  Her stage presence is amazing, and we acknowledge the fact that she can effectively communicate in English, which is usually rare for the Spanish delegate at Miss Universe.  Sofia is very fashionable so we have high hopes that she will do well in the competition.
15th.  PERU (Prissila Howard) – Prissila was the runner-up of Valeria Piazza in 2016 and was sent to a minor pageant in Las Vegas where she placed in the Top 10.  Due to the restructuring of the organization, Miss Universe Peru appointed Prissila as the successor of Valeria, with Iris Mittenaere as the special guest.  That means something, right?  Prissila now has the chance to prove her worth once again as she battles for the Miss Universe crown which was last won by Peru in 1957!
16th.  JAPAN (Momoko Abe) –  Momoko's outstanding national costume presentation made her presence marked in this pageant.  Although her body is below par in terms of Miss Universe standard, the rumored comeback of the Mikimoto crown may give her a placement via the wild card.  Japan pays one of the highest franchise fees at Miss Universe, so Momoko is pressured to do well in the contest.  That is perhaps the reason why she tapped the world-famous Filipino designer, Leo Almodal, to create her competition gown.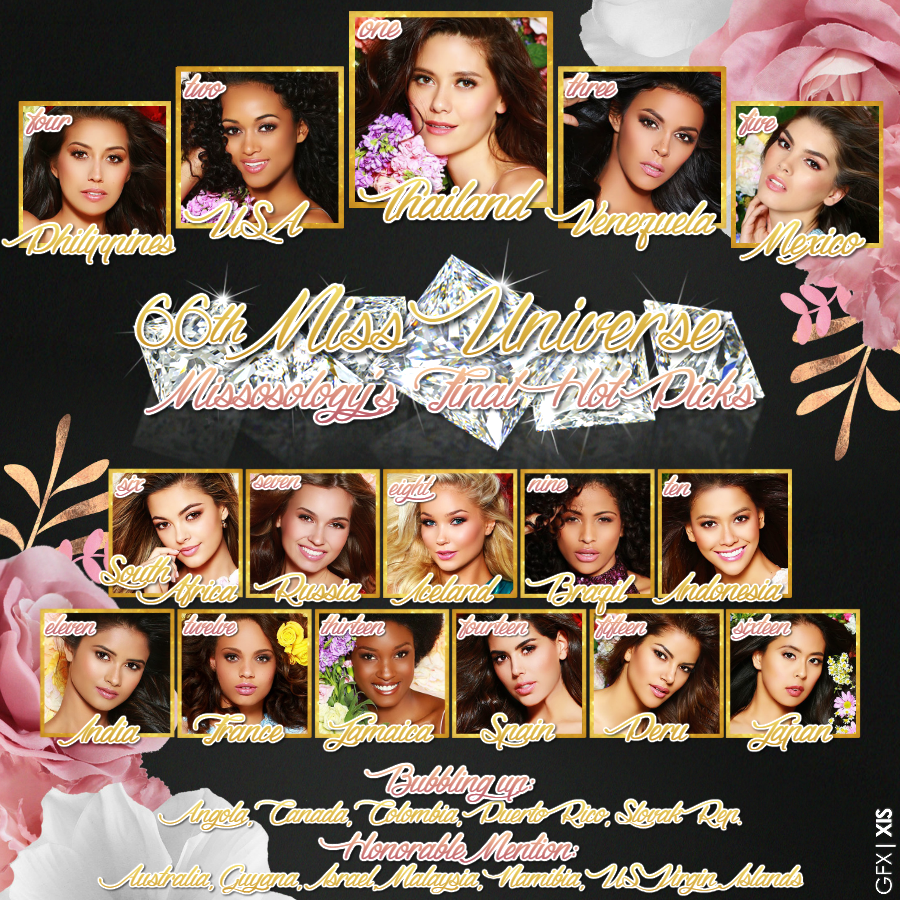 Bubbling up: 

 
Angola – She is one of the most beautiful African contenders this year and had a decent preliminary performance.  If she places in the Top 16, we won't be surprised!
Canada – One of the unique faces in this year's edition, we feel that she deserves a spot in the Top 16 if there is no regional allocation.  Hoping that the judges had given her good scores to be in the Top 16, but the American group is already crowded with lots of stunners!
Colombia – This year, maybe it's a no for Colombia, but we can be wrong!  She has been fairly consistent all throughout the competition, but her preliminary evening gown was not that outstanding, as we expected more from Colombia.
Puerto Rico – We still have her in our radar, and hoping that Puerto Rico will be back in the running, but again, it's the regional allocation that pulled her out in our Top 16.  She can be a Wild Card entry, though!
Slovak Republic – Totally underrated, if this was Trump's era, she would be a sure shoo-in for the Top 16 slot!  Her preliminary performance was better compared to some hyped delegates, and her black evening gown was one of the best!
Honorable Mentions:
Australia – Australia is one of the more established national franchises of Miss Universe, so we are hopeful that this year's delegate will get the nod of the organization, but overall, she lacks the charisma of her more successful predecessors.
Guyana – A sentimental favorite by many, but at Miss Universe stage, she may have been overwhelmed by the level of competition.  But, we are not counting her out, yet!  Her story, although it has been widely publicized back in Miss World 2014, may be used by IMG as something to stir interest from the viewers.
Israel – One of the prettiest and mostmemorable faces this year, Israel has always been consistent in sending outstanding beauties but IMG seems not interested in them.  Hoping that Gal Gadot's success will hit them hard because she seems to have already proven that you don't need to win the MU crown to be successful.
Malaysia – One of the earliest delegates to be crowned, she is a great contender from her beautiful country.  However, Malaysia is always struggling to compete against neighboring powerhouse countries like the Philippines.  With Thailand and Indonesia now catching up, Malaysia is just a shadow among the Southeast Asian countries.
Namibia –  Seeing her video and passion towards Namibia's wildlife habitants, we feel that this woman is worthy of an honorable mention.
US Virgin Islands – Her bubbly personality and vivaciousness registered well on us, and reminded us that no matter what calamities come our way, we can only move on and be positive!