Miss Universe 2017 Third Hot Picks
Confidently beautiful!  How do we truly define the catch phrase of Miss Universe?  The idea of judging someone based on "how confidently beautiful she is" is so vague.  It has put the Miss Universe pageant into the same category as Miss World – that is to say that whoever is categorically favored by the organization to place and win, will eventually get the nod of the judges.  Loyal followers of the pageant are now questioning if the preliminary competition even matters.  Some of our pageant experts would even lament on the fact that many top performers in the live preliminary competition show had failed to make the first cut, simply because their respective "story" was not what the MUO was looking for.
During the 65th edition of Miss Universe, which was held earlier this year, most if not all, of the Top 13 qualifiers in the first cut had interesting stories.  Even this year's edition of Miss USA was criticized by former Miss USA winners, who labeled it as being too politically colored.  The organization wanted to shove down on everyone's throat the overall theme, which was about "diversity".
The question now is, what is Miss Universe looking for this year?  What is exactly on the proverbial menu table?  Are we going to see a set of finalists who are composed of women with interesting stories?  Are we bound to see some odd additions into the list of finalists simply because they paid high franchise fees?  Are we going to have a diverse group of finalists in the name of political correctness?  Or, are we going to have a list where everyone can accept, as they would be based on what we saw in the preliminary competition?
Leaving behind the political and social elements of the quasi-reality show that is called Miss Universe, here are the women who have been the hottest favorites of missosologists from all over the world, judging from photos, videos and social media platforms.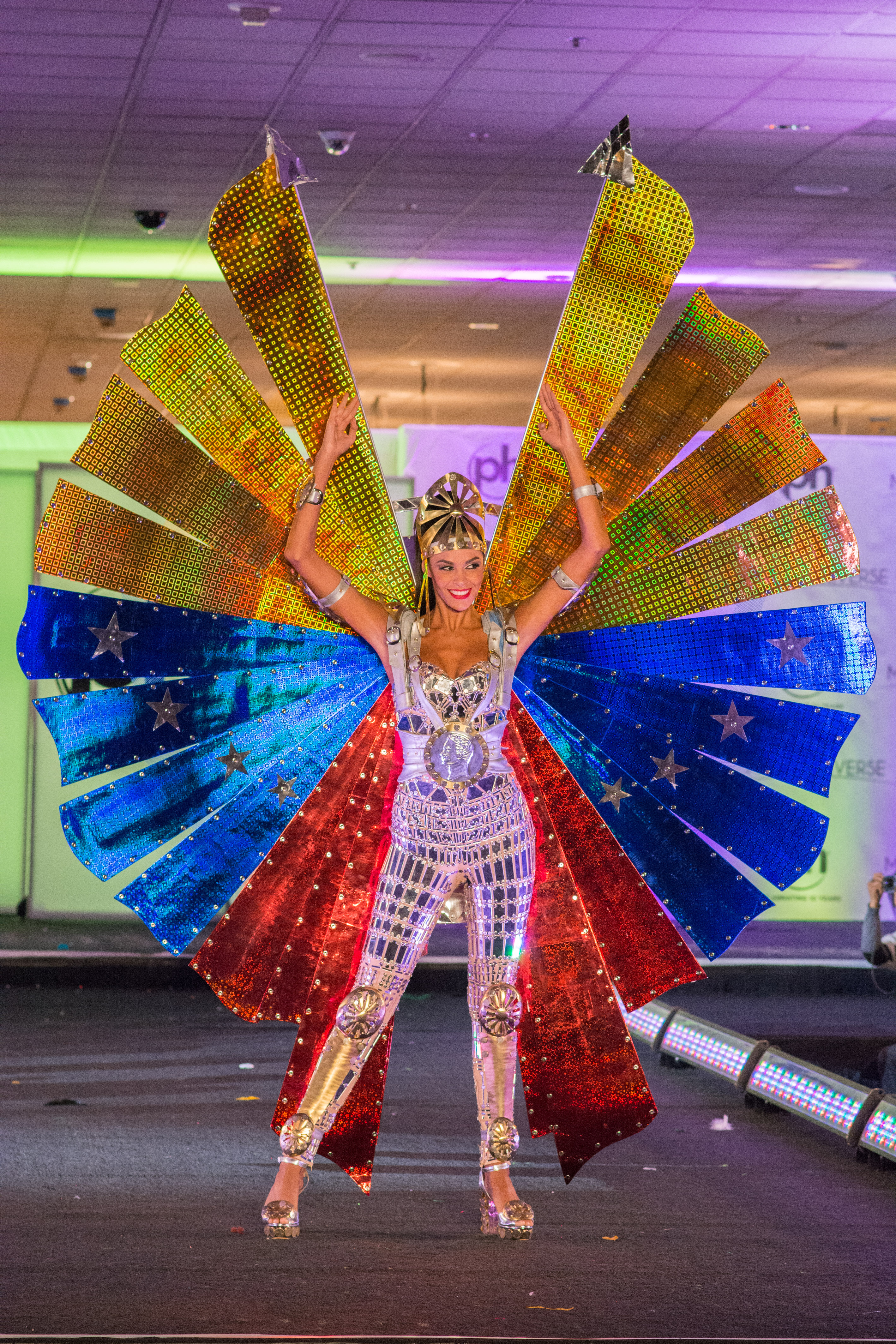 1st. VENEZUELA (Keysi Sayago) – Despite the difficult situation that her country is facing economically, Keysi made sure that her preparation for Miss Universe would not be sidelined.  Yes, she is affected by the recession, just like any other Venezuelans, but she took this unfortunate situation as a way to be able to help others.  This year, the team of Osmel Souza focused on Keysi's interesting Cinderella story.  They also made sure that her charity works would be highlighted in her introduction video.  With Keysi's lovable and vivacious personality, we expect Venezuela to be back on track after last year's major disappointment.
2nd. SOUTH AFRICA (Demi-Leigh Nel-Peters) – The Miss South Africa organization was right in sending Demi-Leigh to Miss Universe because this is the pageant where everything about her will be appreciated: beauty, body, personality and an interesting story (she is a hijack victim and was held at gun point)!   If she was sent to Miss World, chances are, she may have been sidelined by Julia Morley because nobody knows exactly what this woman really wants for a winner.  Yes, Demi-Leigh can win the MU crown for South Africa after nearly four decades!
3rd. THAILAND (Maria Poonlertlarp) – Since winning her national crown, Maria has been consistent in always looking the best in whatever occasion. She is, by far, the best Thai delegate we have seen in recent memory!  At 6-feet, she always catches everyone's attention with her impeccable stance and graceful moves.  No other Asian delegate this year can match the packaging of Maria.  She is also fluent in English, which makes it even easier for her to enter the final cut!  The age of Thailand has finally arrived at Miss Unvierse, and Maria has all the goods to seal it with a victory!
4th. ICELAND (Arna Ýr Jónsdóttir) – At Miss USA and Miss Teen USA, we always see an athletic girl making the cut, and they are usually blonde!  Arna actually fits that bill! Currently, there is no blonde member in the MUO trio (Miss Universe, Miss USA and Miss Teen USA) and it will be great to have Arna as par of it!  After seeing her introduction video, we are convinced that her story is something that MUO would not let go!  Not long ago, Arna was bullied in a minor international pageant for being "fat", so she became even more determined to prove that she is more than just the size of her body.  Now, she has become an advocate against body shaming, and winning the Miss Universe Iceland title has given her the platform to further her cause.
5th. INDONESIA (Bunga Jelitha) – Indonesia has never gone beyond the swimsuit round since 2013, when they first began their successive placement in Miss Universe.  The success of Indonesia at Miss Universe can be attributed to their organization which is really serious in preparing their delegates in three of the major international beauty pageants in the world.  We believe that Bunga, who is an accomplished model and a major performer on stage, will improve Indonesia's placement.  Hopefully, we will be able to see her compete in evening gown because her last four predecessors were one shot close in accomplishing that!
6th. PHILIPPINES (Rachel Peters) – No other Philippine delegate at Miss Universe can match the endless legs of Rachel!  She is the perfect girl to represent her tropical country with that enviable beach tan.  Not only that, she is also equipped with a wit and charm that is always expected from the Philippines.  Dubbed as the greatest pageant fans in the world, Las Vegas will once again burst into thunderous cheers and applauses from Filipino fans when Rachel proudly carries the banner of the Philippines!
7th. BRAZIL (Monalysa Alcântara) – Judging from her photos alone, no one would think that Monalysa is only 18 years old.  She is young, confident and very passionate with helping others.  Even at a young age, Monalysa has the maturity of a young adult.  Her country has been enjoying a good run at Miss Universe, with six successive placements in the first cut.  They also hosted the pageant in 2011, which also marked their best placement within that time period.  Last year, Raisa Santana was Missosology's top pick to win the crown, but only ended up in a disappointing Top 13 placement.  Will Monalysa achieve a better result than her?  We will find out!
8th. FRANCE (Alicia Aylies) – Although she does not live in mainland France, Alicia is proud to be representing her wonderful country at this year's Miss Universe.  At 18, she represented French Guiana at Miss France 2017 and won against 29 other entrants representing the provinces and territories of France all over the world.  She actually won the ticket to represent France at Miss Universe 2017 before Iris Mittenaere won the crown in Manila last January.  The pressure is now on Alicia to achieve a back-to-back win, which is something that only happened once in the history of Miss Universe.  Being a passionate fencing athlete, Alicia is a very disciplined young woman with a very dedicated heart.
9th. COLOMBIA (Laura González) – Laura's main strength, as compared to her predecessors, is the fact that she is more comfortable to speak in English while in public.  Yes, the physical attributes expected from a Colombian beauty queen are there, so we need not to justify her inclusion in terms of physical beauty.  We always trust the Colombians to deliver when it really matters.  Laura, as we saw during her national pageant, is an eloquent speaker, so we expect her to do well during the Q&A.
10th. USA (Kára McCullough) – We were actually surprised when Kára won Miss USA, but it was a pleasant one.  Her passion for science and education is indeed very unique, for we have not seen a Miss USA winner with such platform in recent years.  Kára gave the American capital a back-to-back win at Miss USA and for now, we expect her to go as far as a Top 10 finish.  But we just can't underestimate the USA sash at this year's edition because the unfortunate event in Las Vegas some weeks ago may boost Kára's chance to win the title, just like how Olivia Culpo managed to win the crown a few days after the Sandy Hook shooting rampage took the lives of 20 children in an elementary school in Connecticut.
11th. MEXICO (Denisse Franco) – Las Vegas is like a second home for Mexicans when the pageant is being held there.  Mexico has a 100% rate in placing during the first cut when Las Vegas hosts Miss Universe.  In fact, during the two occasions that Mexico won the MU title, they were both held in Las Vegas.  There is some sort of a lucky charm that Las Vegas holds for Mexico, and we feel that Denisse will benefit from that.  Leaving any superstition behind, we believe that Denisse is more than capable of winning the crown from Mexico after seven years of waiting.  This 19-year-old high school graduate has the dream of winning Miss Universe, and we hope that her victory can bring joy and happiness to her constituents back in Mexico, who recently suffered from a devastating earthquake.
12th. JAPAN (Momoko Abe) – We have received the news that Japan is actually paying one of the highest franchise fees in the current MU system. Unfortunately, their national pageant leaves nothing to be desired as it lacks the elements of a proper pageant event.  However, Missosology Japan was right when they predicted Momoko Abe to win the crown last July.  She is a daughter of a popular TV reporter, which made her victory something to talk about, at least in Japan.  She may lack the charisma of past Miss Universe Japan winners who did well internationally, such as Kurara Chibana, Riyo Mori, and Ariana Miyamoto, but, given the media mileage that she has achieved since winning the local crown, Momoko is definitely in the radar of MUO.  Her national costume presentation was a show stopper, and we are yet to see how her Leo Almodal gown will fare in the competition.
13th. SPAIN (Sofia Del Prado) – When was the last time we heard of a Miss Spain speaking perfect English?  Well, we have Sofia right here!!!  The terrorism attack in Barcelona this year has caused a permanent scar in the hearts of many Spanish nationals, and now the independence movement of Catalonia/Catalan has put her country once again in the news.  If Sofia can handle discussing these issues about her country during the preliminary interview, she will easily get the nod of the judges because she has the story!  Yes, she is beautiful but with the current MU system, a story is just as important as your evening gown and catewalk.
14th. PUERTO RICO (Danna Hernandez) – Hurricane Irma and Maria may have reduced her island into a wasteland, but Danna did not waste any time helping those who are in need.  The difficulties and challenges that the Puerto Ricans have experienced only gave Danna more reason to make them proud in Las Vegas.   She will surely make a mark!
15th. GUYANA  (Rafieya Husain) – Rufieya's story is nothing new to genuine pageant followers.  The domestic violence and abuses that she experienced had paved the way for her to open a non-profit organization that has expanded exponentially since her Miss World stint.  Rafieya is one of those that we cannot underestimate because she is very serious to give her country their first ever placement at Miss Universe.
We will be publishing our post-preliminary analysis in a few days, so watch out for that!  In the meantime, what do you think of our list?  Do you think we missed someone?  Share your thoughts by posting your comments below and we will use your valuable opinion for our next hot picks!