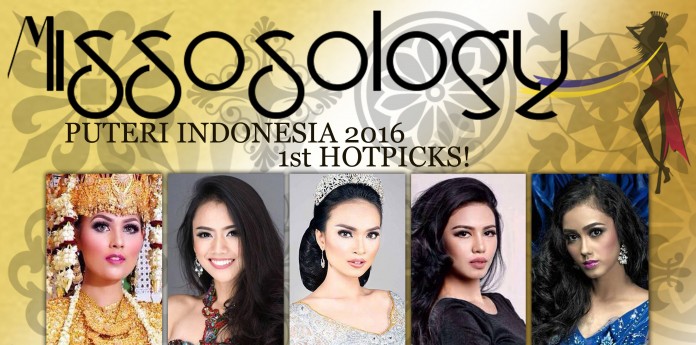 Puteri Indonesia 2016 will come into conclusion a few days from now and while it is difficult to ascertain the frontrunners considering that Missosology hasn't tracked down the provincial winners, there are few contestants that basically caught the eye of our in-house beauty experts.
On top of our list is Ratih Anggraini (Sumatera Selatan), a 24 year old volleyball player who loves to sing and dance. Ratih also works as a model and it is very clear that this candidate has a lot of poise and class. The 5'8.5″ tall beauty has a personality fit for a beauty queen and it should hardly be a surprise considering that she works as a stewardess!
On the second place is Delicia Gemma Syah Marita representing the District 6 of the Jakarta. This 22 year old lady exhibits a beauty that can be trained in order to compete with the world's best. She has good English skills and likes to create her own fashion design.
If fierce is en vogue at Miss Universe, look no further for the beauty of Mutia Ardi [Jakarta District 2] exemplifies not only fierceness but sophistication as well. Her looks transcends borders and this 20 year old actress who stands 5'7″ tall will surely catch a lot of attention whether she will compete at Miss Universe, Miss International or Miss Supranational. She is currently ranked third in our hot picks but she certainly she can progress further!
Ariska Putri Pertiwi comes in our fourth place. Her beauty reminds us all of the past Puteri Indonesia winners – a prototype beauty if you will. She represents the province of Sumatera Utara and she is 20 years of age. This lady is musically inclined and works as a model while pursuing a degree at a medical school.
Ranked at number 5 is Intan Aletrino from Sumatera Barat. Her unique beauty can be classified as exotic by Indonesian standards but she has a lot of class. What makes her stand-out is the Dutch blood running through her veins. She is pretty tall too at 5'9″ which basically makes her tower over most contestants by few minuscule inches!
There is something about the beauty of our sixth placer. Dessy Tri Widiarti has some kind of x-factor at a first glance. A 19 year old dancer and representing Bengkuli, Dessy may come as a dark horse that could even allow her to win any of three major titles being offered!
Belda Amelia comes at number 7 but if there is a good pageant for her to join it should be the Miss International pageant. The 20 year old beauty has this animé look that would make the Japanese go gaga over her. Classic Asian look with a hint of fierceness!
There is that unanimous agreement among our experts that Miss Jawa Barat Evan Lusandrah – Top 8 in the list – is a beauty to watch out for. It appears she knows how to "smize" – that is smiling with your eyes. But if ever she doesn't have an expertise on this field, then must just have expressive eyes which as the reigning Miss Universe attest, a huge advantage in pageants like Miss Universe!
Bali is pretty much an odd province in a highly diverse nation like Indonesia. It is pretty strong at pageants too and this year, A.A. Sg Istri Karina manifests the strength of her magical island. And don't say you can't take her seriously. This aspiring lawyer who can dance and sing can easily beguile anyone with her charms!
Rounding up our Top 10 is Kezia Roslin Cikita Warouw, a 24 year old beauty who is representing Sulawesi Utara. Her very Asian looks is her huge plus and not only that. As a 6-foot tall lady, she will literally stand-out wherever she goes!
Bubbling up:
11.) Kalimantan Selatan – Nina Nurlina
12.) Lampung – Felicia
13.) Maluku Utara – Nia Nadia Chalil
14.) DKI Jakarta 5 – Kurnia Anggraini
15.) Jawa Tengah – Disma Ajeng Rastiti