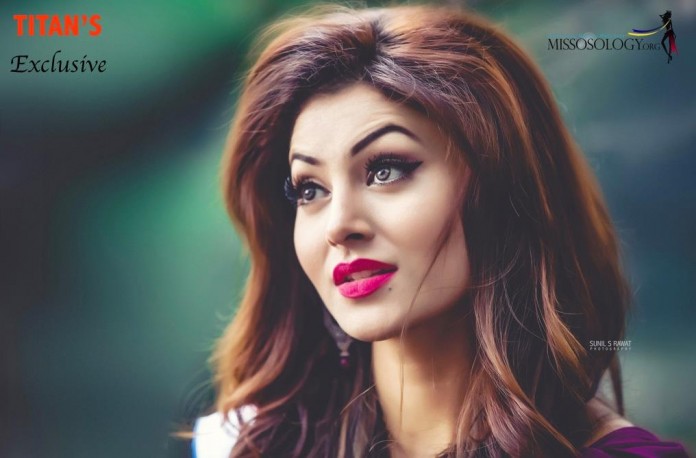 Second time's a charm they say and for Urvashi Rautela, winning the Miss Universe India title twice is simply surreal. A Bollywood star yet very grounded, Urvashi has been looking forward to the moment where she will respresent India in the prestigious Miss Universe pageant.  Taking some time off from her hectic schedule, she talked with Ric Galvez, founder of Missosology and Titan, Head of Missosology's World Beauty Council about her preparations and expectations for the world's most exciting major pageant.
Ric: How would you describe yourself?
I am a very fun loving and very passionate, compassionate and full of life. I love to help people and live life to the fullest. I strongly believe I don't need to support one cause. I am a very multi tasking girl and had great leadership qualities since school. Till now I love the way it is. I love the fact that I want to help people, animals and when I am capable, to support all the causes. My parents have installed that in me since childhood and should stay for my entire life.
Ric: What makes you proud as an Indian?
I want to thank my parents for their unconditional love. Thank my dad for not clipping my wings and for letting me fly. Thank my mother for inspiring me to be patient and to always speak the truth- which we strongly believe is the true message of Hinduism. And also thank you to all my wonderful teachers, who inspired me to believe in myself and be brave.
Ric: What is your breakfast like?
My breakfast keeps on changing. I like to have change and like to experiment with food. Egg whites, oat meal, healthy breakfast are something that I go for.
Titan: If you were to give a message to a global terrorist, what would it be?
I would like to tell him that global terrorism is extreme both in its lack of realistic goals and in its cynical exploitation of the vulnerability of complex. Also the war against terrorism is terrorism and everybody's worried about stopping terrorism. Well, there's a really easy way: stop participating in it.
Titan: Beauty queens are scrutinized excessively for having a perfect body that meets International standards. Do you think swimsuit round should be exist in beauty pageants, especially Miss Universe?
Perfect body showcases ultimate self discipline. The only discipline that lasts is self-discipline by creating great character. Also pageants like Miss Universe pageant is not only just about swimsuit & perfect body however about inner beauty as the beauty of a woman is not in exterior but true beauty in a woman is reflected in her soul. It is the caring that she lovingly gives, the passion that she knows.
Ric: Can you tell one significant decision India has made recently that has affected your countrymen. And is it for better or for worse?
Bringing economy back on track. In a bid to arrest inflation, Modi Government asked States to delist fruits and vegetables from the Agriculture Produce Marketing Committee (APMC Act). This decision has protected farmers from the middle men and succeeded in preventing hoarding. This in turn has helped in taming inflation.
With inflation on check, economic growth is picking up steadily. It is important to note that Indian economy has thrown up the best growth figures in two-and-a-half years. The GDP growth in April-June quarter is the highest in the last nine quarters. This is a sufficient indication that economy is turning around under the leadership of Narendra Modi.
Titan: India won its last Miss Universe title in 2000, why do you think there is no Miss Universe from your country since then?
There is no particular reason behind it. I feel all girls will be well deserving. I believe in destiny. I also believe the harder you work, the luckier we get. We have to get the best shot.
Titan: If you had to change one thing in history, what would it be and why?
Events in our past shape us for who we are today. I don't like to live with regrets in my life, so I try to minimize them as much as I can. I don't regret anything in my past. It's over with. If we didn't live through the difficult times, maybe we wouldn't be as resilient as we are today. So, I wouldn't change anything, either.
Missosology would like to thank Kapil Mishra for facilitating the interview and wishes Urvashi Rautela all the best at Miss Universe 2015 contest!