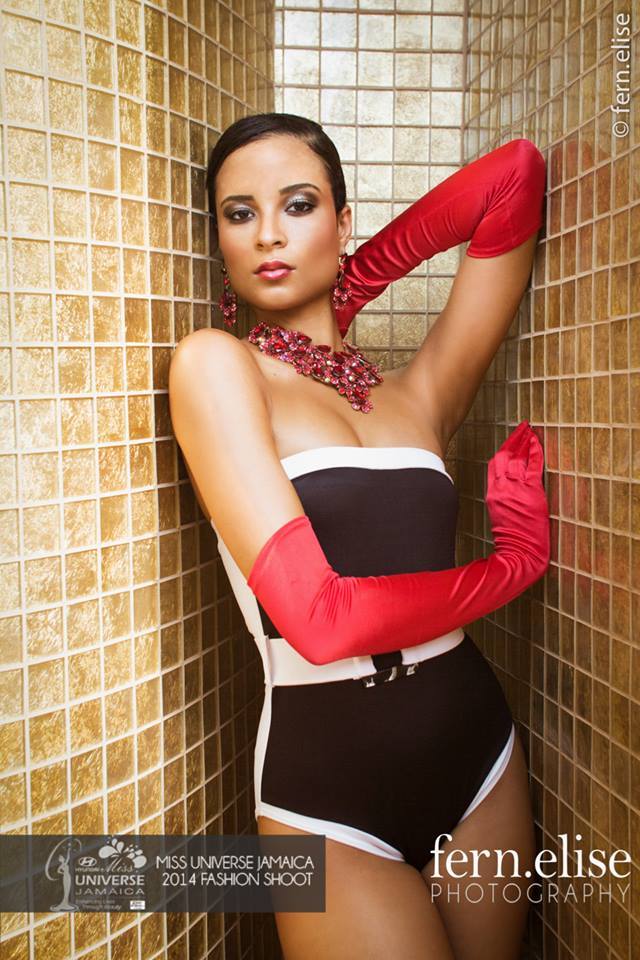 Beauty Talks with Kaci Fennell
Miss Universe Jamaica 2014

Kaci Fennell is the consummate beauty with style, grace and intelligence to match. She started modelling at 19 and now at 22, she is following her dreams and competing internationally. A dream she held since she was 7 when she saw and was totally inspired by Jamaica's first semifinalist at Miss Universe, Sandra Foster. Right then she knew that she was poised to follow in Sandra's footsteps to represent her country. Let us know more about this beauty.
What is breakfast like for Kaci?
Protein filled, because I head straight to the gym afterwards! So, I have boiled eggs, fruits, callaloo (a fried dumpling will slip in once or twice)
How do you keep your stunning figure?
Water, water and more water! I have been quite health conscious when it comes to my food intake nowadays, hence, I have been choosing the salads and green juices over the hot and spicy wings combo at KFC. I am also at the gym 5 days a week working with my personal trainer.
Any beauty tips for aspiring beauty queens out there?
Baking soda!! This is an inexpensive body scrub. I have to be wearing makeup most days of the week, so in order to keep my skin fresh, I always use baking soda or honey and brown sugar to rejuvenate. Not only do I use it for my face but for my body as well, it's an excellent home remedy.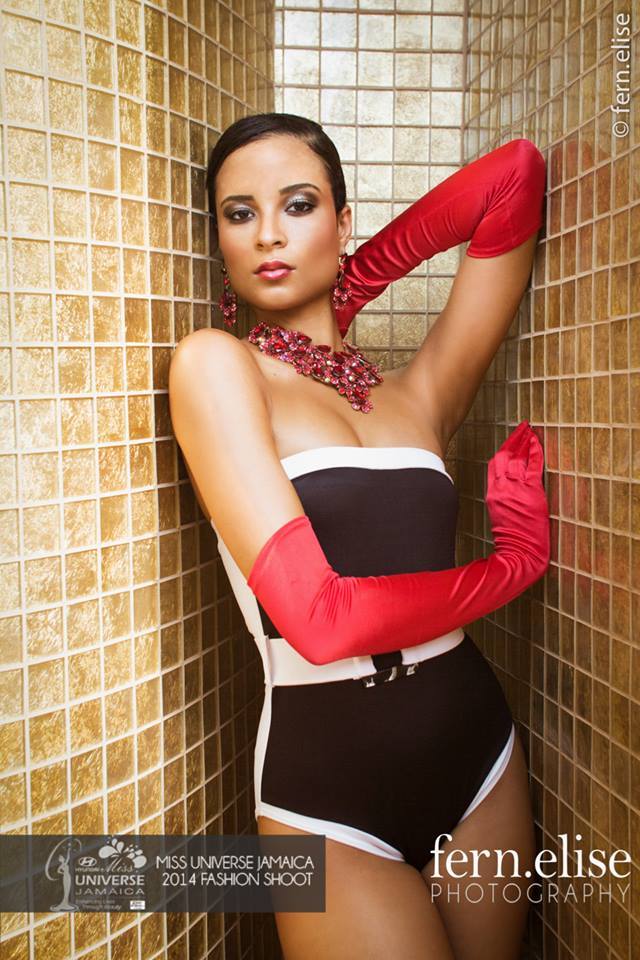 What is the most difficult thing you did to prepare for the Miss Universe pageant? Why did you do that?
Focusing on my diet, especially when I'm always being surrounded by good Jamaican food, I am a big foodie…..huge!! Of course working out, then heading to KFC for a meal deal is not ideal, but I see nothing wrong with having those moments. We just need to not over indulge (I am speaking to myself). But I have been able to manage a much healthier lifestyle now, not just for the competition but for my overall well-being.
Describe your fashion sense & style.
My style is minimal, classy, playful and definitively not girl-next-door. I bring the edge through hair and make-up and leave the ensemble itself, sophisticated, girly and age appropriate. A nice pair of heels and the power and confidence it brings is very attractive to me as well. My go-to heel is a classic black stiletto.
Can you give us a hint on what will be your national costume for Miss Universe 2014?
Wow, all I can say is that it's going to be huge!! And absolutely beautiful! Unfortunately, I can't reveal much, but it definitely represents the Jamaican culture. I am so excited to wear it 🙂
What has been the biggest disappointment in your life & how did you deal with it?
I believe that we learn from all the experiences we have in life, and that the disappointments as well as our accomplishments make us stronger and better able to deal with many different situations. Each experience should be labeled as a blessing or a lesson learned.
Tell us about your mantra or secret to success.
Success comes to those who dare to dream, to those who truly want to succeed.There is no spell to success, so if you want it, go get it.
How would you describe Jamaica to your fellow contestants?
Jamaica is every last bit of the feel good, beautiful Caribbean island that you see on television and the internet with the added bonus of the raw spirit of our people that can only be experienced in person. It is that physical magic that journalists, celebrities and world travelers try to capture in words, music and on film each time they visit.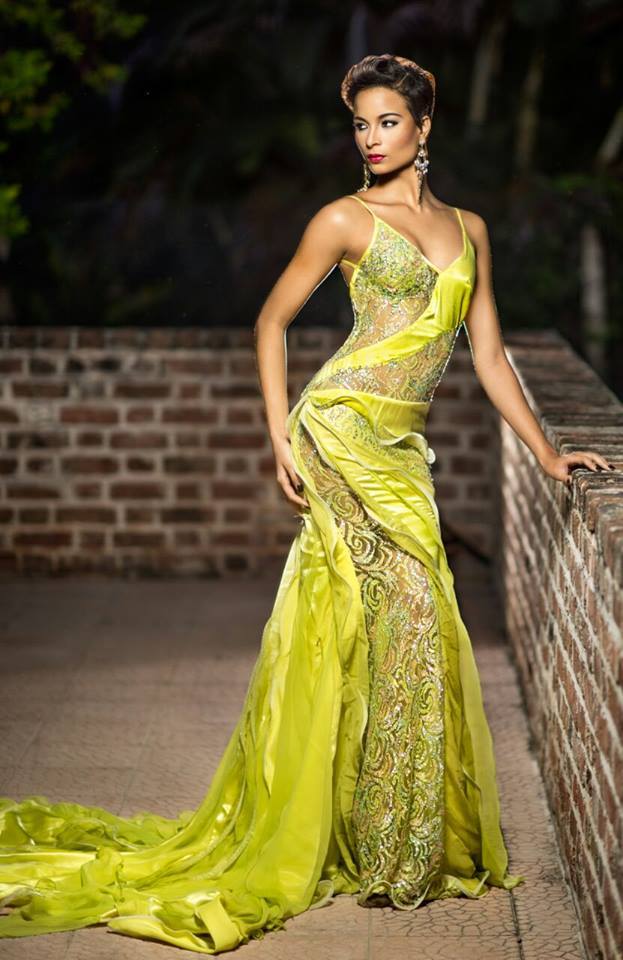 Some people think that beauty pageants like Miss Universe are degrading to women. Convince them that they are wrong.
Most who think this believe that the Miss Universe beauty pageant is solely about the physical prowess of its competitors when in fact it is also about women building their character, gaining confidence, giving us an opportunity to speak about social issues. If anything the Miss Universe Pageant celebrates women and empowers us.
Who is your all-time favorite Miss Universe, why?
Hands down, Lupita Jones. She is so regal, graceful, intelligent and of course, beautiful. I loved that year she entered Miss Universe, because you had these two other tall beauties then you had Lupita and you just could not keep your eyes off her.
Why do you think that Jamaica is yet to win the Miss Universe crown despite being successful in other pageants like Miss World?
For me to even attempt at conjuring up a possible reason as to why we are yet to win a Miss Universe crown would be out of place and less than honorable to the women who have represented before me. Jamaica has sent beautiful, intelligent and all round strong women to compete on the Miss Universe stage. We prepare, we apply, we learn and we grow – and as such it is my greatest hope that this year will be our year and I will return home wearing that Miss Universe crown.
What would you say to someone who thinks you're not qualified or pretty enough to represent your country in Miss Universe?
I would tell them that they should be embarrassed to even entertain the notion that beauty should be a factor in National Representation, especially for a country so diverse as Jamaica. My qualifications come on a fundamental level with my education, passion and birthright as an authentic Jamaican-born woman on a mission. The general Jamaican message is quintessentially about togetherness, acceptance and celebration of all people no matter their size, shape or color and that's what I intend on delivering at Miss Universe.
What qualities do you feel you have that would make you a great Miss Universe?
My confidence. I am not the cookie-cutter image of what is known in the world as beautiful, I have actually strayed from the norm. I just want every young lady out there to know that you don't need to look like anybody else, be your own kind of beautiful.
You have so many fans within Missosology and from pageant watchers around the globe. Do you think that you will be Jamaica's first ever Miss Universe?
I have to say thank you so much for your continued support and kind words. I really hope so, I'm in it to win it! I'm training very hard and making all the necessary preparations with the hope of winning. I definitely want to be Jamaica's first Miss Universe so it's all about that tunnel vision.
Greetings from Kaci!