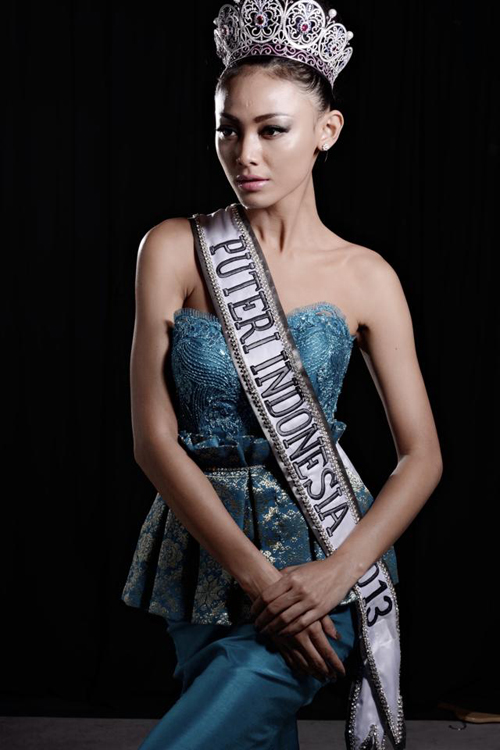 Whulandary Herman – she's so statuesque, so perfectly structured, so effortlessly fashion-forward & modern that it's hard to believe that she's part of the current era. But don't get the wrong impression about this real-life mannequin, she's a "real person" with a very likeable & bubbly personality! "Whulan" is considered the best bet that Indonesia will send to the Miss Universe pageant. She's expected to captivate spectators with her vibe & exceptional runway walk.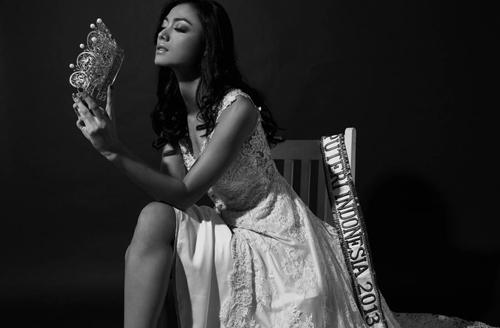 1.) Who do you think is the sexiest man alive?
I'm in love with Robert de Niro and Leonardo DiCaprio.
2.) Who is your all-time favorite Miss Universe, why?
I choose Ximena and Olivia Culpo, not only are they beautiful but both are also very inspiring. Their views on life were wonderful and they've become an inspiration to women worldwide. Beauty, compassion and intellect, a great combination
3.) What is the most difficult thing you did to prepare for the Miss Universe pageant? Why did you do that?
I think a lot of it has been hard, but in a good and learning way. One of the toughest so far is the pressure to be away from my friends and family since this competition requires full time focus. However it is all enjoyable and a great learning experience for me; sometimes when you are feeling down and have an 'off' day but still smiling in front of the camera could be hard especially when all you want to do is to sleep or have some space on your own.
Generally though it has been a great experience so far and I look forward to more times like this.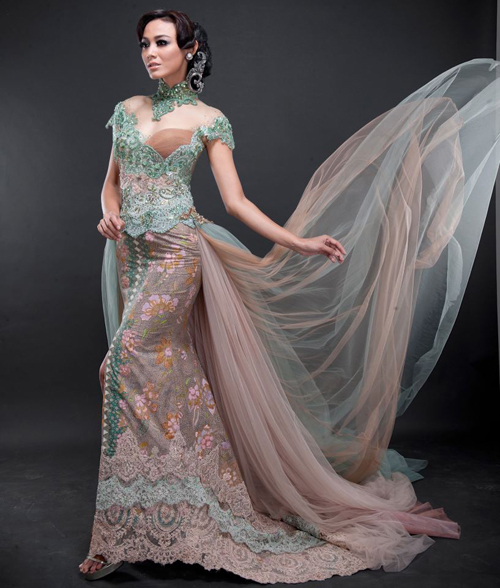 4.) What has been the biggest disappointment in your life & how did you deal with it?
Luckily my life has been full of great moments, we all have ups and downs but it's about using those down times to be a positive force, we can all learn from negative experiences. Probably my hardest was when I realized while growing up without my dad as he passed away when I was 1 years old.
5.) Describe your fashion sense & style.
I enjoy dressing up when needed but I also like lounging around in cool comfy clothes. I feel as comfortable in haute couture as I do an old pair of jeans and a t-shirt. It depends on the situation. Style is individualistic. I always dress depending on my mood, and I love the boys' look. I love black and white, simple but effective. Base colours bring out the best in everyone. My wardrobe is full of over-sized white shirts, blue jeans and black dresses.
6.) What does loving a boyfriend mean to you?
He respects my decisions but also gives me guidance and forgives any mistakes I make. He should help me and offer advice but whilst maintaining a happy equilibrium and balance. It's a two way thing. Loyalty is also a big factor, being soul mates and lovers.
7.) Any beauty secrets that you would like to share the readers of Missosology?
My beauty secret is actually very simple, every morning when I wake up I always say to myself 'I will be happier than yesterday'. Everyday I feel like a better person and I believe that happiness in the heart makes you more beautiful. To be honest I don't really like going to any salons, I'm a very homey person and although the salon can be a special treat I would rather enjoy the simple beauty treatments. I love all traditional treatments that we use in Indonesia like natural honey and all kinds of vegetable oils that I usually put on my skin. I'm a true believer of organic and natural ways to help ones skin, more affordable and organic.
8.) Tell us about the most beautiful place in your country?
My favorite place would have to be Padang in Sumatra. It's my home town so I am probably biased. We have beautiful countryside, stunning beaches and the best food in Indonesia. CNN recently voted Padang food as one of the world greatest cuisines. You all must try our famous Rendang dish. Not only is it a great town, we also have fantastic islands nearby that offer world-class diving and surfing nearby. I am extremely lucky to grow up there.
9.) Tell us about your mantra or secret to success.
My main mantra is the two wonderful women in my life, my mother and grandmother who keep me going and provide inspiration. I had no father growing up and these two strong women taught me all I know with their love and spirit of life. I hope I will never disappoint them and make them proud to have a daughter like me.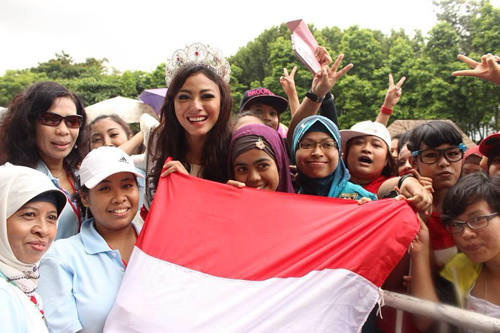 10.) When was the last time you cried? Why?
Every night because of my ex-boyfriend. (haha!)
11.) What do you like to do for fun with friends?
I love to travel and explore new places; seeing new things and new experiences broadens the mind. I love to learn new things. When I am at home I enjoy eating good food with friends and relaxing with good conversation and laughter.
12.) Miss Universe Organization now allows transgenders to compete in their pageant system, what's your take on this?
That's a tough question, however in this day and age everyone is equal so I don't really have a problem with it. Good luck to all contestants.
13.) What would you say to someone who thinks you're not qualified or pretty enough to represent your country in Miss Universe?
It's open for everyone and the contest doesn't just judge solely on beauty, if you have a dream you must pursue it. "Go for it" is my advice. Personality is an important factor, showing people your true dreams and visions will be an inspiration for judges.
14.) What qualities do you feel you have that would make you a great Miss Universe?
I would like to represent my country and share our Indonesian culture all around the world. I think my personality and easy going nature is a good fit, just being myself and with my past record as a top model would also aid in this campaign. Moreover, education, cultural understanding is so important and I believe that this will aid me immensely.