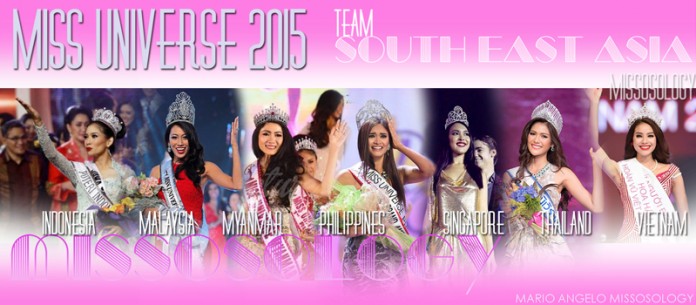 The last South East Asian to win the Miss Universe title was Porntip Nakhirunkanok – Miss Universe 1988 from Thailand – and interestingly, the kingdom also holds the record of being the first South East Asian country to win Miss Universe title.
Indonesia and the Philippines were the last South East Asian countries to place in Miss Universe as finalists. In terms of winning record Thailand & Philippines have the most number of Miss Universe winners in the region. However, the Philippines has the most number of placements, as well as finalists and runners up, since it started to join the pageant.
Will South East Asians dominate the Miss Universe stage this year?
Historically, Indonesia had a long absence in Miss Universe. But during its comeback in the year 2005, their delegate Artika Sari Devi placed as a semifinalist in a pageant that was held in another South East Asian venue, Bangkok, Thailand. Since then, only two more placements took place Whulandary Herman (2013) and Elvira Devinamira Wirayanti (2014), who were indeed strong contenders at Miss Universe. This year, looks like Anindya Kusuma Putri – Miss Universe Indonesia 2015 – has to place in order to sustain the momentum.
Malaysia, which is a Muslim dominated country, mostly sends their Miss Universe delegate from among the Chinese and Indian descents. The last time Malaysia placed in Miss Universe was in 1970 courtesy of Josephine Lena Wong. In recent years, a pageant veteran and former Miss World Malaysia 2007 and top 16 in Miss World 2007, Deborah Priya Henry, competed in Miss Universe 2011, and was expected to place high after seeing her video interview and impressive performance at the preliminaries. She still failed to enter the first cut.
Myanmar holds the record in South East Asia with longest years of absence in Miss Universe, Myint Myint Khin – Miss Burma (former name of Myanmar) competed in Miss Universe 1961. This was succeeded 52 years later by Moe Set Wine – Miss Universe Myanmar 2013 – who was the first Miss Myanmar to compete again at Miss Universe. Nowadays, Myanmar opens its doors for international training and pageant techniques, as their way to level up their game in international pageantry.
The Philippines holds the most colorful Miss Universe history in South East Asia. While it holds the record of being the first Asian country to host Miss Universe pageant in 1974 (which was repeated in 1994), it also boasts of two winners who won within a four-year interval – Gloria Diaz (1969) and Maria Margarita Moran (1973). There are also several Miss Universe runner ups and finalists coming from the Philippines and it also holds the most number of Miss Photogenic wins. In recent years it held an unbroken four-year streak in the Top 5 (2010 to 2013), and last year, their delegate, Mary Jean Lastimosa, was part of the Top 10.
Kathie Lee Lee Beng – Miss Singapore in Miss Universe 1983 is the first Singaporean to land as finalist. In 1987 Singapore hosted the Miss Universe pageant and on the same year, Singapore recorded their last placement in the Top 10, courtesy of Marion Nicole Teo.
Thailand maybe classified as the closest rival of the Philippines in terms of Miss Universe placements, but not too close. They hold the record of two Miss Universe winners Apasra Hongsakula – Miss Universe 1965 and Porntip Nakhirunkanok – Miss Universe 1988. In terms of hosting, Thailand also hosted the Miss Universe twice, in 1992 and 2005. The kingdom is also known for their beautiful national costumes and several Miss Photogenic awards.
Nguyễn Thùy Lâm – Miss Universe Vietnam 2008 was the first Vietnamese to place in Miss Universe Top 15 finalist, which many may argue as a way to appease the organizers who hosted the pageant in Nha Trang that same year. After that, nothing has been heard of Vietnam in terms of pageant success.