Miss Paris School sponsors Miss International Forum
By Stephen I. Diaz
All the 67 delegates of the 2013 Miss International Beauty Pageant gathered today at the Tokyo/Ikebukuro campus of the Miss Paris School, a beauty and aesthetic school based in Japan, for the annual International Forum (I.F.).  The school's owner, Akemi Shimomura, is the current Chairperson of the Miss International Organization (MIO), and Miss Paris Corporation is one of the major sponsors of the pageant this year.
The forum was initially opened by Miss International 2008 winner, Alejandra Andreu of Spain, with the theme "Why do you want to be Miss International"?  Ms. Andreu said that in the past editions of Miss International, only the Top 15 finalists were given the privilege to speak about their platform and what they wanted to accomplish if they were crowned as Miss International.  However, for this year, the MIO has decided to use the International Forum in order to hear all the girls' vision and mission, and to give them equal chances to be heard.   It was explained at the start of the I.F. that during the finals night, only the Top 5 finalists will be able to deliver their respective speech, where the two runners-up and the ultimate winner will be decided.
The ice was broken by the very brave and confident Miss Nepal, Shritima Shah, who spoke with all conviction about her plans if she was crowned Miss International 2013.   She was then followed by Miss Korea, Ji-Eun Han, who, through reading a copy of her speech in English, was also able to relay her message well.
Many of the girls have prepared and memorized their45-second speech, while some needed to read through a piece of paper, or through their smart phone.  It was admirable that even those delegates whose English is not their first language tried their best to deliver their speech in English.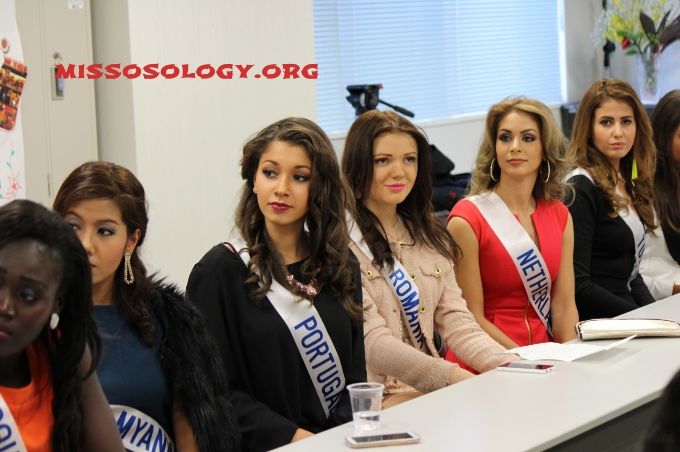 One of the most notable speeches was delivered by Miss Malaysia, Charissa Chong, who spoke about her advocacy to help uplift the status of children coming from single parents, as well as women who are single parents themselves.  Being a product of such situation, she was very passionate about this proposition should the crown be given to her.
Another speaker who took everyone's attention was the delegate from South Africa, Cindy Rosslind, who is one of the only four contestants coming from her continent.  With the death of their former leader, Nelson Mandela, being the hot topic in international news features in Japan and throughout the world, she spoke with such calmness and even ended her speech with a quote from the great leader.
Miss Myanmar, Gonyi Aye Kyaw, mentioned about the trading partnership of Japan and Myanmar, which boomed after the opening of the economy in 2011, as an example as to how the crown would be beneficial for her country and the region.
Miss Macau, Adela Ka-Wai Sou, mentioned that she wants to help the victims in Fukushima, who are still suffering from the advent of the nuclear disaster brought by the March 11, 2011 earthquake and tsunami.
Host delegate, Miss Japan, Yukiko Takahashi wanted to use her title to make a difference by opening her own non-profit organization, so that she can help more people around the world.
Miss New Zealand, Casey Radley, expounded that the rising gap between the rich and the poor in her country is getting more and more evident, and as such, measures should be made in order for the gap to be lessened, and it can be solved starting with education.
Miss South Sudan, Ayak Abiel, gave an emotional and powerful short speech by saying that she came from a country devastated by war, and she was there when it all happened.  So, the Miss International crown will truly have a special meaning for her and her country, and she will work hard in order to stop any forms of war in the world.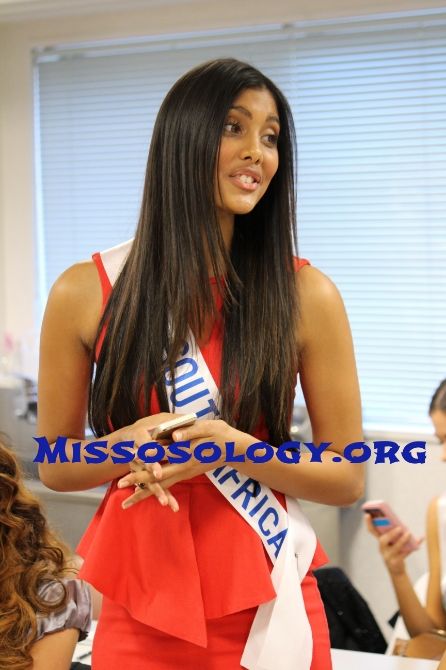 The Belgian delegate, Ekaterina Sarafanova, mentioned her personal qualities, such as the fact that she is a woman of science and also someone who is passionate with anything about culture.  So for her, if she would become Miss International, she already possesses the important and unique qualities fit for a queen.
Miss Brazil, Cristina Alives, spoke very well in English, and she said that the environmental problem is her main advocacy.
Miss Philippines, Bea Rose Santiago, started her speech by thanking all the nations who have helped at the aftermath of the devastating typhoon that hit her country.  She connected this with the idea that through unity, we are able to achieve a lot of things.
Miss Netherlands, Nathalie den Dekker, emphasized the similar qualities of her country with Japan, and how the the lack of many things have resulted into many innovations that came out from their respective countries.  If she won the Miss International crown, she would use her knowledge and experience to travel and to help as many people as possible through her advocacy.
Miss Tunisia, Sondes Zamouri, said that she came from a country where a lot of taboos are being restricted especially against women to have a choice.  This is particularly true in things such as sex education, contraceptives and the spread of sexually transmitted diseases, which she believes, have to be stopped.
Miss Luxembourg, Corinne Furtado, stressed out how women, even in her country, still does not achieve equal chances with men in terms of job opportunity and status in life.  She would like to use the Miss International title to be able to improve the status of women.
Miss Tahiti, Ohana Huber, calmly spoke about her country being so small and away from war and disasters, so with having a very loving and supportive family, she felt really blessed compared to others.  So, as a return, and if she becomes Miss International, she wanted to share such blessing and goodwill to others whom she can reach out.
Eleonore Lilja of Sweden showed her very serious side when she strongly stood against child abuse worldwide.  She wanted to stop and eradicate the existence of child soldiers, child laborers as well as child prostitution, once she gets the Miss International crown.
Miss Canada Sarah Harrison, emphasized that her leadership quality is her best asset – being a student leader in her university and an active volunteer in  numerous charitable causes. She also has the discipline for being an athlete.  She believes that such qualities are very important for someone to take the crown and responsibility of being Miss International.
Many candidates struggled with the 45-second time limit, while there were those who were able to rehearse well and summarized their speech within the time frame.  Majority of the delegates spoke about world peace and how beauty is not just outside but coming from within.
Overall, it was a meaningful forum where, indeed, everyone got the chance to speak, to hear and be heard.