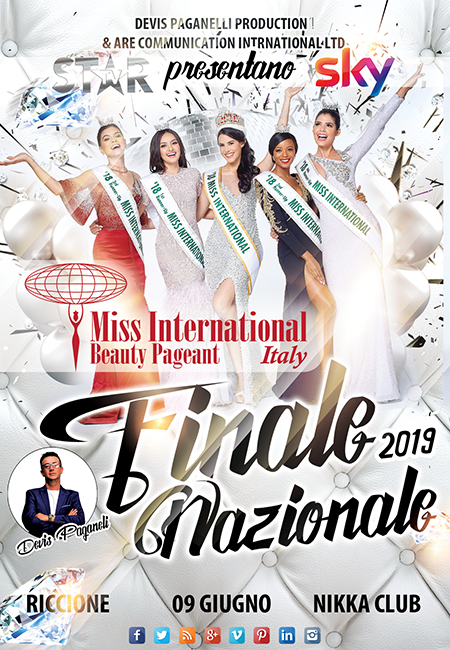 Le 32 Finaliste Nazionali Italiane 2019
Meet the 32 finalists of Miss International 2019! Finals will be on June 9th at the Altromondo Studios of Rimini.
Il concorso di bellezza più famoso al mondo, Miss International, con la sua finale mondiale in Giappone ogni anno in novembre a Tokio, con 80 paesi provenienti da tutto il mondo, avrà la sua rappresentante italiana eletta alla finale nazionale Italia, il 9 giugno all'Altromondo Studios di Rimini, con la presenza di Devis Paganelli, licenziatario italiano del contest.
Miss International è il più antico concorso di bellezza al mondo e la vincitrice è considerata la più bella del mondo. Raggiunge ogni anno quasi 50 milioni di contatti in tutto il mondo e in Italia, la finalissima nazionale organizzata da Are Communication International coordinata dal talent scout internazionale Devis Paganelli, va in onda su canale SKY.
Le 32 finaliste nazionali del 2019 sono :