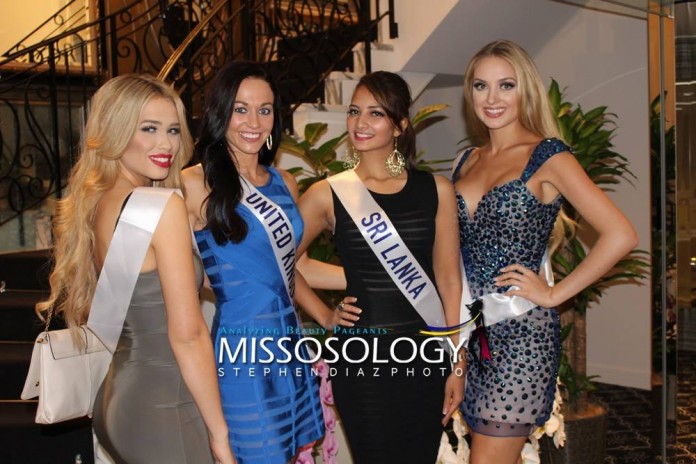 Miss International 2015 Welcome Party:
Hits and Miss
After today's orientation, it's time for the competition to get rolling as the delegates of the 2015 Miss International Beauty Pageant were treated by no less than the chairperson of the International Cultural Association (ICA), Akemi Shimomura, with a welcome party at the new Miss Paris building in Ginza, Tokyo.
This is the first event where the girls were all dressed and made up for the occasion, so you could easily identify who are standing out and taking this competition seriously. The social skills of the girls are slowly being tested despite their jet lag and tired bodies. It's also noticeable who are those who mingle with the guests cordially, and those who only stick with their roommate or respective group. Some girls are too reserved to even interact or start a conversation. Whether they are having a conversation with a dignitary, a staff, media crew or waiter, the good nature of a particular delegate comes out when she starts to open her mouth.
Beautiful Latinas
Topping tonight's major hit was Jennifer Valle, the very pretty and charming delegate of Honduras. Originally scheduled to compete in 2013, Jennifer was not allowed by her school to be absent for that year's edition won by Bea Rose Santiago, so this year might bring her good charm and win the crown for Honduras. If that happens, it will be Honduras' first Miss International crown, and second BIG 4 title. Jennifer is fluent in English, which is definitely an advantage. When talking to her, you can feel her intelligence and sincerity when discussing certain topics. She is closely followed by Mexico's Lorena Sevilla who simply has one of the most gorgeous faces of the pageant. Hers is the face whose beauty needs no further justification. Simply breathtaking! Next in line is the Amazonian goddess from Ecuador, Daniela Armijos. When we first approached her, she was sitting on the couch, but the moment she stood up… WOW! She is a glamazon (a term used for glamorous women in the Amazon region of South America)! You will never miss her in a crowd! The last time Ecuador won the Miss International title was just four years ago, so we might be seeing that crown back to the "center" of the world.
European front runners
From the old continent, we have finally met the delegates from Hungary, Linda Szunai and Ukraine, Nina Goryniuk. Linda is sporting a natural look, with her straight golden brown hair. Nina, on the otherhand, looks like the younger self of Angelina Jolie, so we wonder if people have told her that. Also, Denmark's delegate Mette Riis Sørensen has finally gotten her much needed rest, so she is looking radiant in white tonight. But not to be undermined is the Swedish bombshell, Isabella Jedler Forsman, who is very sassy and looking ferociously gorgeous. Spain's Christina Silva Cano got a chance to have a one-on-one talk with the chairperson of ICA while the other delegates were watching a video on the other room, so if she was able to leave a good impression to Madame Shimomura, she might just become an instant favorite!
Black beauties
We were very much surprised with the delegate from Guadeloupe, Juliette Alimanda . She was not in our initial radar but she is a black stunner up close.  Once she is styled well, she actually has some resemblance to last year's 1st Runner-up, Zuleika Suarez of Colombia. Panama's Jhasmeiry Herrera Evans is simply lovely and looking gracious in her green dress, which was passed down to her by a close relative. Anoushka Ah Keng of Mauritius still has not gotten her luggage which was stuck in Hong Kong, but she was all smiles and looking fabulous.
Asian group
Thailand's Sasi Sintawee and the Philippines Janicel Lubina were a bit inseparable at one corner when saw them, so we missed taking photos of the two Southeast Asian front runners. However, our heart still goes to Ana Choi of Macau, who never runs out of positive vibes whenever she is around. It is hard to miss how her presence can actually lighten up a room, and her genuineness shines through. If the Miss International judges will not notice Ana, then, there's indeed something wrong with their judging system. Indonesia's Chintya Fabyola looks like a Japanese doll.
Lindsay Becker of the USA can never be missed out. She looks absolutely gorgeous in her blue cocktail dress, which complimented her blue eyes. Puerto Rico's Wilmary Moncion-Roman is a stunner, while Japan's Arisa Nakagawa is always in high spirits, and is simply adorable. However, the best dress of the night belongs to Miss Bolivia, Alejandra Panozo, who was wearing a neatly crafted balloon mini skirt with intricate design and colors representing Bolivia's rich cultural heritage.
Lastly, It will be a huge injustice not to mention the media favorite, Brianna Acosta of Hawaii. It was a bit hard to get a little bit of time with her because she was always being interviewed, but thankfully, we were able to spend some chit chats, and she is a darling! She may not be photogenic, but she is giving us a Casey Radley vibe in terms of spontaneity and wit. Casey just came out of nowhere and won 2nd Runner-up in 2013, representing New Zealand.
Speaking of New Zealand, she is our huge "miss" tonight! I guess much was expected from her after topping the latest hot picks, but the green dress she wore that almost showed her breast did not look classy at all! Hope she could redeem herself in the next few days.
For more photos of the event, visit the Missosology Facebook page at: https://www.facebook.com/missosology.info