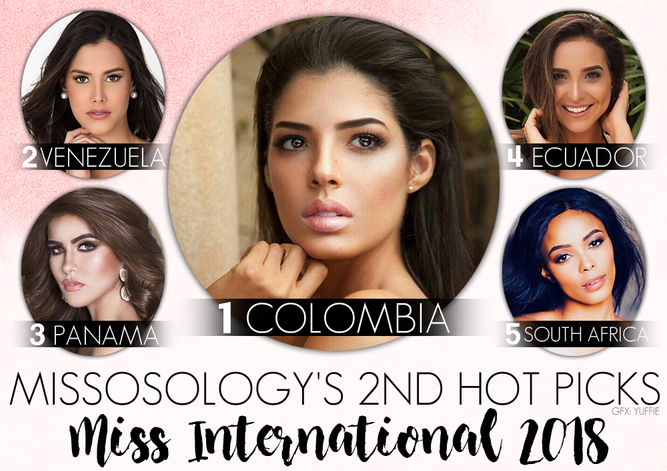 Miss International pageant in many ways reflects the way of the Japanese. It is mildly obstinate rooted from a mentality that what works before will continue to work in the future. Sadly, it was known to be Latina centric. Many African nations south of the Sahara Desert steered clear from the pageant. Kevin Liliana for example is the first Asian to win the title outside of the powerhouse Philippines and the host Japan.
Thus, we suspect that the pageant will continue to put its focus on Latina beauties and our second hot picks is buoyed on that very idea. Leading the pack of Latina uberbeauties is Miss Colombia Anabella Castro Sierra. The 21-year old model is a delightful beauty with a matching shapely body. She comes from the Señorita Colombia group so one can be certain that not only she is a top notch beauty but also she is a well-trained competitor.
Another strong Latina contender is Mariem Velazco of Venezuela. She is equally well trained and came from an equally strong beauty pageant organization – the Miss Venezuela pageant. While the legendary beauty queen maker Osmel Sousa is out of the equation and that Venezuela is suffering from economic turmoil, Mariem still carries a heavyweight sash.
Of course, if we really think that Miss International is a Latina centric pageant, then the Latinas might as well fill-up the Top 5. Miss Panama Shirel Ortiz , an aspiring businesswoman, and Miss Ecuador Michelle Huet, soon an engineer, are all stunners worthy to be crowned Miss International.
But if Miss International wants to shed its old image, then it is time for it embrace an African beauty. It already made progress in 2015 when Kenya's Eunice Onyango was named as 2nd runner-up and it would be a great follow-up if South Africa's stunning beauty Reabetswe Sechoaro will walk away with crown. Reabetswe is truly a head turner and it makes us all wonder if this year is the year when South Africa will finally win the Miss International crown.
If there is any lesson that we can all learn from last year, it's the inevitable surge of East Asia in the world of pageantry. Indonesia led the way and this year, Vania Herlambang can follow Kevin's footsteps and it doesn't matter if back to back wins are rare in Big5 pageants. The Philippines, a perennial superpower at Miss International failed to be in the semis in 2017 and a strong comeback is expected. Ahtisa Manalo, Miss International Philippines 2018, has all the looks, body and intelligence to ensure that her country will be in the semis this year.
Latina's will continue to make a strong showing. Nebai Torres, a dental surgeon from Mexico, will surely bring a positive impression while Paraguay's Daisy Lezcano will make a strong impact. Meanwhile, Europeans are expected to perform under par. Last year, only 3 of the Top 15 were from Europe and this year, our panel of experts think that Slovakia's Petra Varaliová is the frontrunner from the continent.
The Miss International 2018 pageant will soon kick off and we are excited to see if there are any changes in the trends and perhaps format to make things a bit different. While it is too early t o tell, our beauty experts are also keeping an eye on Miss Cote D'Ivoire Jemima Gbato, Miss Czech Republic Daniela Zálešáková, Miss New Zealand Natasha Unkovich, Miss Japan Hinano Sugimoto and Miss Puerto Rico Yarelis Salgado. The finals of Miss International 2018 may be just two months away but a lot could happen between now and November 9. Some countries are yet to announce who will they send to Tokyo and we will never know if that someone will upend the current trend.