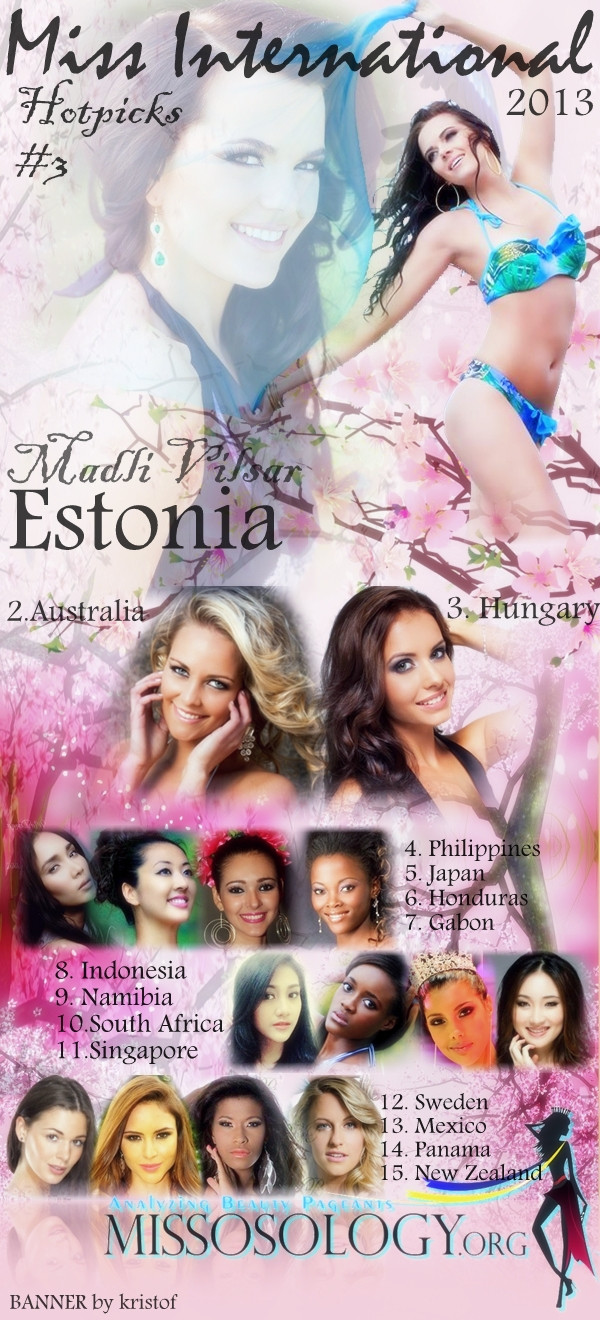 1. ESTONIA
2. AUSTRALIA
3. HUNGARY
4. PHILIPPINES
5. JAPAN
6. HONDURAS
7. GABON
8. INDONESIA
9. NAMIBIA
10. SOUTH AFRICA
11. SINGAPORE
12. SWEDEN
13. MEXICO
14. PANAMA
15. NEW ZEALAND
Now that we have officially heard that the venue of the Miss International 2013 pageant will be in Tokyo, Japan on December 17th, we are ready to reveal our 3rd Official Hot Picks.
Leading the pack is the beautiful delegate from Estonia, Madli Vilsar.  This former Miss Universe candidate (she competed in 2011), has improved a lot since her stint in Brazil.  She has been preparing for this pageant and is ready to conquer Japan this December!  In second place is the charmer from down under, Australia's Johanna Parker.  Aside from her angelic look, she has this pleasing personality that will surely be a hit among the Japanese.  She seems to be really determined to give Australia a major comeback in the semis, or maybe in the winners' circle as well.  Hungary chose a hot favorite in the national finals of Miss International Hungary. Brigitta Otvos walked away with the crown in a competitive batch.
Hungary seems to be really serious about this pageant because it is one of the few countries that has an established national pageant which selects a winner for Miss International, and not just runners-up.  Some notable countries that do the same thing are Japan, USA, France, Myanmar, Singapore, Taiwan among others.
2nd Week Hot Pick leader, the Philippines' Bea Santiago dropped to No. 4, but that does not mean that she is losing steam.  She is still a serious contender for the crown.  In 5th place is the host delegate, Yukiko Takahashi of Japan.  Recent sightings of Yukiko have shown a lot of improvements with her overall style and look.  She is excited to meet all the contestants to come to Japan!
In 6th place is the beautiful and youthful delegate from Honduras, Jennifer Valle.  This 18-year-old pageant veteran will probably stay in our hot picks for a long time, despite dropping from 2nd place in last month's list.  In No. 7 is Gabon's Reilly Makaya.   She is Africa's torch bearer, and is expected to make a strong showing in Japan.
8th, 9th and 10th placers are new in our list!    Indonesia's Marisa Sartika has a very strong fan base, and is slightly improving since her Puteri days.  Namibia's Antonia Shinana was chosen by the same group that brought Paulina Malulu to Okinawa, and just like her predecessor, she is going to make waves in Tokyo this  December.  In 10th place is South Africa's Cindy Rosslind.  It is great to see South Africa back in Miss International!
Singapore's Chew Jia Min is still in our hot picks, and is now in 11th place.  She is followed by newly crowned girl from Sweden, Eleonor Lilja.  Week 1 leader, Lucero Montemayor of Mexico slid further to No. 13.  Panama's Betsy Madrid is another newcomer at 14th place.  Completing our list is New Zealand's  Casey Radley at 15th spot.