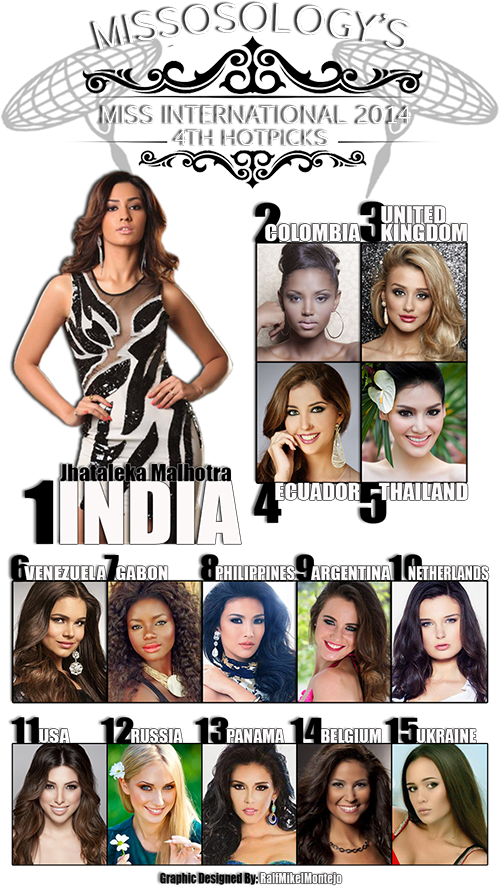 MISS INTERNATIONAL 2014
4th Official Hot Picks by Missosology
1. India.  What is rather refreshing with Jhataleka is the fact that she is very approachable and someone whom you can easily relate to.  She retains her No. 1 position in our Hot Picks, a feat that very rarely happens.
2. Colombia.  Zuleika is one of the friendliest and bubbliest girls in this year's competition.   She has a magnetic personality that is truly undeniable.  She is also well-dressed and well-groomed!
3. United Kingdom.  Victoria is till in the Top 5 of our Hot Picks for three consecutive times!  That simply means that she is well loved by fans in our website!  She has an infectious smile that can brighten up ones mood!
4. Ecuador.  If there is a Miss Photogenic award this year, no doubt that the award belongs to Carla.  She is very pretty, and a perfect poster girl!  Someone that Miss Paris, the major sponsor of Miss International, can use of!
5. Thailand.  Polly did not disappoint her fans.  She came to Japan prepared and with full understanding of what she is up to!  She is slowly laying down her aces, but hopefully, she'll never run out it.
6. Venezuela.  Michelle has a face of an angel, and an aura of a queen.  Photos do not do justice to this living barbie doll.
7. Gabon.  What is with Gabon that makes her really special?  Well, the fact remains that Maggaly is the first ever reigning national queen from Africa to compete in Miss International, and that shows how serious her committee is in sending a competent delegate.  She is also an active humanitarian volunteer in her native Gabon.
8. Philippines.   Mary Anne, or Bianca for many, is a very intelligent, sophisticated and beautiful young woman who can speak several languages.  She is an epitome of a true beauty and brains.9. Argentina.  Josefina is very adorable. She always smiles and seems to really enjoy her stay in Tokyo.  Her beauty always shines through, and one can sense how sincere and genuine this Argentine beauty is wherever she goes, and whatever she does.10. Netherlands.  Shauny already has a previous international pageant experience that is really helping her this time around.  So far, she is doing everything just right, and we are expecting more from her in the days to come.
Bubbling up:
11. USA.  Samantha is cute, and we hope to see her leveling up.  We believe in her potentials.
12. Russia.  Although she is going down in our radar, Alina is still one beauty that is hard to ignore.
13. Panama.  Aileen has the height and stance that can catch attention! Watch out for her!
14. Belgium.  She has a wonderful personality!  Gonul has Turkish roots, and is being supported by Turkey too!
15. Ukraine.   Tall, beautiful and undeniably gorgeous!