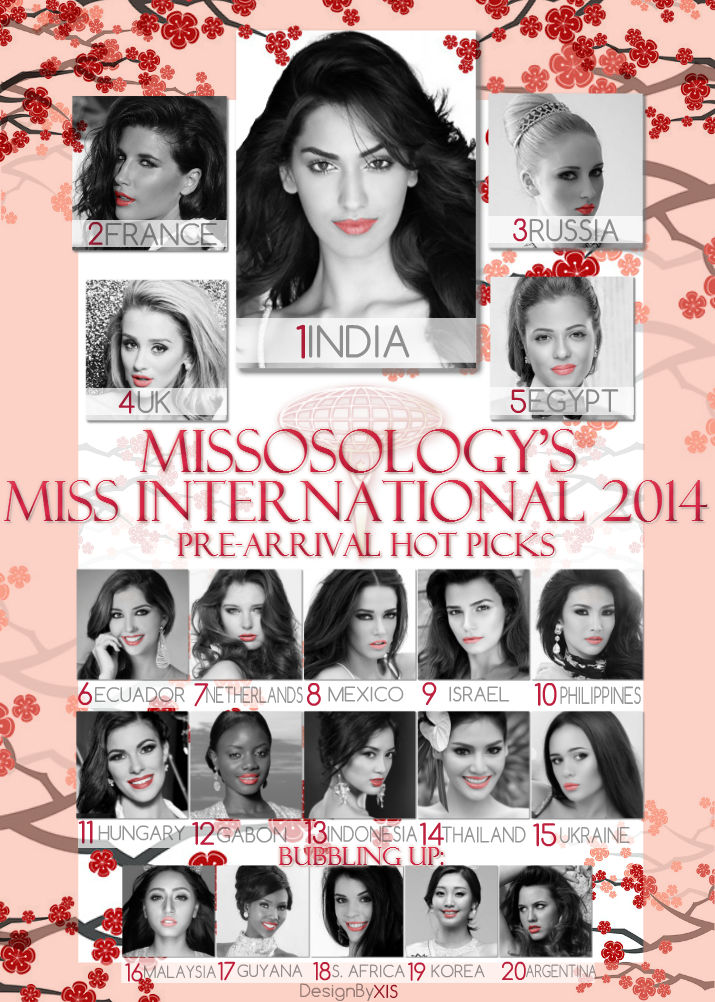 MISS INTERNATIONAL 2014 3rd Official Hot Picks
Pre-Arrival Hot Picks
So, Miss International will officially kickoff the BIG 4 pageant year!  Can you feel the excitement?
Well, a few girls have already posted in their respective social media account that they are on their way to Tokyo!  Indeed this year's Miss International Beauty Pageant is about to start, but there seems to be a deafening silence regarding the pre-arrival buzz, if ever there is.  Needless to say that this year's pageant may just be the biggest in the history of this 54-year-old pageant, as 77 delegates are expected to gather in Japan for the 54th edition of Miss International.  Kudos to ICA for being able to break the 70+ mark, if all of them are indeed coming over,
Anyway, what we have gathered from the grapevine is an unconfirmed rumor that there are at least ten girls who were requested by the ICA (International Cultural Association) to arrive earlier than the other girls.  If that is confirmed to be true, then we are up for an exciting MI season.  After all, what is a pageant if there are no stories about early favorites and expected "fillers" of the show?
Here are the pre-arrival favorites of Missosology!
1. India.  Jhataleka Malhorta is expected to give India's first ever Miss International crown.  Determined and strong-willed, she had flown to Japan a few months ago and had probably tested the environment where she will be competing for the pearl crown.  Do not be surprised if Jhataleka is one of the ten girls to arrive early on Friday or Saturday to do pre-pageant activities because she is indeed a top favorite!
2. France.  Aurianne Sinacola's entry to Miss International was welcomed with enthusiasm from pageant aficionados!  This sweet-looking French delight is a breath of fresh air, and Missosology believes that after last year's absence in Miss International, France is back with a vengeance!
3. Russia.  Alina Rekko is a blonde goddess!   Japan will definitely love her barbie doll look!  She has the face that is traditionally being favored by the MI judges, who is normally composed by Japanese executives and politicians who are above the age of 50.
4. United Kingdom.  Another blonde bombshell, Victoria Tooby is the product of the first ever Miss UK International Beauty Pageant.  After her pictures were published online, many thought that she would be a shoo-in for the MI crown, considering that she is blonde, beautiful and British!
5. Egypt.  Perihan Fateen is the last minute replacement candidate by Egypt to be sent this year at Miss International after a few years of absence.  The last time that they competed was in 2007.    Perihan's classic Mediterranean look and exoticism will be a hit, considering that in 2002, Lebanon's Christina Sawaya also made history after being crowned as the first Arab Miss International through her wit, charm and poise.
6. Ecuador. Carlo Prado became the Ecuadorian representative by default, after it was discovered that the original winner was overage for the pageant.  But, this news was considered "good news" by many pageant fans because Carla has the pretty face that is well-received in Japan.
7. Netherlands.  Shauny Bult is a pageant veteran who was Miss Earth Netherlands 2012.  Her experience in the Manila-based pageant has surely given her an edge.  Aside from her beauty, she is also armed with intelligence that is normally expected from a Dutch delegate.  After Nathalie den Dekker's exemplary finish last year, will Shauny continue the winning streak?
8. Mexico.  Vianey Vazquez has always been in the hot pick radar, and we hope that she is not all hype, unlike her predecessor.   We expect her to deliver the goods when it matters.
9. Israel.  A former Miss Israel as Miss International Israel?  Now that's a story!  The last time this has happened, the girl ended up as 1st Runner-up in 1967, when Yaffa Sharir (Miss Israel Maiden of Beauty 1966) went on to compete in Miss International in Long Beach California.  Will Shani Hazan be as successful?  Perhaps even better?  We heard that Shani is expected to arrive in Tokyo on Friday, so that means something…
10. Philippines.  Mary Anne Bianca Guidotti is the bet from the reigning queen's country.  Such a mighty shoe to fill in because it has never happened in the history of MI to crown a back-to-back winner from the same country.  But, Bianca is a serious contender on her own merits, so we believe that she can make a strong impact as the "defending champion" so to speak.
11. Hungary.  18-year-old Dalma Karman is this year's contender from Hungary, a country that has the most organized MI franchise in Europe.  Believe it or not, MIH is one business model that many national directors should emulate, and with that, we are very positive that they have prepared the very smart and youthful Dalma for this year's pageant.
12. Gabon.  Although Africa has never produced a single winner in Miss International, we are hopeful that the reigning Miss Gabon will be the first to accomplish that.  Maggaly Nguema is Miss Gabon, the top winner of the most prestigious pageant in her country.  Unlike other countries who only send their runners-up or appoints a former queen, Gabon is sending their national beauty queen this year!  We hope that MIO is paying attention to that.
13. Indonesia.  Elfin Rappa is a very intelligent woman.  We hope that her natural charm will bring her far into the competition.
14. Thailand.  Although controversy has surrounded the participation of Punika Kulsoontornrut, the dethroned Miss Earth Water 2013 is so far the strongest bet of Thailand in Miss International since 2010.
15. Ukraine.  Iana Ravlikovska is a beautiful brunette with great poise.  The political situation in her Ukraine won't prevent her from capturing the first ever BIG 4 crown for her country.
Bubbling up: 16. Malaysia 17. Guyana 18. South Africa 19. Korea 20. Argentina