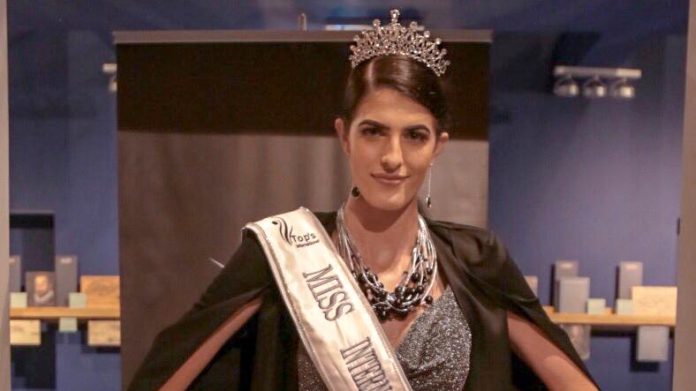 Last March 6, a press conference was held in which Tops International Bonaire announced the designation of a beauty ambassador to represent Bonaire at the 2019 Miss International beauty pageant 2019 that will take place in Japan this year.
In an atmosphere full of cordiality and having the installations of the Terramar Museum as venue, Vera Ghazzouli was presented to the media and sponsors as the brand new Miss International Bonaire 2019, marking the first time that Bonaire will be participating in this beauty event.
Vera is a beautiful young woman (23 years old) 1.82cm tall, dark brown hair, slim figure and eyes of a deep green color, she will be responsible for carrying the name of Bonaire in one of the four most important beauty contests in the world. She is disciplined, focused, dedicated, with very clear goals, with vision about her future and with a great sensitivity towards the problems that affect the world but very specifically towards the problems that affect the youth and their development.
Under the direction and guidance of Carlos Lopez Natera (Managing Director of Tops International Bonaire) the Miss International Bonaire 2019 is in the process of training and preparation, this process includes: photo sessions, catwalk lessons, etiquette, protocol, general culture, makeup lessons and many more. On this process Tops International is having a strong emphasis on Vera's social work for the bonairian community, for this she will be visiting some ngo's and local foundations to learn more about their realities and work; and thus determine how she can help them.
The Deputy of Culture, Education and Sports, Edsel Cicilia, was also present and placed the sash to the new representative of the beauty of Bonaire, during his speech the Deputy motived and encouraged everyone to continue promoting and helping the youth to fulfill their dreams.
After a video presentation of Ghazzouli, it was time to place the crown and sash to the new Miss International Bonaire 2019; the evening culminated with a toast at the terrace of the Terramar Museum.
Tops International Bonaire and Miss International Bonaire 2019 would like to thank the support provided, and encourage local business and the people of Bonaire to work together in the promotion of Bonaire and in support of the local youth. Missosology.Org