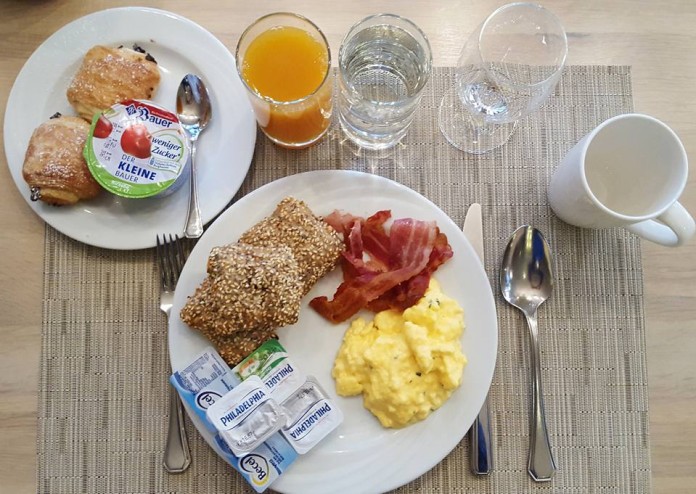 Christine Huang, the Taiwanese National Director for Miss Earth, publicly posted in her Facebook account asking for help as the food according to her is terrible. Posted is a photo of a bread and pasta with the following caption:
My girl is suffered in Vienna, no [sic] enough food, 4 girls in one small room. Only gave bread or noodle like photos [sic] for lunch and dinner nothing else. This is the said Top 4 pageant??? What happened to the host in Austria and the organizer??? This is not the international level. They need more food.
Supporters of Miss Earth were quick to defend the pageant saying that the other candidates have no complaints about the food. They pointed out the posts of Miss Denmark Turið Elinborgardóttir and Miss Kenya Linda Gatere showing nothing but praises to the food being served at the pageant.
One of the sources of Missosology stated that Christine Huang lacks credibility and moral standing to criticize and allege the food situation at Miss Earth. For one, she is not physical present at the pageant and second, she organizes small time pageants where contestants sometimes were not provided with water for long periods of time. Some stated that Christine is only begging for attention and nothing else. She is also known to have a terrible temper, insiders to her various pageants claim. Christine organizes obscure pageants such as Miss World Peace, Miss Bikini Universe and now the currently running Charity Queen of One Power.
Miss Earth has been criticized by the quality of food for several years. Some of the complaints includes the use of plastic and styrofoam boxes which some deem inappropriate for a pageant that focuses on environmental causes. Miss Earth organization has not responded to the allegations of Christine Huang as of the moment.