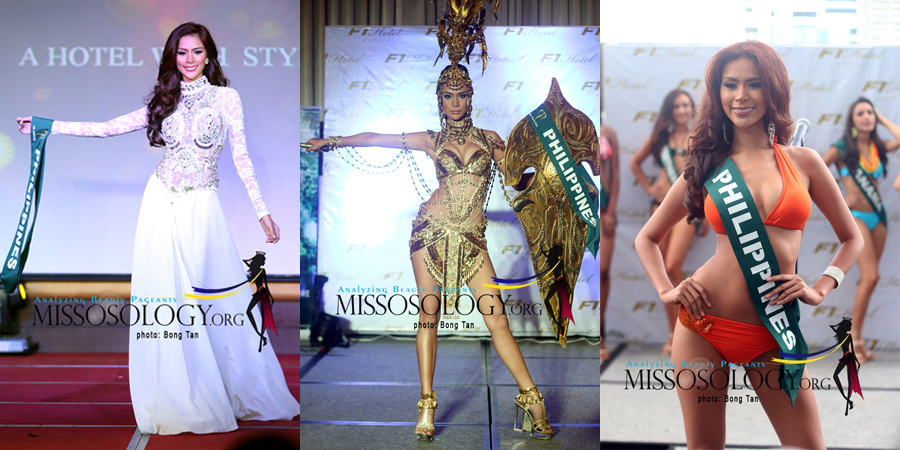 by Pageantwatcher
(Disclaimer: The thoughts contained herein are not officially sanctioned by Missosology)
If Angelee de los Reyes will win this December 7th, Miss Earth will reach its nadir. The embattled pageant has already been criticized for years for putting Philippine delegates into questionable placements. In 2008, Karla Henry won the crown and followers of the pageant outside of the Philippines questioned the results. In 2011, the most dubious among the placements of the Philippines at Miss Earth happened. Athena Imperial stood alongside with three other stunners at the Top 4 and she was clearly out of place. And then in 2012, Miss Earth hits its all time low when a video from the Russian press allegedly showing that the crown can be brought surfaced.
Miss Earth can be praised for narrowly avoiding last year a clean sweep of the hosts winning the Big4 Pageants. It actually put the pageant in a better light considering that its 2012 result was far more credible than that of the 2012 outcome of Miss World, Miss Universe and Miss International. But Miss Earth must avoid at all costs certain situations that skews its results in favor of the Philippines. It can start by putting more judges with a different beauty perspective and where as much as possible avoid putting any Filipino in the panel. Second, it should hold the pageant outside the Philippines. The Miss Earth 2010 results is by far the most credible in the pageants history largely because it was held in Vietnam – the only time that the pageant was held in its entirely outside the Philippines.
Miss Earth has already averted a disaster by maneuvering on what should have been a dilapidating case of national directors and franchise holders boycotting the pageant. Kudos to the pageant for forming a brand new franchises in places like Indonesia and Thailand. This is an encouraging sign that the pageant is moving forward from the scandal. Now, it must sustain it by not crowning the host delegate.