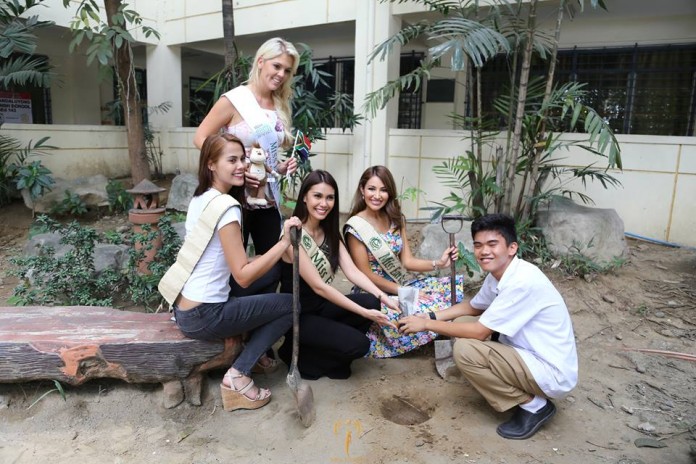 Reigning Miss Earth Angelia Ong and Miss Earth Air 2015 Dayanna Grageda attended the opening of the Armed Forces of the Philippines' Race to One Million Seedlings nursery at AFPCMO School Ground, Camp General Emilio Aguinaldo, Quezon City.
Miss Earth has partnered with the AFP for this project which aims aims to encourage people to participate in the creation of one million seedlings that would be planted in available spots around the National Capital Region.
The "I Love My Planet Earth" campaign was also held yesterday at the City of Mandaluyong Science High School. Miss Earth beauties from the Philippines, Australia and South Africa worked to educate the youth on climate change and other relevant environmental issues.
Joining Ong were Miss Earth-Air 2015 and Miss Earth Australia 2015 Dayanna Grageda , Miss Earth South Africa 2015 1st runner up Jade Axon, Miss Earth South Africa 2014 Ilze Saunders, Miss Earth South Africa Ambassador Nikita Lagler, Catherine Constantinides and Ella Bella Executive Director's and International Climate Activists. Ong's elemental court were also in attendance: Miss Philippines Air 2015 Chanel Olive Thomas, Miss Philippines Fire 2015 Carla Angela Valderrama and Miss Philippines Eco-Tourism 2015 Jona Sweett. -Missosology.Org