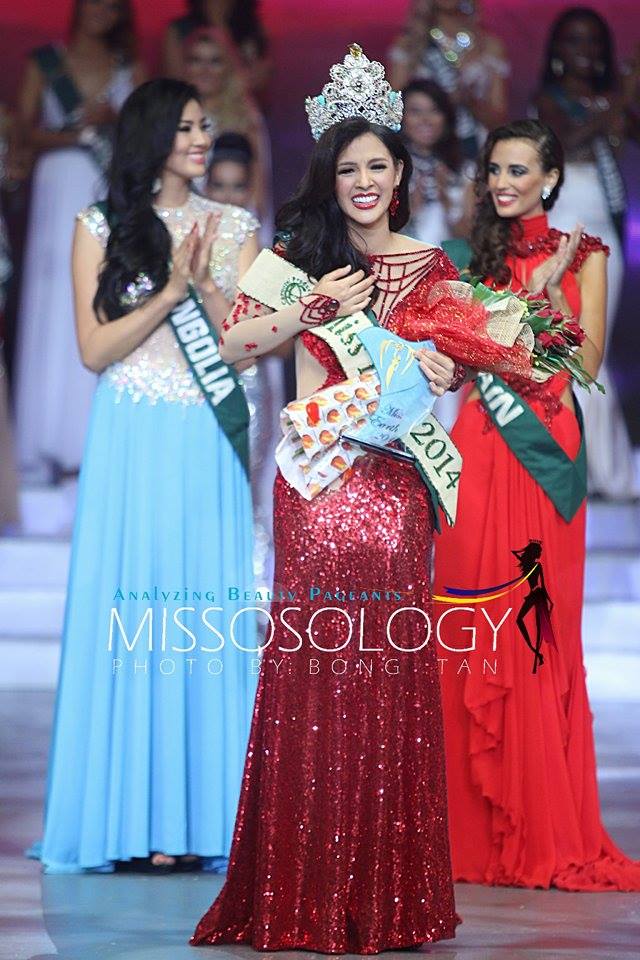 Best and Worst of Miss Earth 2014
 An annual tradition of Missosology, here are the best and the worst of the Big4 pageant
Swimsuit

Miss Spain Zaira Bas
Statuesque, curvy and long-legged, Zaira Bas simply owned the stage as if she is the promised winner of the event. That confidence and that I've-got-this attitude simply registered well in every missosologist's sexy-o-meter.
Miss Egypt Nancy Magdy
One of the lowest point in Miss Earth 2014 is the inclusion of Miss Egypt Nancy Magdy in the semis. The moment she stepped onstage, pageant observers were aghast. Her body lacks proper proportion and it is of no wonder why she is labelled by pageant observers as the whale shark of the Nile.
Evening Gown
Miss Philippines Jamie Herrell
One of the reasons why Miss Philippines Jamie Herrell shown that special night is her red shimmering gown. The host told everyone that the gown is supposed to be difficult to wear but Jamie had not shown any sign of it. She strutted onstage with such a bravado showing that red is color of joy and celebration. Oops, sorry Jeannie Mai.
Miss Zambia Cartier Zagorski
National costume? Another one of those weird World Designer creations? No and no. This is Miss Zambia Cartier Zagorski's gown during the semis. The ensemble is incoherent and the colors do not match the overall mood of the gown. No wonder Cartier did not get past the Top 16.
National Costume
Miss Indonesia Annisa Ananda Nusyirwan
As always, Indonesia has put its heart and mind in dressing their candidates for the national costume contest. The colors of Indonesian tradition and culture come alive in this wonderful national costume of Miss Indonesia Annisa Ananda Nusyirwan. No wonder it took the gold medal in the Asian division of the competition.
Miss Lebanon Amina El Hassan
Picking up the worst costume is a painful process because everyone knew that the girls have put a lot of effort in designing (okay not all of them), transporting and wearing their national costumes. But as one pageant observer puts it, Miss Lebanon Amina El Hassan's costume was basically a cheap gown with some conical hat. Ouch! Sorry Amina.
Quotable Quote
I will use my title to inspire others, help our environment, and we start with the kids…the kids are the people of tomorrow.
 – Miss Earth 2014 Jamie Herrell in her winning answer during the Q&A