Five reasons why Miss Earth remains relevant
by Miss_Twix*
I have been seeing so many criticisms on the 14-year-old Miss Earth pageant, saying that it is just a cheap Miss Universe copycat, a low-budget pageant focusing more on environmental projects within the Philippines, a pageant which has a lot of favoritism and biases and more false allegations. But did people ever think of the positive sides of this pageant? I think when you see the pageant as it is, it will be really easy to judge and criticize. But deep within, this pageant has more to offer; it has many aspects that makes it still relevant today.
Point Number 1: Miss Earth's very Timely Advocacy
When watching pageants, all we usually ever think of are the beautiful ladies, their bodies, their gowns, the stage in the finals night, etc. Did we ever think of the pageant's advocacy? As we all know, Miss Earth was introduced to us year 2001 and had this goal of promoting environmental awareness.
Just when we thought that we experienced more problems in the environment because of the rise of new technologies which impedes environmental preservation, including several environmental issues like global warming, this pageant came and advocated care for our mother Earth in the new millennium. This time, pageantry or beauty contest was used as an avenue or instrument to tell people that our efforts in preserving our environment should be doubled in the start of the new millennium.
Point Number 2: Miss Earth's Unique Concept
Miss Earth also had unique concepts that made it really different from the other major international beauty pageants.
Miss Earth contest used the 4 Classical Elements: Earth, Air, Water and Fire to be used as a title for their winner, 1st runner-up, 2nd runner-up, and 3rd runner-up, respectively. It is the only pageant which used distinctive titles for each of their winners. However, starting in 2010, the three runners-up with elemental titles were declared of equal importance.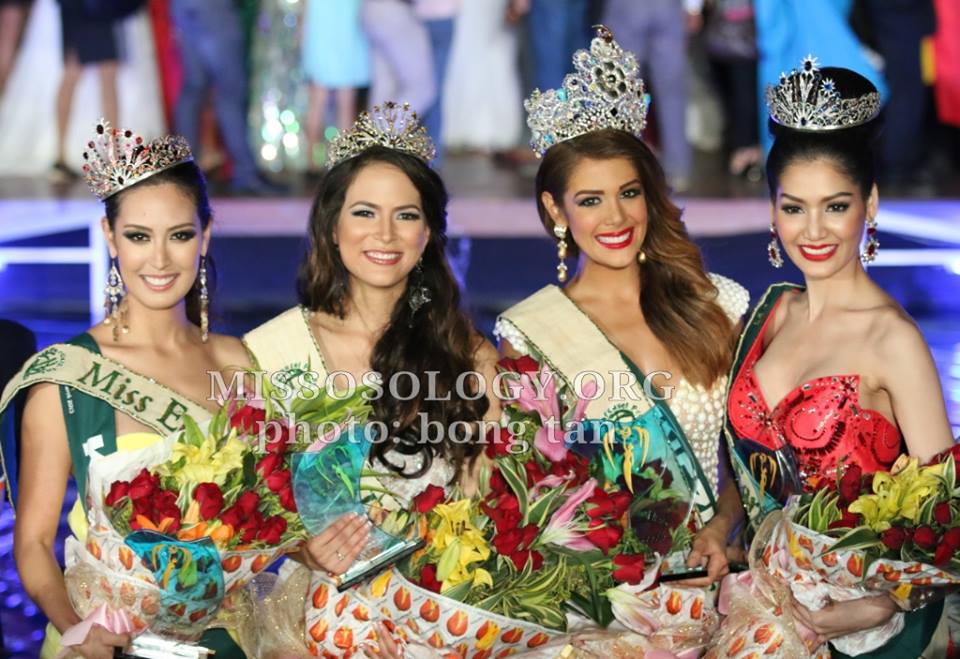 Also, in line with the goal of Miss Earth of "environmental awareness", it is the only pageant which consistently asks questions in their Q & A portion regarding environmental awareness and preservation. This is really helpful especially to the young ones who watch at home to be aware of their actions towards Earth and their environment since one of the campaigns of Miss Earth Org. is to educate the youth on environmental awareness.
Another unique trait of Miss Earth is having a crown which is made of 100% recycled precious metals. Since 2009, they have been giving this crown to the winner. What sets it apart from others is the fact that the gemstones used in the crown were donations from 80 plus participating nations of Miss Earth. These are gemstones that each country is known for either as the origin or source, making the crown really unique and a jack of all trades. The flower in the center of the crown represents Mother Nature as inspired by the statement of Ralph Waldo Emerson's "The earth laughs in flowers."
Point Number 3: Participation of Several Countries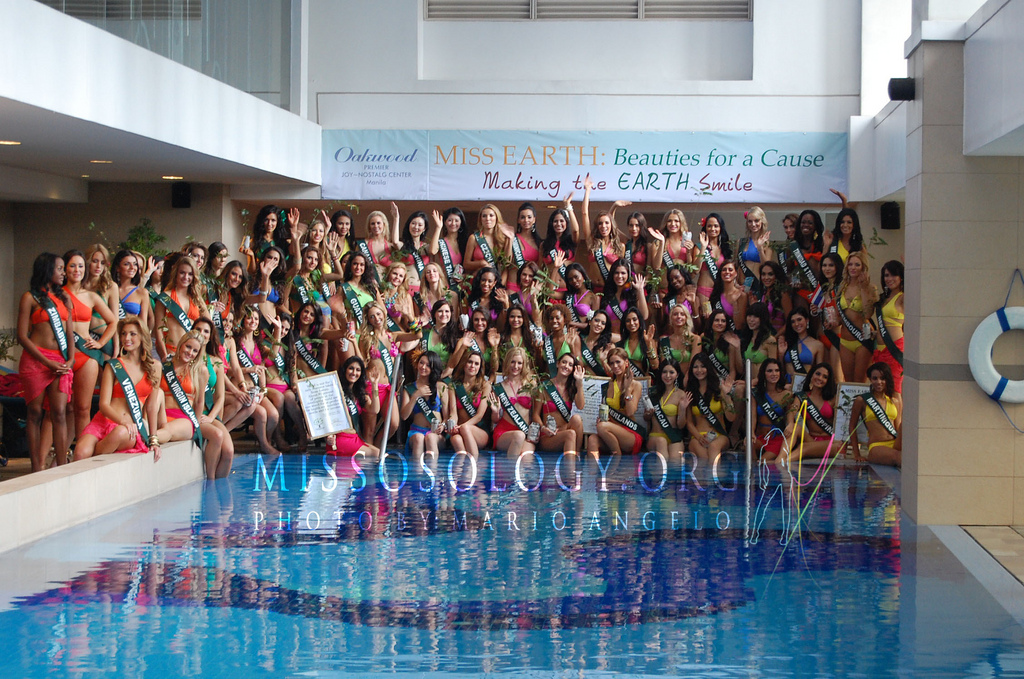 Miss Earth in its inception only had 42 participating countries. But in a span 4 years, it already reached the 80 participating nations mark. In 2005, it already had 80 entrants which makes it close with the nations participating in Miss Universe, and it even beats Miss International. It just means that its becoming more publicized since there are many national-level competitions around the world to participate in the finals.
Here are the statistical comparison of participating countries in Miss Earth, Miss Universe and Miss International since 2005.
Additionally, there are rare pageant contestants/countries which graced the Miss Earth stage:  Vida Samadzai who participated in 2003, the first Afghan woman to ever participate in any major international beauty pageant after nearly three decades;
Naomi Zaman who participated in 2006, the first delegate from Pakistan to compete in any international beauty pageant;
Tsering Chungtak who participated in 2006, the first from Tibet to participate in any major pageants;
Ariana Barouk who participated in 2007, the first Miss Cuba in several decades participated in Miss Earth.
Also in 2007, all chinese countries – China, Hong Kong, Macau, and Tibet competed altogether despite political misunderstandings.
Tsokye Karchun who participated in 2008, the first delegate from one of the most isolated countries in the world – Bhutan
Cynthia Azakuba who participated in 2008, the first Miss Rwanda national winner was sent to Miss Earth
Point Number 4: Big 4 Status
In relation to point number 3, despite being a younger pageant compared to other major international pageants, Miss Earth already had several countries participating which made it a highly publicized pageant, one of the factors that makes it a Big 4 pageant. When compared to other international pageants which are 40 to 50 years older, Miss Earth achieved a lot already in a span of 12 years, and this pageant surely has more to offer in the coming decades. So whether you like it or not, Miss Earth is still one of the 4 major international pageants in the world.
Point Number 5: Affiliation with United Nations Environment Program and other environmental groups
Miss Earth foundation was established to serve as the outreach arm of the Miss Earth beauty pageant. It makes Miss Earth's goals and projects reachable and possible. Miss Earth foundation is not only making projects within the Philippines but also worldwide with its different affiliates and networks. Its main campaign is to educate youth regarding environmental awareness
Miss Earth Foundation aims to increase the level of awareness on the current environmental issues and what action can be done through power of broadcasting and other media campaigns locally, nationally and globally. It organizes campaign and promote projects for Miss Earth winners, as well as candidates, and its counterpart Miss Philippines Earth to be able to reach out to the masses and encourage them to be responsible in caring and preserving the environment locally, nationally and globally such as organizing forums and symposiums. Through projects, it helps build ties among communities and teach the people the value of appreciation towards nature and quality of life. (Source: Miss Earth Foundation web)
Also, Miss Earth titleholder serves as a spokesperson and ambassador for the Miss Earth Foundation, United Nations Environment Programme (UNEP) and other environmental groups.
*Miss Twix is a resident pageant expert in Missosology Forum, where this article was first posted.