Before tomorrow's all-important preliminary competition, let's see what our experts and Missosologists have gathered in our 3rd hot picks. This week, we saw whose determination & winning potential are becoming more and more evident as the final night is fast approaching,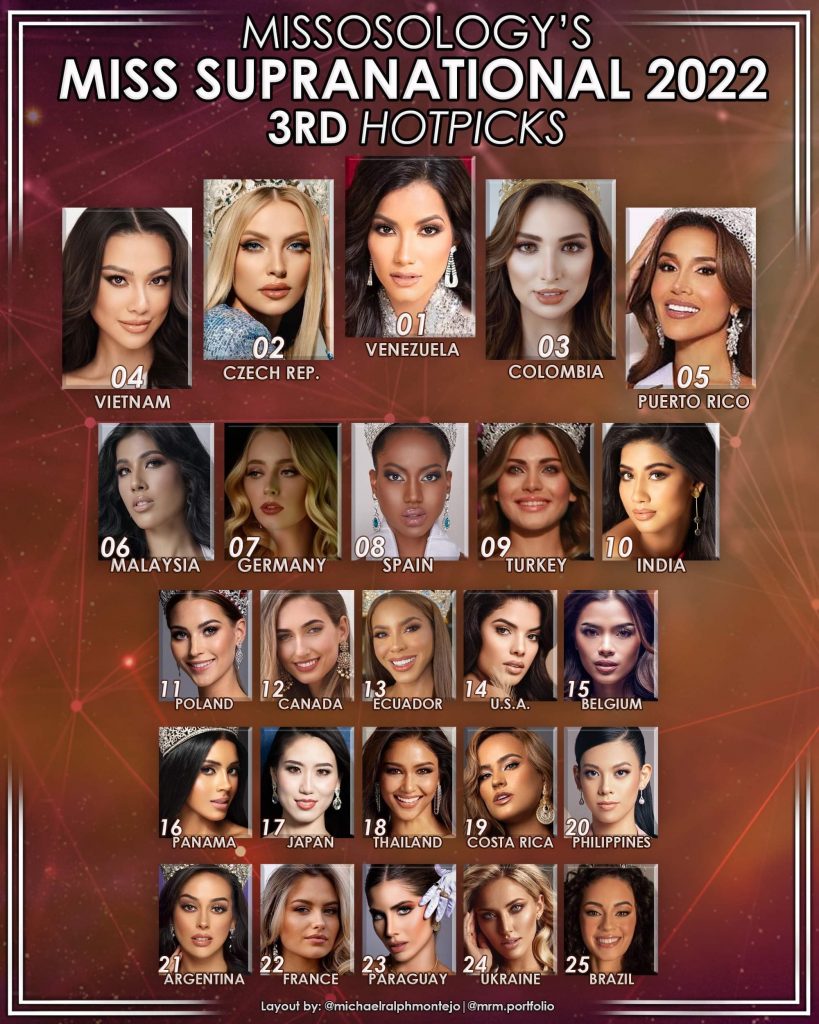 Leading the pack is Venezuela's Ismelys Velásquez who just keeps on improving and improving as the days pass by. A silent killer, she certainly knows when to peak. With 2 international pageant titles in her pocket, it is safe to say that as of the moment, Venezuela could be the first Venezolana to win the supra-crown for her country.
In second spot is Czech Republic's Kristýna Malířová who has a number of admirers here in Poland. She always gives that "supermodel vibe" in the competition. Her magnetic eyes and effortless beauty are truly mesmerizing, especially in person. Aside from that, she is very well-spoken and with a good grip of her audience when she speaks.
The extremely classy & serene Valentina Espinosa from Colombia ranked third this week & many people may thought that she has faded away in the middle of the competition, but hell no! She is major contender and she pulled out her strengths when they mattered the most.
At number 4 is Vietnam's Nguyễn Huỳnh Kim Duyên who is expected to give a strong fight with her undeniable charm and amazing stage presence.
Making her presence finally felt in the competition is Puerto Rico's Ariette Banchs who zoomed up into the fifth position. She is representing one of the most organized national franchise holders of Miss Suprnational, and knowing the standard of MSO, it will be no surprise if she is going to outdo several front runners, and pull a major upset. She has the beauty, the body and the brains to be considered as a worthy successor of last year's "primera finalista" from her country.
1. Venezuela – Ismelys Velasquez
2. Czech Republic – KKristýna Malířová
3. Colombia – Valentina Espinosa
4. Vietnam – Nguyễn Huỳnh Kim Duyên
5. Puerto Rico – Ariette Banchs
6. Malaysia – Melisha Lin
7. Germany – Jasmin Selberg
8. Spain – Ana Karla Ramirez
9. Turkey – Sira Sahili
10. India – Ritika Khatnani
11. Poland – Agata Wdowiak
12. Canada – Jessica Bailey
13. Ecuador – Valery Carabali
14. USA – Sofia Acosta
15. Belgium – Thanaree Scheerlinck
16. Panama – Cecilia Medina
17. Japan – Rina Okada
18. Thailand – Praewwanich Ruangthong
19. Costa Rica – Natalia Gonzalez
20. Philippines – Alison Black
21. Argentina – Maira Acst
22. France – Valentine Le Corre
23. Paraguay – Violeta Van Humbeck
24. Ukraine – Diana Mironenko
25. Brazil – Giovanna Reis