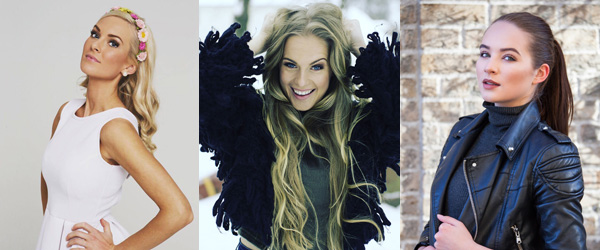 A big hurray and congratulations to the 17 young women who qualified to the Miss Norway pageant finale, which will be held on Saturday July 30th. The competition so far has been challenging – each candidate has done extremely well, and outperformed more than 80 selected beauties, who were offered a possibility to compete in the preliminaries, starting in October last year.
The finalists have qualified by doing different activities like marketing and commercial engagements, blogging, charity events, press interviews and an overall assessment based on video presentation and their general performance.  
Now the difficult and also exiting preparation to the finals at Åpen Scene in Oslo begins. Focus is now on even more exercise in show-walk with high heels. Each finalist must obtain their own magical evening gown and outfits for the final. There will be activities, like photo sessions and further assignments in marketing and charity.
Miss Norway focuses on strong women who stand on their own feet. Women who show that it pays off to make an extra effort with charitable work, business activities, and being a positive role model. The competitors in the finale are really close in results so far, and it's impossible to foresee who's going to win.
In 2013, Miss Norway transformed the competition by using a performance improvement program. The competition period was extended to a 10 to 12 months period. There are several contestants who have participated in previous seasons, and we are happy to see them also this year. Some have competed for 18-24 months.
The extended period has been necessary, because we got high ambitions for Norway and the Nordic countries to compete with other top pageant countries like Venezuela, Philippines, Russia and USA. It takes years for a contestant to reach the pageant level internationally. Miss Universe 2015, Pia Alonzo Wurtzbach competed three years in the national Miss Philippines pageant before she won, and was able to compete for her country in Miss Universe. No one from Europe has taken the crown in Miss Universe since 1990, when our very own Mona Grudt won, 26 years ago.
We are proud to present all the Miss Norway 2016 finalists and their presentation videos.
Amalie Helene Svendsen Holen, 23, Narvik
Anna Shahiri, 18, Moelv
Bettina Hofsødegård, 20, His
Camilla De Souza Devik, 19, Trondheim
Christina Waage, 20, Auli
Christine Berge, 20, Kristiansand
Dzenana Alic, 22, Drammen
Emeriin Jeolina Jorseph, 23, Nordstrand
Gulsum Tulun, 22, Oslo
Iselin Vatle, 19, Hof
Jennifer Maria Forfang, 19, Stavanger
Linn Adriana Thomassen, 24, Greåker
Nora Emilie Nakken, 17, Trondheim
Sara Hassing Johansen, 19, Oslo
Selina Ilincic, 18, Kristiansand
Seline Solberg, 22, Ulset
Yasmin Osee Aakre, 26, Oslo