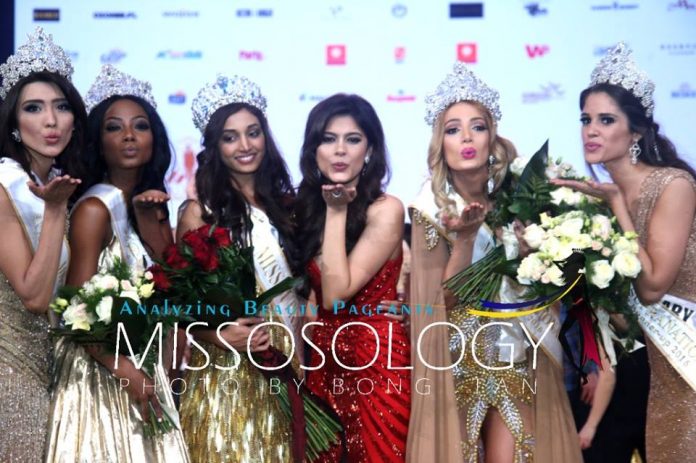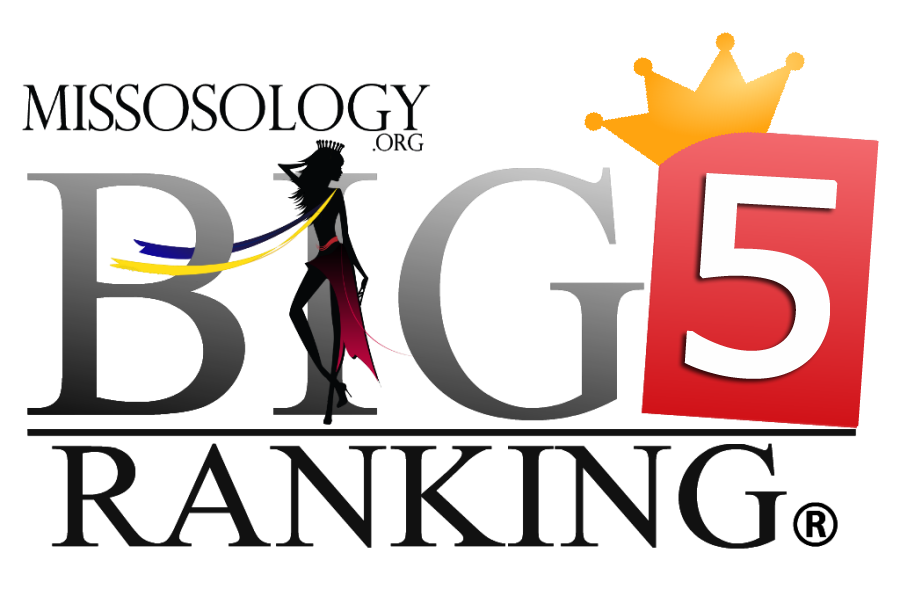 With the introduction of Miss Supranational as part of the Missosology Big 5 Pageants starting this year, we have witnessed some increases in strengths from a few countries who have been taking this pageant really seriously.   Belarus, for example, which was ranked 125th in 2015, is now in 79th place.  Interestingly, this former Soviet state has never competed in Miss Universe and Miss Earth, although it can boast of one Miss Supranational crown, and a 2nd Runner-up finish at Miss International 2007.  Myanmar (122nd) and Suriname (105th) are also two of the biggest gainers, thanks to their wonderful performances at Miss Supranational 2016.
Meanwhile, after the "supra" win last December 2nd, India went up to 7th place, which automatically overtook Spain, who slid to 8th position.  India is just a few points behind Australia, which makes the battle for the 6th spot even more interesting as these countries are currently two favorites at the ongoing Miss World competition.  Speaking of Australia, it is the only country, together with Mexico, to have placed in the first cut of Miss International 2016, Miss Earth 2016 and Miss Supranational 2016.
The battle for the "2016 Performer of the Year" is currently a close fight between Australia, Mexico and Venezuela.
Next update will be after Miss World 2016.
| Rank 2012 | Rank 2013 | Rank 2014 | Rank 2015 | Rank 2016 | COUNTRY | BIG5-TOTAL | Earth | International | World | Universe | Supranational |
| --- | --- | --- | --- | --- | --- | --- | --- | --- | --- | --- | --- |
| 1 | 1 | 1 | 1 | 1 | U.S.A. | 20152 | 1292 | 4700 | 5730 | 8090 | 340 |
| 2 | 2 | 2 | 2 | 2 | VENEZUELA | 17747 | 1932 | 4840 | 4515 | 6080 | 380 |
| 3 | 3 | 3 | 3 | 3 | BRAZIL | 13198 | 1698 | 3580 | 3145 | 4340 | 435 |
| 5 | 5 | 5 | 4 | 4 | PHILIPPINES | 12151 | 2006 | 4040 | 2390 | 3210 | 505 |
| 4 | 4 | 4 | 5 | 5 | COLOMBIA | 11944 | 824 | 4260 | 2145 | 4330 | 385 |
| 9 | 10 | 9 | 7 | 6 | AUSTRALIA | 10431 | 546 | 3020 | 3745 | 2820 | 300 |
| 7 | 8 | 8 | 9 | 7 | INDIA | 10296 | 996 | 2540 | 3285 | 2810 | 665 |
| 10 | 7 | 6 | 6 | 8 | SPAIN | 10116 | 886 | 4120 | 2270 | 2650 | 190 |
| 6 | 6 | 7 | 8 | 9 | FINLAND | 9845 | 220 | 3880 | 2630 | 3030 | 85 |
| 8 | 9 | 10 | 10 | 10 | JAPAN | 9623 | 458 | 4740 | 1505 | 2800 | 120 |
| 11 | 11 | 11 | 11 | 11 | SWEDEN | 9310 | 420 | 1830 | 3080 | 3850 | 130 |
| 14 | 14 | 13 | 12 | 12 | FRANCE | 8942 | 492 | 2410 | 3550 | 2280 | 210 |
| 12 | 12 | 12 | 13 | 13 | ISRAEL | 8575 | 200 | 2120 | 3475 | 2750 | 30 |
| 13 | 13 | 14 | 14 | 14 | GERMANY | 8465 | 210 | 2520 | 2785 | 2890 | 60 |
| 17 | 16 | 16 | 16 | 15 | MEXICO | 8152 | 842 | 2200 | 2180 | 2560 | 370 |
| 15 | 15 | 15 | 15 | 16 | SOUTH AFRICA | 7974 | 774 | 230 | 4340 | 2460 | 170 |
| 18 | 18 | 17 | 18 | 17 | PUERTO RICO | 7697 | 372 | 1860 | 1830 | 3190 | 445 |
| 16 | 17 | 18 | 17 | 18 | UNITED KINGDOM | 7325 | 30 | 2120 | 4885 | 290 | 0 |
| 19 | 19 | 19 | 19 | 19 | KOREA | 7282 | 832 | 3280 | 1540 | 1510 | 120 |
| 28 | 27 | 25 | 24 | 20 | THAILAND | 6420 | 1120 | 2140 | 1120 | 1480 | 560 |
| 23 | 22 | 20 | 20 | 21 | NETHERLANDS | 6246 | 236 | 1740 | 2200 | 1970 | 100 |
| 20 | 20 | 21 | 21 | 22 | GREECE | 6190 | 170 | 1520 | 1880 | 2450 | 170 |
| 22 | 23 | 23 | 23 | 23 | ARGENTINA | 6181 | 256 | 1790 | 1970 | 2050 | 115 |
| 24 | 24 | 24 | 25 | 24 | CANADA | 6173 | 368 | 980 | 1990 | 2460 | 375 |
| 21 | 21 | 22 | 22 | 25 | NORWAY | 6015 | 290 | 1810 | 1635 | 2240 | 40 |
| 31 | 30 | 30 | 29 | 26 | POLAND | 5840 | 1050 | 1910 | 1220 | 830 | 830 |
| 25 | 25 | 26 | 26 | 27 | ITALY | 5447 | 402 | 1070 | 1725 | 2210 | 40 |
| 27 | 26 | 27 | 27 | 28 | NEW ZEALAND | 5350 | 130 | 1880 | 2150 | 1140 | 50 |
| 30 | 31 | 31 | 32 | 29 | PERU | 5136 | 446 | 810 | 1420 | 2180 | 280 |
| 26 | 28 | 28 | 28 | 30 | IRELAND | 5090 | 40 | 1220 | 2410 | 1390 | 30 |
| 29 | 29 | 29 | 31 | 31 | DENMARK | 5070 | 340 | 1200 | 2205 | 1140 | 185 |
| 33 | 33 | 33 | 34 | 32 | ENGLAND | 5028 | 218 | 1430 | 600 | 2540 | 240 |
| 35 | 34 | 35 | 35 | 33 | DOMINICAN REPUBLIC | 4975 | 420 | 1240 | 1440 | 1670 | 205 |
| 32 | 32 | 32 | 30 | 34 | AUSTRIA | 4895 | 340 | 1170 | 2195 | 1190 | 0 |
| 34 | 35 | 34 | 33 | 35 | JAMAICA | 4785 | 40 | 240 | 3335 | 1100 | 70 |
| 36 | 36 | 36 | 36 | 36 | ICELAND | 4660 | 10 | 1880 | 1550 | 900 | 320 |
| 40 | 40 | 39 | 38 | 37 | RUSSIA | 4583 | 768 | 1310 | 1290 | 1020 | 195 |
| 37 | 37 | 37 | 37 | 38 | BELGIUM | 4370 | 150 | 1500 | 1140 | 1430 | 150 |
| 41 | 41 | 41 | 41 | 39 | PANAMA | 4304 | 284 | 1350 | 800 | 1330 | 540 |
| 39 | 39 | 40 | 40 | 40 | TURKEY | 4151 | 176 | 1570 | 1395 | 790 | 220 |
| 38 | 38 | 38 | 39 | 41 | SWITZERLAND | 4112 | 392 | 690 | 1320 | 1630 | 80 |
| 42 | 42 | 42 | 42 | 42 | CHILE | 3752 | 722 | 460 | 720 | 1780 | 70 |
| 44 | 46 | 46 | 45 | 43 | CZECH REPUBLIC | 3592 | 902 | 860 | 640 | 610 | 580 |
| 46 | 44 | 44 | 44 | 44 | ECUADOR | 3568 | 788 | 810 | 845 | 920 | 205 |
| 43 | 43 | 43 | 43 | 45 | TRINIDAD & TOBAGO | 3445 | 150 | 110 | 1665 | 1450 | 70 |
| 45 | 45 | 45 | 46 | 46 | COSTA RICA | 3036 | 356 | 1010 | 740 | 840 | 90 |
| 47 | 47 | 47 | 47 | 47 | BOLIVIA | 2996 | 246 | 1020 | 830 | 830 | 70 |
| 56 | 56 | 52 | 52 | 48 | UKRAINE | 2968 | 408 | 710 | 630 | 830 | 390 |
| 49 | 50 | 50 | 51 | 49 | PARAGUAY | 2876 | 556 | 510 | 620 | 930 | 260 |
| 50 | 49 | 48 | 48 | 50 | CHINA PR | 2821 | 326 | 740 | 1210 | 480 | 65 |
| 52 | 51 | 51 | 50 | 51 | LEBANON | 2702 | 262 | 570 | 1050 | 760 | 60 |
| 48 | 48 | 49 | 49 | 52 | HONGKONG | 2695 | 50 | 840 | 730 | 1040 | 35 |
| 53 | 53 | 53 | 53 | 53 | MALAYSIA | 2607 | 172 | 580 | 1110 | 610 | 135 |
| 55 | 54 | 55 | 54 | 54 | GUAM | 2436 | 186 | 510 | 1050 | 690 | 0 |
| 51 | 52 | 54 | 55 | 55 | YUGOSLAVIA | 2400 | 160 | 570 | 1240 | 430 | 0 |
| 62 | 62 | 62 | 60 | 56 | HONDURAS | 2396 | 416 | 810 | 370 | 540 | 260 |
| 57 | 57 | 58 | 58 | 57 | SRI LANKA | 2320 | 60 | 680 | 860 | 570 | 150 |
| 59 | 61 | 57 | 57 | 58 | SCOTLAND | 2310 | 350 | 310 | 645 | 940 | 65 |
| 54 | 55 | 56 | 56 | 59 | URUGUAY | 2290 | 30 | 290 | 790 | 1170 | 10 |
| 59 | 59 | 60 | 61 | 60 | NICARAGUA | 2270 | 190 | 1070 | 435 | 560 | 15 |
| 58 | 57 | 59 | 58 | 61 | ARUBA | 2170 | 20 | 510 | 860 | 770 | 10 |
| 61 | 60 | 61 | 62 | 62 | SINGAPORE | 2126 | 256 | 600 | 530 | 710 | 30 |
| 86 | 74 | 71 | 67 | 63 | INDONESIA | 2093 | 138 | 680 | 630 | 370 | 275 |
| 64 | 64 | 64 | 64 | 64 | PORTUGAL | 2025 | 160 | 710 | 610 | 430 | 115 |
| 63 | 63 | 62 | 63 | 65 | GUATEMALA | 2002 | 232 | 540 | 450 | 750 | 30 |
| 65 | 65 | 65 | 65 | 66 | WALES | 1826 | 106 | 220 | 450 | 980 | 70 |
| 85 | 86 | 87 | 75 | 67 | VIETNAM | 1772 | 302 | 450 | 580 | 120 | 320 |
| 67 | 67 | 69 | 70 | 68 | CHINESE TAIPEI | 1706 | 226 | 350 | 500 | 510 | 120 |
| 70 | 70 | 70 | 71 | 69 | EL SALVADOR | 1700 | 210 | 240 | 300 | 900 | 50 |
| 66 | 66 | 66 | 68 | 69 | NIGERIA | 1700 | 310 | 60 | 880 | 390 | 60 |
| 68 | 68 | 68 | 66 | 71 | CURACAO | 1690 | 50 | 180 | 390 | 1050 | 20 |
| 82 | 82 | 73 | 76 | 72 | SLOVAK REPUBLIC | 1620 | 330 | 340 | 270 | 350 | 330 |
| 69 | 69 | 67 | 69 | 73 | POLYNESIE FRANCAISE | 1587 | 432 | 480 | 410 | 250 | 15 |
| 71 | 71 | 72 | 72 | 74 | BAHAMAS | 1552 | 162 | 60 | 650 | 540 | 140 |
| 99 | 92 | 82 | 77 | 75 | HUNGARY | 1490 | 190 | 200 | 470 | 410 | 220 |
| 81 | 85 | 79 | 74 | 76 | KENYA | 1400 | 320 | 180 | 770 | 70 | 60 |
| 77 | 78 | 73 | 73 | 77 | GUYANA | 1360 | 20 | 10 | 1120 | 200 | 10 |
| 76 | 75 | 77 | 79 | 78 | CROATIA | 1340 | 40 | 30 | 860 | 270 | 140 |
| 125 | 126 | 126 | 125 | 79 | BELARUS | 1280 | 0 | 330 | 120 | 0 | 830 |
| 73 | 72 | 75 | 78 | 80 | CYPRUS | 1230 | 120 | 190 | 530 | 380 | 10 |
| 89 | 80 | 79 | 81 | 81 | GHANA | 1210 | 140 | 10 | 750 | 290 | 20 |
| 72 | 72 | 76 | 80 | 82 | HAWAII | 1200 | 0 | 820 | 10 | 370 | 0 |
| 75 | 77 | 78 | 82 | 83 | ZIMBABWE | 1191 | 176 | 10 | 835 | 150 | 20 |
| 74 | 76 | 81 | 83 | 84 | MALTA | 1190 | 60 | 200 | 570 | 340 | 20 |
| 77 | 78 | 84 | 84 | 85 | NAMIBIA | 1165 | 20 | 100 | 510 | 510 | 25 |
| 91 | 81 | 85 | 86 | 86 | GIBRALTAR | 1161 | 36 | 140 | 860 | 90 | 35 |
| 82 | 87 | 82 | 84 | 87 | EGYPT | 1160 | 370 | 60 | 460 | 240 | 30 |
| 98 | 93 | 92 | 89 | 88 | MAURITIUS | 1145 | 240 | 60 | 490 | 280 | 75 |
| 80 | 84 | 88 | 88 | 89 | LUXEMBOURG | 1130 | 40 | 480 | 270 | 270 | 70 |
| 99 | 97 | 97 | 98 | 90 | ROMANIA | 1115 | 290 | 60 | 380 | 130 | 255 |
| 79 | 82 | 86 | 87 | 91 | ANGOLA | 1110 | 0 | 0 | 550 | 540 | 20 |
| 93 | 95 | 95 | 94 | 92 | KAZAKHSTAN | 1032 | 202 | 10 | 650 | 70 | 100 |
| 92 | 94 | 94 | 96 | 93 | US VIRGIN ISLANDS | 1032 | 62 | 10 | 550 | 280 | 130 |
| 84 | 87 | 89 | 90 | 94 | BERMUDA | 1010 | 0 | 10 | 550 | 450 | 0 |
| 104 | 104 | 97 | 92 | 95 | MONGOLIA | 988 | 298 | 470 | 200 | 0 | 20 |
| 88 | 89 | 90 | 91 | 96 | TANZANIA | 986 | 396 | 60 | 350 | 180 | 0 |
| 89 | 90 | 91 | 93 | 97 | TUNISIA | 960 | 0 | 580 | 300 | 80 | 0 |
| 96 | 99 | 99 | 99 | 98 | LATVIA | 946 | 176 | 280 | 250 | 110 | 130 |
| 94 | 96 | 96 | 97 | 99 | BOSNIA & HERZEGOVINA | 942 | 642 | 0 | 250 | 0 | 50 |
| 87 | 90 | 92 | 95 | 100 | CZECHOSLOVAKIA | 920 | 0 | 450 | 250 | 220 | 0 |
| 107 | 105 | 106 | 105 | 101 | NORTHERN IRELAND | 870 | 280 | 0 | 530 | 0 | 60 |
| 97 | 97 | 100 | 100 | 102 | ESTONIA | 860 | 150 | 40 | 240 | 370 | 60 |
| 116 | 116 | 113 | 112 | 103 | SLOVENIA | 852 | 212 | 0 | 220 | 170 | 250 |
| 95 | 100 | 101 | 100 | 104 | CUBA | 825 | 30 | 140 | 280 | 360 | 15 |
| 118 | 119 | 120 | 122 | 105 | SURINAME | 805 | 40 | 50 | 100 | 310 | 305 |
| 99 | 101 | 102 | 102 | 106 | BOTSWANA | 790 | 70 | 0 | 450 | 270 | 0 |
| 102 | 102 | 103 | 103 | 107 | MARTINIQUE | 750 | 470 | 30 | 190 | 50 | 10 |
| 109 | 107 | 105 | 106 | 108 | HAITI | 740 | 50 | 140 | 140 | 380 | 30 |
| 102 | 103 | 104 | 104 | 109 | CAYMAN ISLANDS | 720 | 20 | 0 | 420 | 280 | 0 |
| 117 | 118 | 117 | 117 | 110 | ALBANIA | 685 | 80 | 0 | 130 | 340 | 135 |
| 110 | 110 | 109 | 108 | 111 | GEORGIA | 680 | 250 | 40 | 230 | 110 | 50 |
| 105 | 105 | 107 | 107 | 112 | NORTHERN MARIANAS | 650 | 80 | 290 | 10 | 270 | 0 |
| 106 | 107 | 108 | 108 | 113 | CONGO, D.R. | 630 | 20 | 140 | 140 | 330 | 0 |
| 122 | 114 | 111 | 110 | 113 | NEPAL | 630 | 250 | 80 | 290 | 0 | 10 |
| 113 | 113 | 114 | 113 | 115 | BULGARIA | 610 | 10 | 10 | 340 | 220 | 30 |
| 113 | 114 | 116 | 114 | 116 | BELIZE | 590 | 50 | 20 | 160 | 350 | 10 |
| 108 | 109 | 110 | 111 | 116 | SERBIA & MONTENEGRO | 590 | 260 | 130 | 30 | 170 | 0 |
| 119 | 120 | 119 | 119 | 118 | KOSOVO | 570 | 90 | 0 | 20 | 400 | 60 |
| 112 | 111 | 111 | 114 | 119 | BARBADOS | 570 | 10 | 0 | 430 | 130 | 0 |
| 120 | 121 | 122 | 120 | 120 | GUADELOUPE | 560 | 100 | 190 | 170 | 60 | 40 |
| 111 | 111 | 114 | 116 | 120 | LIBERIA | 560 | 30 | 40 | 450 | 40 | 0 |
| 165 | 165 | 154 | 146 | 122 | MYANMAR | 550 | 30 | 60 | 30 | 70 | 360 |
| 130 | 122 | 120 | 121 | 122 | SERBIA | 550 | 170 | 110 | 140 | 90 | 40 |
| 115 | 117 | 117 | 118 | 124 | TURKS & CAICOS | 530 | 50 | 0 | 80 | 400 | 0 |
| 122 | 123 | 123 | 123 | 125 | BRITISH VIRGIN ISLANDS | 480 | 10 | 0 | 160 | 310 | 0 |
| 124 | 124 | 124 | 124 | 126 | ETHIOPIA | 476 | 66 | 70 | 210 | 110 | 20 |
| 139 | 129 | 129 | 129 | 127 | LITHUANIA | 466 | 46 | 120 | 180 | 30 | 90 |
| 134 | 134 | 135 | 134 | 128 | MACAU | 440 | 170 | 100 | 140 | 0 | 30 |
| 121 | 125 | 125 | 125 | 128 | ST. LUCIA | 440 | 130 | 0 | 250 | 60 | 0 |
| 171 | 164 | 153 | 151 | 130 | GABON | 436 | 36 | 40 | 40 | 40 | 280 |
| 135 | 136 | 128 | 127 | 131 | ZAMBIA | 410 | 140 | 40 | 160 | 70 | 0 |
| 126 | 127 | 127 | 127 | 132 | SEYCHELLES | 400 | 0 | 10 | 380 | 10 | 0 |
| 126 | 128 | 130 | 130 | 133 | SWAZILAND | 370 | 0 | 0 | 350 | 20 | 0 |
| 129 | 130 | 131 | 132 | 134 | MACEDONIA FYR | 360 | 30 | 160 | 140 | 0 | 30 |
| 140 | 139 | 135 | 131 | 135 | SOUTH SUDAN | 340 | 50 | 30 | 260 | 0 | 0 |
| 148 | 148 | 146 | 144 | 136 | MOLDOVA | 335 | 20 | 50 | 130 | 0 | 135 |
| 130 | 132 | 133 | 134 | 137 | MOROCCO | 320 | 0 | 50 | 80 | 170 | 20 |
| 128 | 120 | 131 | 132 | 137 | GRENADA | 320 | 0 | 0 | 310 | 10 | 0 |
| 137 | 137 | 138 | 137 | 139 | UGANDA | 302 | 62 | 10 | 230 | 0 | 0 |
| 130 | 132 | 133 | 134 | 140 | USSR | 300 | 0 | 100 | 30 | 170 | 0 |
| 133 | 134 | 137 | 138 | 141 | ANTIGUA & BARBUDA | 280 | 0 | 0 | 170 | 110 | 0 |
| 135 | 137 | 139 | 139 | 142 | VIRGIN ISLANDS | 250 | 0 | 0 | 40 | 210 | 0 |
| 141 | 141 | 141 | 142 | 143 | SIERRA LEONE | 240 | 30 | 10 | 190 | 0 | 10 |
| 142 | 142 | 142 | 140 | 144 | FIJI | 220 | 30 | 120 | 50 | 20 | 0 |
| 138 | 140 | 140 | 140 | 145 | RHODESIA & NYASALAND | 220 | 0 | 0 | 210 | 10 | 0 |
| 145 | 143 | 143 | 143 | 146 | SAMOA | 196 | 56 | 0 | 40 | 100 | 0 |
| 148 | 149 | 149 | 153 | 147 | GAMBIA | 190 | 0 | 0 | 90 | 50 | 50 |
| 142 | 144 | 144 | 144 | 148 | NEW CALENDONIA | 180 | 10 | 160 | 0 | 10 | 0 |
| 154 | 152 | 149 | 149 | 149 | MONTENEGRO | 170 | 0 | 0 | 100 | 60 | 10 |
| 147 | 146 | 146 | 146 | 149 | CRIMEA | 170 | 170 | 0 | 0 | 0 | 0 |
| 142 | 144 | 144 | 146 | 149 | PAPUA NEW GUINEA | 170 | 0 | 0 | 70 | 100 | 0 |
| 156 | 156 | 154 | 152 | 152 | REUNION | 166 | 56 | 0 | 0 | 100 | 10 |
| 146 | 146 | 146 | 149 | 153 | ALASKA | 160 | 0 | 0 | 0 | 160 | 0 |
| 148 | 149 | 149 | 153 | 154 | COOK ISLANDS | 156 | 26 | 0 | 30 | 100 | 0 |
| * | * | * | * | 155 | RWANDA | 145 | 0 | 0 | 0 | 0 | 145 |
| 148 | 149 | 149 | 153 | 156 | ST. VINVENT & THE GR. | 140 | 0 | 0 | 60 | 80 | 0 |
| 154 | 152 | 154 | 156 | 157 | BONAIRE | 130 | 10 | 0 | 30 | 90 | 0 |
| 152 | 152 | 154 | 156 | 157 | ISLE OF MAN | 130 | 0 | 0 | 130 | 0 | 0 |
| 152 | 152 | 154 | 156 | 157 | MONTE CARLO | 130 | 0 | 0 | 130 | 0 | 0 |
| 163 | 159 | 160 | 159 | 160 | COTE D'IVOIRE | 120 | 10 | 20 | 80 | 10 | 0 |
| 158 | 157 | 159 | 159 | 160 | MADAGASCAR | 120 | 40 | 10 | 60 | 10 | 0 |
| 156 | 157 | 160 | 161 | 162 | SAN MARINO | 110 | 0 | 110 | 0 | 0 | 0 |
| 162 | 159 | 162 | 161 | 162 | ST. KITTS & NEVIS | 110 | 0 | 0 | 80 | 30 | 0 |
| 158 | 159 | 162 | 163 | 164 | JORDAN | 100 | 0 | 30 | 60 | 10 | 0 |
| 158 | 159 | 162 | 163 | 164 | MONTSERRAT | 100 | 0 | 0 | 100 | 0 | 0 |
| 158 | 159 | 162 | 163 | 164 | WESTERN SAMOA | 100 | 0 | 0 | 100 | 0 | 0 |
| 167 | 169 | 166 | 167 | 167 | PAKISTAN | 98 | 98 | 0 | 0 | 0 | 0 |
| 175 | 173 | 170 | 169 | 168 | CAMEROON | 90 | 40 | 10 | 20 | 0 | 20 |
| 192 | 167 | 167 | 166 | 168 | LESOTHO | 90 | 0 | 0 | 80 | 10 | 0 |
| 163 | 165 | 167 | 168 | 170 | JERSEY | 80 | 0 | 0 | 80 | 0 | 0 |
| 179 | 173 | 170 | 169 | 170 | KYRGYZSTAN | 80 | 10 | 30 | 40 | 0 | 0 |
| * | 184 | 181 | 181 | 172 | EQUATORIAL GUINEA | 70 | 0 | 0 | 30 | 0 | 40 |
| 171 | 173 | 175 | 175 | 172 | TOGO | 70 | 0 | 50 | 0 | 0 | 20 |
| 165 | 167 | 169 | 169 | 172 | SINT MAARTEN | 70 | 0 | 0 | 30 | 40 | 0 |
| 168 | 170 | 170 | 172 | 175 | BANGLADESH | 60 | 0 | 0 | 60 | 0 | 0 |
| 168 | 170 | 170 | 172 | 175 | GREENLAND | 60 | 0 | 0 | 20 | 40 | 0 |
| 168 | 170 | 170 | 172 | 175 | OKINAWA | 60 | 0 | 0 | 0 | 60 | 0 |
| 171 | 173 | 175 | 175 | 178 | CONGO, REP. OF THE | 50 | 20 | 30 | 0 | 0 | 0 |
| 171 | 173 | 175 | 175 | 178 | ST. BARTHELEMY | 50 | 0 | 0 | 50 | 0 | 0 |
| 175 | 178 | 175 | 175 | 178 | TONGA | 50 | 30 | 0 | 20 | 0 | 0 |
| 192 | 194 | 185 | 181 | 181 | ARMENIA | 40 | 10 | 20 | 0 | 0 | 10 |
| * | 194 | 185 | 181 | 181 | GUINEA | 40 | 0 | 0 | 30 | 0 | 10 |
| 192 | 194 | 197 | 197 | 181 | IRAQ | 40 | 10 | 0 | 0 | 10 | 20 |
| 175 | 178 | 179 | 179 | 181 | BRITISH GUIANA | 40 | 0 | 40 | 0 | 0 | 0 |
| 175 | 178 | 179 | 179 | 181 | MALAWI | 40 | 0 | 0 | 40 | 0 | 0 |
| * | 194 | 197 | 197 | 186 | AZERBAIJAN | 30 | 0 | 0 | 0 | 10 | 20 |
| 182 | 184 | 185 | 187 | 186 | CAPE VERDE | 30 | 0 | 0 | 20 | 0 | 10 |
| 182 | 181 | 181 | 181 | 186 | DOMINICA | 30 | 0 | 0 | 20 | 10 | 0 |
| 179 | 181 | 181 | 181 | 186 | FRENCH GUIANA | 30 | 0 | 0 | 0 | 30 | 0 |
| 179 | 181 | 181 | 181 | 186 | PALAU | 30 | 0 | 30 | 0 | 0 | 0 |
| * | * | 197 | 197 | 191 | SAO TOME & PRINCIPE | 20 | 0 | 0 | 10 | 0 | 10 |
| 182 | 184 | 185 | 187 | 191 | AFGHANISTAN | 20 | 20 | 0 | 0 | 0 | 0 |
| 182 | 184 | 185 | 187 | 191 | CAMBODIA | 20 | 10 | 0 | 10 | 0 | 0 |
| 192 | 194 | 185 | 187 | 191 | CHAD | 20 | 10 | 0 | 10 | 0 | 0 |
| 182 | 184 | 185 | 187 | 191 | GUERNSEY | 20 | 0 | 0 | 20 | 0 | 0 |
| 182 | 184 | 185 | 187 | 191 | NIUE ISLAND | 20 | 20 | 0 | 0 | 0 | 0 |
| 182 | 184 | 185 | 187 | 191 | SAINT-MARTIN | 20 | 0 | 0 | 0 | 20 | 0 |
| 182 | 184 | 185 | 187 | 191 | SYRIA | 20 | 0 | 0 | 20 | 0 | 0 |
| 182 | 184 | 185 | 187 | 191 | TIBET | 20 | 20 | 0 | 0 | 0 | 0 |
| 182 | 184 | 185 | 187 | 191 | TRINIDAD | 20 | 0 | 0 | 0 | 20 | 0 |
| 192 | 194 | 197 | 197 | 201 | ALGERIA | 10 | 0 | 0 | 10 | 0 | 0 |
| 192 | 194 | 197 | 197 | 201 | ANDORRA | 10 | 0 | 0 | 10 | 0 | 0 |
| 192 | 194 | 197 | 197 | 201 | BHUTAN | 10 | 10 | 0 | 0 | 0 | 0 |
| * | 194 | 197 | 197 | 201 | GUINEA-BISSAU | 10 | 0 | 0 | 10 | 0 | 0 |
| 192 | 194 | 197 | 197 | 201 | NEW HEBRIDES | 10 | 0 | 0 | 0 | 10 | 0 |
| 192 | 194 | 197 | 197 | 201 | TANGANYIKA | 10 | 0 | 0 | 10 | 0 | 0 |
| 192 | 194 | 197 | 197 | 201 | TOKELAO | 10 | 10 | 0 | 0 | 0 | 0 |
| * | 194 | 197 | 197 | 201 | UZBEKISTAN | 10 | 0 | 0 | 10 | 0 | 0 |
| 192 | 194 | 197 | 197 | 201 | ZANZIBAR | 10 | 10 | 0 | 0 | 0 | 0 |
| * | * | * | * | 201 | PALESTINE | 10 | 10 | 0 | 0 | 0 | 0 |